Jeb Wallace-Brodeur
The State Office Complex project
Visitors still have to wear hard hats and negotiate a maze of construction materials to get to the new public entrance of the State Office Complex in Waterbury. The building faces the Winooski River, and on a Thursday in mid-August the sun-dappled waterway was tranquil. That was in contrast to four years ago, when Tropical Storm Irene caused it to overflow its banks and swamp this workplace for 1,500 state employees.
After the flood, Vermont's agencies of human services and natural resources were forced to find office space in Burlington, Williston, Essex and Montpelier. For most of those workers, the accommodations were meant to be temporary. In the next few months, displaced state staffers — including 251 with the Department for Children and Families — will start coming back to Waterbury to work in brand-new or transformed digs.
Project manager Mike Stevens led the way to the main door of a new 86,000-square-foot building rising up in front of a row of historic structures that were spared demolition. The new building — of dark Poultney slate and pale Bethel granite — looks taller than its two stories. Stevens said that's because it sits on a newly created rise of land, part of the stormwater management plan. The building's ground level is three feet above Irene's high-water mark and six inches higher than the projected peak for a once-in-500-years flood.
Jeb Wallace-Brodeur
Mike Stevens in the new heating and cooling plant of the new Waterbury complex
The historic buildings that are visible from Waterbury's Main Street have also been flood-proofed. They're almost all that's left of the pre-Irene office complex, a hodgepodge of structures originally built to house Vermont's psychiatric patients. Every basement window has been sealed with granite blocks that match their original foundations, and the ground-level rooms and corridors have been filled with special lightweight concrete. Regular concrete would have been too heavy, according to Stevens, causing the multistory buildings to sink.
James Duggan, coordinator for historic preservation on the project, said the century-old structures that were saved — the administration building and the original male and female wards for patients in the state hospital — are important examples of that era's approach to the treatment of mental illness. For much of the 20th century, "going to Waterbury" meant being committed to the state psychiatric hospital, which dominated the central Vermont town, population 5,000. At one point, in the 1930s, the institution housed 1,700 patients. By the late 1980s, mental health treatment had changed, and the population had shrunk to 150. When Irene hit, 51 remaining patients had to be relocated.
The hospital's still-imposing Victorian architecture has now been properly restored. Workers replaced 700 windows, reconstructed two missing cupolas and refurbished a porte cochère on the front of the center building. For months, they used handheld grinders to dispose of every white speck of asbestos-containing plaster from the interior bricks in the 120,000-square-foot historic core. The asbestos removal alone cost $6 million.
That sunny Thursday, the project looked like an ant colony. "There are 300 people on the site on a daily basis," Stevens said as the tour passed by guys installing carpeting in a first-floor space that will be home to the Department for Children and Families. A crew worked on the circular walkway in the courtyard bracketed by corridors linking the new and old structures. At the northern end of the historic row, electricians strung wiring in advance of walls that will be built over the exposed bricks. A carpenter tapped molding back in place. It had been removed, stripped and repainted its original chocolate color.
The project, which is nearly 90 percent complete, was on schedule and on budget as the state marked the fourth anniversary of Tropical Storm Irene on August 28, according to Stevens. Twelve maintenance staffers have already moved into the new 20,000-square-foot central heating plant.
The army of construction workers has eased but not eliminated the economic pain of a community that essentially lost 1,500 paying customers overnight. But Waterbury is also home to the Ben & Jerry's ice cream factory, a Keurig Green Mountain production facility and the Alchemist, which brews the über-popular Heady Topper beer. During a recent lunch hour, a parade of men in neon-yellow shirts, dusty jeans and work boots tromped into the Village Market of Waterbury to grab packaged sandwiches and fill plastic clamshells with salad.
Jeb Wallace-Brodeur
Chila Russell, owner of Chila's Coiffures
Around the corner, Chila Russell's hair salon, Chila's Coiffures, was empty. "It has been a hard four years," she said. "We lost about a third of our business. Lunch hours used to be our busiest time." When state workers start returning in December, she said, "We will get all the shears sharpened."
Barbara Farr, Waterbury's long-term recovery director, put it in more official terms: "We are so, so glad the state invested in coming back."
Swamped
Waterbury's Winooski Street is named for its proximity to the river. Rep. Tom Stevens lives here, in a house that sits on one of the highest spots along the thoroughfare. Nevertheless, during Tropical Storm Irene's deluge, which began the afternoon of August 28, 2011, his backyard became a lake.
He and his daughter kept walking up and down their street that night, checking on the rising river. Green Mountain Power had warned that it might open flood panels on the Marshfield Dam upstream to reduce pressure on the earthen structure.
"That was running through my mind that night. We would get inundated," Stevens recounted. "But it didn't happen." Sometime after midnight, Green Mountain Power reported that the pressure on the dam had eased, and it wouldn't need to release any water. His house stayed dry.
By the next morning, Irene had dumped 11 inches of rain along the state's mountainous spine, with catastrophic results comparable to the flood of 1927. Irene killed six people, destroyed 500 miles of state roads, damaged or washed away 277 bridges, cut off access to 13 communities, flooded 3,500 homes and businesses, and swamped 17 mobile home parks.
In Waterbury, floodwaters from the raging Winooski River and feeder brooks invaded 220 homes and businesses, contaminating every surface they touched. A fuel tank ruptured at the municipal office building on Main Street, turning the basement into an oily pool.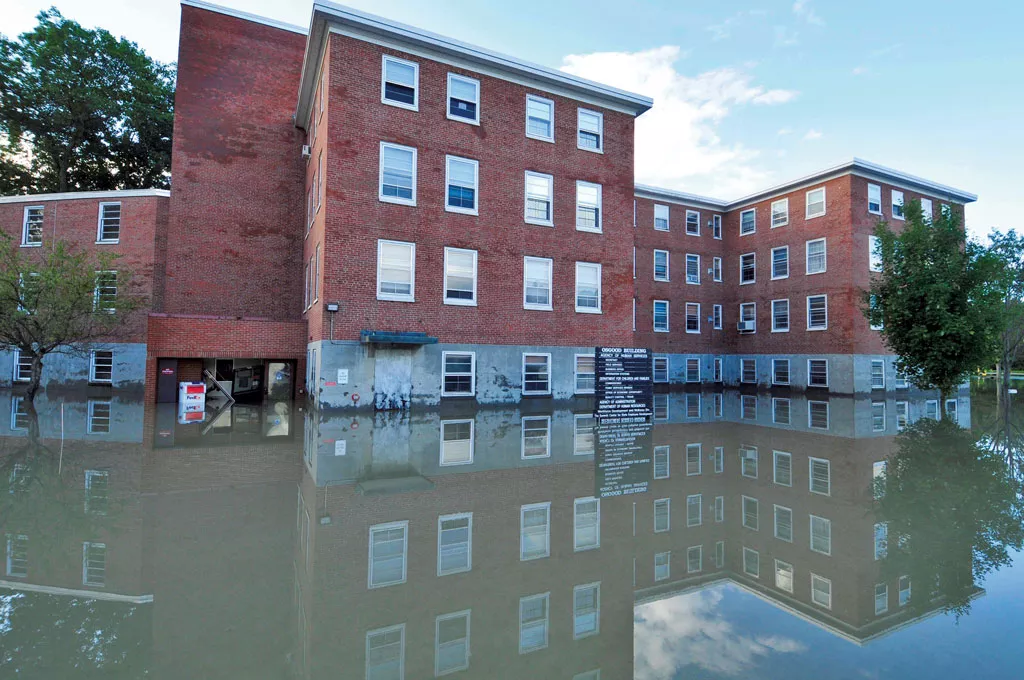 Jeb Wallace-Brodeur
The State Office Complex after Irene
The state complex was inundated. The flood forced the emergency evacuation of 51 psychiatric patients — but not before they spent the night in the dark on the top floors of the state hospital with emergency fire alarms blaring for hours.
Dawn O'Toole, the operations director for DCF, had taken part in contingency planning for Irene the Friday before the storm struck. But she wasn't sufficiently prepared on that Monday morning, when she drove from her Waterbury home on Perry Hill and couldn't get anywhere near the office complex. Floodwater had swept through the village, leaving behind a mashup of debris — firewood, trash cans, lumber, snowblowers — and hazardous muck.
"I was just in a state of shock," she recalled. She wanted to check on friends in the village but instead rushed home to call colleagues and plan how the Agency of Human Services could continue to offer essential services.
Later in the week, she coordinated employee visits to the complex to grab vital work materials as it became clear they wouldn't be back for a while. "It was just a whirlwind," she recalled. And in those early days, she added, "I don't think anyone really understood the seriousness of the devastation."
The focus after the flood was to dig out, chuck out, dry out and sometimes move out. "We had five feet of water on the first floor," recalled Jeff Larkin, owner of Arvads Grill on South Main Street. He lost stored food and a boiler on a lower level. Two businesses in the building — a hair salon and art store — lost everything, and the art store went out of business.
Jeb Wallace-Brodeur
Jeff Larkin, owner of Arvads Grill
Town officials abandoned their flooded historic home on Main Street and set up in Thatcher Brook Primary School, moving in November to the second floor of the fire station, where they remain today.
The storm affected countless residents and business owners — and plenty of volunteers came to their aid. But even as they tended to personal property, Rep. Stevens said, locals worried about the future of the State Office Complex. "We were awfully sensitive to any kind of shift of wind from Montpelier," the Democratic lawmaker said.
The administration of Gov. Peter Shumlin initially suggested three options to replace the complex, two of which would have involved permanent relocation to other towns.
Shumlin committed to staying in Waterbury, but it took his staff until August 2013 — the second anniversary of the flood — to reach a financial agreement with both the Federal Emergency Management Agency and the insurer of the buildings: The state would bond for $83 million, FEMA would provide $32 million and the insurer would pay $15 million. With a total price tag of $130 million, it's the biggest building project the State of Vermont has ever undertaken.
On the day the head of FEMA and Shumlin shook hands on the deal, the state had a wrecking ball ready outside the complex. Officials marked the occasion by smashing a hole in one of its many flood-ravaged buildings.
'The New Normal'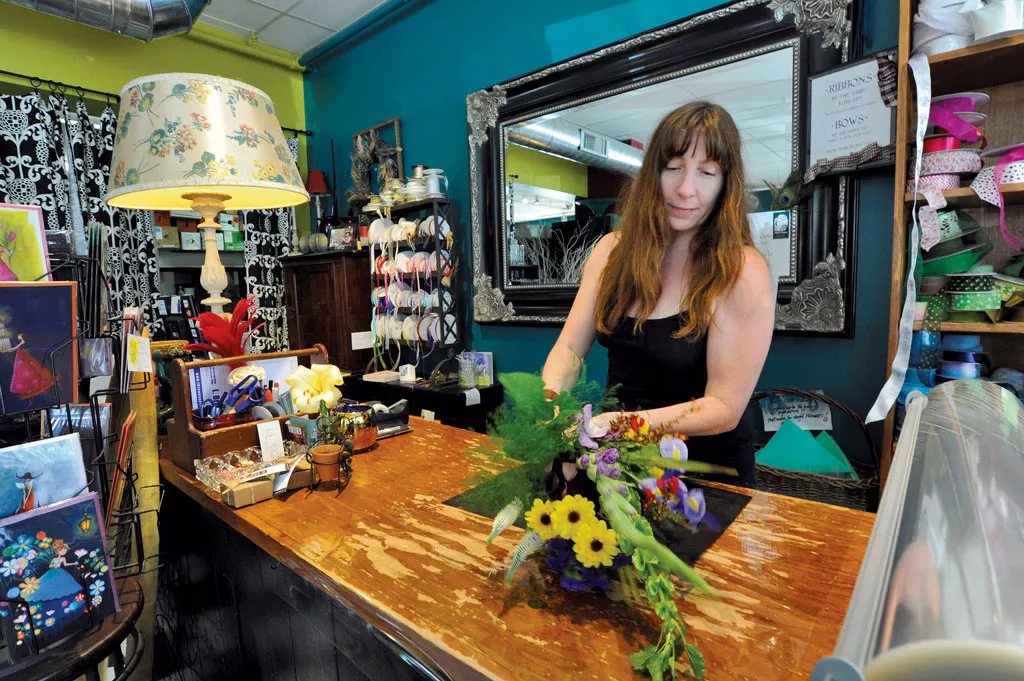 Jeb Wallace-Brodeur
Nina Towne, owner of Proud Flower
Irene overwatered Proud Flower at 128 South Main Street. Owner Nina Towne stuck it out there a few months and then relocated to Elm Street. When a video store closed in the Waterbury Shopping Center, she said, she jumped at the chance to locate to a higher-visibility location with good parking. Her business has grown. "It has worked out very well for me," she said, "even though I wouldn't want to go through it again."
Towne, who sells gift items and consignment art as well as flowers, estimated she lost about a quarter of her business when the bulk of the state workforce left town after Irene. "The complex was a good source of deliveries and also walk-ins," Towne said. When the 830 Agency of Human Services workers return, she predicted, "It is going to be great for service businesses."
Larkin and his wife spent $100,000 to restore their properties, including Arvads. The restaurant's business declined 20 percent, and they took on extra duties because they couldn't afford to add staff. He pegged 2012 as his hardest year.
The flood "changed people's habits, even if they live in town," Larkin said in describing "the new normal," as he called it: "There is not as much lunch traffic. When the state was here, you would see so many people walking downtown." For state workers who lived in town but now commute to Chittenden County, he said, "We didn't see them as much."
In the meantime, Waterbury has become a mecca for out-of-town eaters and drinkers. A Boston Globe reporter called it the best beer town in New England in the fall of 2012 and wrote that "beer pilgrims" traveled there to find "prized offerings from area breweries that often are difficult to find elsewhere." Eateries began offering local foods as well as craft brews. Now some locals complain they have to make reservations to eat in their own town.
"Despite Irene, Waterbury has become this dining destination," Larkin said. "We are really, really busy. We aren't quite back to pre-Irene, but close."
O'Toole, now with the Agency of Human Services, looks forward to being able to walk to work — and lunch — again. But not all of her colleagues are as keen, having become accustomed to working at sites in Chittenden County. As chief operating officer for the agency, O'Toole is in charge of planning the return of 830 employees — 75 at a time beginning December 19. "Some have said it will be a real decision for them," she said.
But if they opt to quit on account of the move, it won't be because of the office. "The new building is just gorgeous," O'Toole said. "There is so much natural light."
Security is tighter, too. Before the flood, dozens of unguarded, unlocked doors provided too-easy access to the complex. Days before Mike Stevens led visitors on a tour of the new facility, a state social worker was gunned down outside her office in Barre.
Pointing to an opening in the wall in the entryway, Stevens explained, "You come to this window to talk to security before you get entrance." Once in the two-story atrium, "You still can't get into the work environment." Visitors have to call state workers from phones and, if approved, get escorted through locked doors to their offices.
The lucky ones may end up in the second-floor conference space over the main entrance, from which a window wall provides views of a tree-lined Winooski River and the green hillsides in Duxbury.
Jeb Wallace-Brodeur
Sarah-Lee Terrat working on her atrium
At the far end of the atrium, illuminated by a skylight two stories overhead, Sarah-Lee Terrat stood on a hydraulic lift painting a 50-by-28-foot mural. She is one of two artists commissioned to produce works for the new complex. She had already papered the wall with reproductions of historic photographs and documents. Over these she was applying see-through stains to create a painting of a birch forest, a scene inspired by a former mental patient's poem.
"So much of this project was done right," said O'Toole.
Mike Stevens described it as one of the greatest he'd ever worked on.
Brighter Future
In contrast to the dramatic way in which state employees left Waterbury, extensive planning is facilitating their return. O'Toole mentioned dozens of worker teams as well as an internal website offering virtual tours, bus surveys and an orientation manual. "We are working our socks off to make this seamless," she said.
In one corner of the campus, a former office building known as Ladd Hall has been turned into 27 apartments, now owned by Downstreet Housing & Community Development. Rep. Stevens, who is president of the nonprofit's board, said talks with the state about a possible purchase started almost immediately after the flood. Because Ladd Hall experienced water damage, financing for the $6 million project included a $1 million community development disaster-recovery grant.
South Main Apartments "are awesome apartments: quirky but all airy," Stevens said — and mostly affordable. "That's 27 families who can walk to anything they need," he added. Fifteen of them are rented.
Next door, the Hunger Mountain Children's Center will soon open bids to renovate two shabby but structurally sound houses it now owns — both former state properties. One is where the center had offered daycare since 1978 — until Irene forced it to move to a church on Route 100.
The children's center also received a $1 million community development disaster-recovery grant. "This little center never would have been able to afford to buy and renovate had Irene not happened," said Lisa Scagliotti, who is coordinating the project.
With twice the space, center staffers expect to increase its daycare and preschool enrollment from 45 to 65 or so. By next spring, Scagliotti said, the center will provide another boost to downtown vitality with a dozen staff and 60 moms and dads dropping off and picking up each day.
The former municipal office building next to the fire station remains vacant and gutted. But a new complex for town officials, the library and the historical society is rising fast at the north end of the village. The initial plan was to rebuild at a new location on the state office complex, but voters rejected the proposal, which would have been more expensive than what they ultimately chose. The town's $4.98 million project couples a historic structure — Janes House — with new construction on the old spot.
Municipal manager Bill Shepeluk remembered telling his wife it would be five years before municipal officials had a permanent home again. He was close. The new municipal complex will be ready this winter, four and a half years after the flood. Samples of chairs for the new building cluster in a corner of the town's temporary office and cardboard boxes of records are stacked against a wall.
"It has been an interesting journey," Stevens said. "There was a real fatigue," he acknowledged, noting that the town's unity was challenged when townspeople disagreed over where to build the new town office. But he expressed optimism about Waterbury's future, noting the $200 million the state is spending in town — not only on the office complex but also on roads and bridges. "That should give us a springboard for economic development, or at least economic sustainability."
Not a moment too soon, according to Shepeluk. Keurig Green Mountain helped Waterbury get through the hard times — its staffers helped on clean-up projects and supported downtown businesses while the complex has been under construction. But last month it laid off roughly 200 Vermont employees, many of whom worked in Waterbury.
Although the number of returning state workers exceeds that, the town administrator didn't hesitate to say what everybody else in Waterbury seems to be thinking: "We are very anxious to have them back."
12 slides
This story was corrected on 9/2/15 to note how many of the new apartments in what was called Ladd Hall have been rented.