Janet Franz
The view of the Mountainside Water Playground, from the top of a slide
How many bodies of water can you explore in one day? About a dozen, if you head to Smugglers' Notch. In the summer, the ski resort transforms into a water-park village, with three wet "playgrounds" and two reservoirs spread across the resort's three interconnected mountains. A
Daycation ticket
and free, on-call shuttle give all-day access to every location.
My family of four visited Smuggs in July on a mission to plunge into every pool, descend every slide and play in every spray zone. We parked in the Village Center near Mountainside Water Playground, where four separate spaces cater to all ages. In the ankle-deep Little Smugglers' Lagoon, tiny tots sloshed under a gentle waterfall, explored a faux cave decorated with happy bears and floated on colorful rafts. Nearby, kids up to 48 inches tall rode the Turtle Mini-Waterslide into a shallow pool.
[jump]
Janet Franz
Zac takes a ride on the Great River Rapid Ride
My husband and sons, ages 8 and 12, could hardly wait to try the 30-foot tall, 300-foot long Great River Rapid Ride, a slide for those at least 48 inches tall, or 42 inches with a lifejacket. We grabbed tubes and carried them 55 steps up the tower where an attendant helped riders settle in and launch toward a pool below. On multiple rides, we descended the slide forward, backward, spinning in circles and in a method called the slingshot: The staffer holds your ankles, pulls you forward, then thrusts you down the slide, banking off the sides.
After breaking for a home-packed picnic, we waded in the 75-foot long Mountainside pool. We found plenty of chairs, a snack bar and clean bathhouse with showers and changing rooms.
Using the poolside phone, I called the shuttle and we took a 5-minute bus ride to Notchville Park, a tiered area with three pools. My kids tested their ninja skills on the Lily Pad Walk, jumping between floating mats toward the enclosed Twister Waterslide. I tried the slide but disliked the sensation of lying on my back inside a tube that dumped me into the water. We sat together under a waterfall in the large pool. The boys swam and I wet my feet in Splashville, where tiny tots romped through gentle fountains and glided down a colorful slide onto a soft pad.
I called the shuttle again and this time a golf cart arrived. The kids sat facing backward while we zipped along a wooded trail to the Courtside area. There, we dipped our toes in the 9-foot-deep lap pool and checked out the 120-foot Flume waterslide. We felt too sweaty for hot tubbing, but I appreciated that there was an adults-only whirlpool and another, cooler one for families.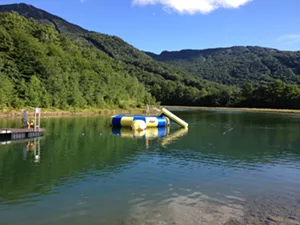 Janet Franz
The floating tramp at Rum Runners' Hideaway
We drove our own car five minutes to Morse Mountain and hiked 10 minutes to Rum Runners' Hideaway, a six-acre reservoir in a scenic mountain setting. The boys waded in marshy water and inspected a floating, inflated trampoline. We contemplated renting a paddleboat, but instead hiked down to our car and drove to Bootleggers' Basin, another reservoir surrounded by fields and mountains. The inflated Zoom Flume slide was closed, so we explored the sandy beach before heading home — exhausted, wet and happy.
Details: For Vermont residents, Daycation tickets cost $34.50 for adults and $24.50 for kids ages 3-18. Admission is free for kids under 3. Bring towels. Lifejackets, swim noodles and inner tubes are provided at pools and slides. Shop for supplies and food, including ice cream from a Ben & Jerry's scoop shop, in Smugglers' Notch Village.