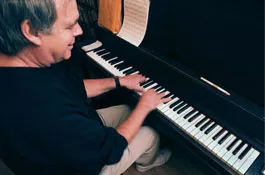 If there were an award for best under-recorded jazz artist in Burlington, it would be a toss-up between two long-time regulars on the local scene — James Harvey and Lar Duggan. Harvey recently released his first solo album, and Duggan has just come out with the second in a professional career that has so far spanned 40 years.
It's noteworthy when a pianist of Duggan's high caliber decides to put out a new album, but his recent release isn't exactly new. It was recorded before his first album, which was released more than 20 years ago, and features the same title and much of the same material as his first release. Confused yet?
Duggan's sort-of-new collection is mainly a solo piano outing, The Lake Studies: 1-16, recorded by Charles Eller and self-released on Duggan's own Aerie label. Older fans may have heard or owned the original Lake Studies, also recorded by Eller and released on Philo Records in 1980.
As the title suggests, the new CD features 16 original pieces of music. All were written and recorded as part of a grant project for the Vermont Council on the Arts — as it was then called — in 1978. Two years later, the now-defunct Philo Records had Duggan re-record half the original tunes. That 1980 release has long been out of print.
Duggan favors the original recordings and feels they "hold together better as a whole" than the '80 release. He also suggests they generate more of what he was after — "the feeling of the lake."
"The performance aims were simpler and, I feel, more successful," says Duggan. "I was mainly trying to document the material I'd written for the [grant] project. It is an unadorned approach, more transparent, and done much closer in time to the writing period. It feels more to me as though I were playing the music rather than playing the piano."
Although the music defies any narrow classification, it could be described as ambient, classically infused jazz. While the influence of legendary jazz pianists Bill Evans and Keith Jarrett is in evidence, so is the earlier work of eccentric French composer Erik Satie.
The Lake Studies effectively recreates the tranquil atmosphere of Lake Champlain and the weather and events that transpire in and around it. Duggan's fluid playing frequently hits graceful strides, painting a collage of colors and conjuring an array of emotions. If you close your eyes you can almost feel a cool breeze blow over, see birds soaring overhead, and picture the life going on beneath the water's surface. As a whole, the album works as a soundscape with a breezy, distant feel that evokes an aura of freedom and solitude.
Although the '80 Philo recordings feature a cleaner sound quality, they do feel a bit hurried compared to the more organic flow of the new release.
The order of the tracks on The Lake Studies: 1-16 also corresponds to the original chronology in which they were written, allowing for "certain thematic leanings to emerge which bind the work together as a whole," as Duggan puts it.
Before composing, the pianist put quite a bit of time into thinking about how to translate the feel of the lake through sound, what musical events might seem to correspond with natural ones. "There are musical structures — slow tempos, perfect intervals, open voicings — which seem appropriate for conveying a vast and peaceful horizontal plain," says Duggan.
Whereas the original release was a mere 45 minutes, this one clocks in at a whopping 73 minutes. It does seem to drag if you really listen the entire way through. Duggan realizes this, and even suggests that he wanted it that way.
"It's trying to evoke a place and it should be kind of ambient," he says. "And any time you want to pay attention, it also should be interesting."
A couple of tracks near the end, which were not included on the Philo release, feature Vermont violinist David Gusakov. After an hour of solo piano, the sound of the strings is a welcome contrast, and provides a warm end to the aural excursion.
The 59-year-old Duggan cites finances, temperament and the fact that he doesn't generate material quickly to explain why he hasn't released more music over the years. But even without much tangible product, the humble performer's prowess has impacted many. Phish keyboardist Page McConnell, a former student, cites Duggan as one of his main influences. Bandmate and guitarist Trey Anastasio once dubbed him a "genius" in the Burlington music 'zine Good Citizen.
If you catch Duggan playing around town, don't expect to hear any of The Lake Studies pieces. He's more interested in moving forward. The music he plays now is different from what he wrote and played back then, though he still considers himself "generally" a jazz player.
"I feel very fluent in jazz and real at home in it as a performer, but I don't feel committed to it as the only kind of music that I want to be playing," Duggan surmises. "It's sort of acquired enough history that it actually has set up rules for performers that are artificial. And I don't think that much of the derivative jazz."
The ambiance of solitude and serenity in The Lake Studies might make it a welcome stocking-stuffer in this "post-9/11" holiday season. Fans will also be glad to know they don't have to wait another 20 years for a new recording. Duggan leaves the lake behind on his next release, embracing technology with an orchestral-sounding electronic endeavor. Inspired by the desire to "get free" of preconceptions, he hopes to release the digitalized venture next year.
For a copy of The Lake Studies: 1-16, contact Lar Duggan at larduggan@aol.com. He performs live at The Waiting Room in Burlington this Sunday, 7 p.m.