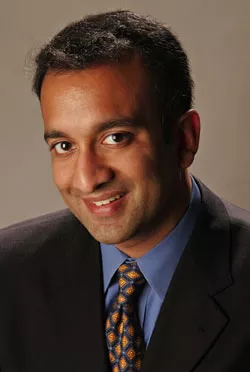 BAGHDAD, IRAQ —The "expert" brought in to modernize Baghdad's stock exchange had virtually no business experience; the task of setting up Iraq's new interior ministry was placed in the hands of a 21-year-old former ice cream truck driver.
In fact, most of the Americans recruited to work in the Green Zone — the ultimate gated community in the heart of Baghdad that bears little resemblance to the war-torn country outside its concrete blast walls — didn't speak Arabic and had never been to the Middle East.
So reports Rajiv Chandrasekaran in his 2006 book Imperial Life in the Emerald City, which examines the failures of the early postwar reconstruction efforts.
The 34-year-old spent two years as the Washington Post's Baghdad bureau chief, including six months prior to the invasion as a member of the foreign press corps covering the weapons-inspection process.
Most of the sources for Chandrasekaran's book were, or still are, loyal Republicans. They went to Iraq as "true believers," but came back sufficiently disgusted to tell him what they knew because they wanted the truth to be told. In advance of his talk at Middlebury College next week, Chandrasekaran spoke to Seven Days by phone from his Washington Post office, where he currently works as the national editor.
SD: Do you speak Arabic?
RC: I don't, and that's why I actually spent a lot of my time focused on writing about the Americans in the Green Zone . . . An editor at the Post had told me early on to remember the great literature that had been written about the Vietnam War. The most powerful work was really about the American experience in Vietnam, and he urged me not to lose sight of the American experience in Iraq.
SD: Much of that literature about that war reveals deep cultural insensitivities and ignorance of Vietnam's history. How much worse is it in Iraq?
RC: When I go back and read the histories of the post-war occupations of Germany and Japan, and even what we tried to do in Vietnam, it wasn't nearly as politicized as it was in Iraq. In Vietnam, Germany and Japan, we sent people with some degree of experience, with diplomatic credentials. People were chosen for subject matter expertise, and we drew them from the ranks of the American bureaucracy. There was no real ideological litmus test placed on people who were sent out. Given the challenges of governing post-Saddam Iraq, you would think we would have sent our best and brightest — people who spoke Arabic, people with some skills in post-conflict reconstruction or experience in the Middle East. Instead, in many cases we sent the loyal and the willing.
SD: Did you see the frustration of career military people about that level of mismanagement?
RC: Very much so. Military officers really chafed at the way they were treated by the young appointees in the Green Zone. To the [Coalition Provisional Authority's] "young Turks," military officers who'd been in the service for 20 years were treated like errand boys. They were the drivers, the "hired help" . . . And it wasn't just the Iraqis outside the Green Zone that looked with disgust at what was happening inside the American bubble. American soldiers stationed outside the Green Zone couldn't understand what was taking place in that ivory-tower setting. It seemed like the Americans who were in there were woefully disconnected from the reality that uniformed military officers were living with every day on the ground . . . Iraq was supposed to be the chance to get civil/military operations working well. In fact, it's now the poster case for how you really screw up civil/military relations.
SD: Is the American approach to rebuilding Afghanistan any different?
RC: We have to consider several factors here. The Americans were not nearly as ambitious in Afghanistan as they were in Iraq. And, in Afghanistan, you're starting from a different place and your expectations are very different. Lots of Afghanistan is still incredibly primitive. Reconstruction in Afghanistan meant building a few rural health clinics and some schools. Iraq in the 1970s was considered by the UN as on the cusp of entering the developed world. Iraqis of a certain generation remember when they had the best hospitals and universities in the Arab world. Baghdad was a city with restaurants and nightclubs, and people had large American cars and drove on expressways. People's expectations were much, much higher.
SD: Was there ever a point when you felt a sense of optimism about Iraq's future?
RC: I'm not one of these people who felt this was all destined to go awry no matter what we did. Had the United States gone about this in a smarter way, we would have a very different outcome today. I'm not saying it would be perfect. There would probably be some form of sectarian conflict. But I think those problems would be containable. I really feel like we had a window of opportunity, some political capital among the Iraqis, for overthrowing Saddam. And we totally squandered it.