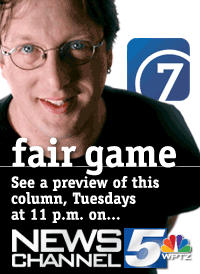 Don't fret, nuclear power lovers. Vermont Yankee and its corporate owner, Entergy, won't let a good lie keep them down.
Sure, they might use up a half-life for misleading regulators and lawmakers about the existence of underground pipes carrying the radionuclides. But there are more near misses where that one came from.
Since buying VY in 2002 for $180 million — Entergy now claims it's worth $800 million — the New Orleans-based company has employed a simple, four-step method to navigate Vermont's political and regulatory waters.
Step 1: Ask for something that will earn the company millions. Dismiss concerns with simple slogans and by pointing out that "experts" have extensively reviewed your plans. Praise regulators for their due diligence and knowledge.
Step 2: If/when critics discover a leak or a collapsed cooling tower, express as much shock and dismay as do the regulators you hang out with at holiday parties. Agree to a "thorough" investigation, but first protest loudly. (Think Br'er Rabbit and the briar patch.)
Step 3: Genuflect during the investigation, claim it'll never happen again. If necessary, agree to sponsor a governor's ball for $5000 or launch an ad campaign, using employees as human shields.
Step 4: After the investigation, claim you've already identified and fixed more than half the problems and agree to fix the rest post-haste. Before you implement the fixes, however, repeat step 1.
Think I'm joking? Hardly.
In 2003, the Vermont Public Service Board fined Entergy $50,000 for showing a "willingness to mislead" regulators — essentially, for being a bully. Prescient.
In early 2006, Entergy handed a report to the Nuclear Regulatory Commission's Atomic Safety and Licensing Board. It claimed VY's cooling towers were structurally sound. In 2007, one of the towers collapsed. Spectacularly.
After the 2007 collapse, Entergy claimed it had beefed up its inspection program to prevent such a collapse from happening again. Federal regulators concurred, and state regulators were assuaged. Then, in 2008, more support beams collapsed around a cooling tower. Whoops.
In early 2008, Entergy promised the legislature that new hires would beef up VY's quality assurance program. In 2009, Entergy issued a hiring freeze.
In 2009, Attorney General Bill Sorrell ruled that a 2008 statewide media blitz claiming VY had "zero fossil fuel emissions" was inaccurate, in violation of state consumer fraud laws. VY officials called the wording "unfortunate" and vowed not to use such adjectives again.
And the list goes on.
"What we have seen for the past eight years is a pattern of giving false, distorted or misleading information. When caught, they apologize, say that they will look into it; say they will develop a plan to fix it and never do it again. Then, it happens again," said Bob Stannard, a lobbyist for the anti-nuke group Vermont Citizen Action Network.
Through every mishap and misstep, Gov. Jim Douglas and his team have stood by Entergy. Why?
"They have no plan for in-state energy should VY shut down," Stannard said. "It's not like it should have been a big surprise; we've had a 38-year notice."
Coincidentally, Gov. Douglas was first elected to office in 1972, the same year Vermont Yankee opened.
Maybe Entergy should follow the governor's lead for once and announce its retirement.
Revolving Regulators
Public Service Commissioner David O'Brien is one of the most powerful nonelected officials in Vermont. He's the guy who regulates — and, ultimately, can pull the plug on — the state's utilities. The fate of Burlington Telecom is in his hands.
Like judges, O'Brien has to steer clear of conflicts of interest. And he has already been criticized for being too cozy with, or lenient toward, the industries he regulates.
"Fair Game" reported on the holiday party he hosted in 2008 that was attended by Jay Thayer, Entergy's top dog in Montpelier. Also on the guest list were officials from several of the state's largest utilities.
That could explain why Sen. Tim Ashe (D/P-Chittenden) has introduced a bill prohibiting Vermont's commissioner of public service from working for any company he or she regulates for up to five years after leaving office.
Currently, there are such no laws in Vermont — only an executive order that imposes a one-year moratorium on state workers leaving government for private industry.
"There are two main reasons for the bill," Ashe explained. "First, to help assure Vermonters of the high integrity of the decision-making process for Vermont Yankee. Second, the same goes for the commissioner's role as chief enforcement officer of Vermont's regulated utilities."
Ashe's colleagues like the bill so much they want to expand it beyond O'Brien's post.
"We are very interested in discussing the bill this session," said Sen. Jeannette White (D-Windham), who chairs the Senate Government Operations Committee. White said her committee would like to increase the number of positions affected by the ban, and make it include legislators. The committee may decide to decrease the length of the ban, though, from five to one or two years, so it's more in line with similar regs in other states.
Note to Douglas officials: Get out while the getting's good.
Take It Back
As noted in last week's column, Vermont's sheriffs and state's attorneys quietly restored their own 5 percent pay cut last July even though most nonunion state employees — including elected officials — hadn't seen a pay raise since 2008.
Before this could affect their respective reelections later this year, both groups separately decided to cut their pay — again.
Vermont's sheriffs will reinstate the 5 percent pay cut as of July 1, said Lamoille County Sheriff Roger Marcoux, executive director of the Vermont Sheriff's Association.
Last week, the state's attorneys met and agreed that the cut should take effect not only in FY 2011 but for the remainder of FY 2010, which means it's effective immediately, said Keith Flynn, Orleans County state's attorney and head of the state's attorney association.
Council Clashes
Burlington's Ward 2 neighborhood — in the heart of the city's Old North End — is shaping up to be a key battleground in the March elections.
Democrats hope to pick up a crucial eighth vote and thereby gain an outright majority on the council — for the first time since the 1980s.
Incumbent Democrat David Berezniak is running for reelection, but the district's other seat is up for grabs due to the December resignation of Progressive Emma Mulvaney-Stanak. She had to vacate the seat because she bought a house in Ward 3.
Democrat Bram Kranichfeld, 30, is running to replace Mulvaney-Stanak. Kranichfeld chairs the Burlington Electric Commission and is a deputy state's attorney in Chittenden County.
I thought Ward 1 Democrat Ed Adrian had the prosecutorial thing covered.
Progressives hope to thwart the Democrats' Old North End run. Berezniak faces a challenge from Progressive Jonathan Leavitt, 30, a social worker who has been active in promoting affordable housing. Kranichfeld will square off against recent University of Vermont grad and labor activist Maxwell Tracy, 23.
Along with Adrian and Berezniak, five other council incumbents are running for reelection: Clarence Davis (P-Ward 3); Paul Decelles (R-Ward 7); Russ Ellis (D-Ward 4); Bill Keogh (D-Ward 5); and Karen Paul (I-Ward 6).
Turn On, Tune In, Secede
According to a 2006 poll conducted by the UVM Center for Rural Studies, roughly 8 percent of Vermonters supported peaceable secession from the United States.
On Friday, the pro-secessionist Second Vermont Republic announced a slate of statewide candidates it plans to run in the fall election in hopes of moving secession from theory to reality.
The group's gubernatorial candidate is fifth-generation Vermonter and Kirby businessman Dennis P. Steele, founder and CEO of the Internet radio station Free Vermont Radio. Burlington-based auto salesman Peter Garritano is running for lieutenant governor.
Longtime political activist and former Burlington businessman Dennis Morrisseau, from Rutland County, is one of the group's seven state senate candidates. Also running are: Gaelan Brown, Washington County; Bill Cruikshank, Rutland County; Craig Hill, Bennington County; Richard Jeroloman, Chittenden County; Peter Moss, Franklin County; and Robert Wagner, Addison County.
The party wants Vermont to revert to the independent republic it was between January 15, 1777, and March 4, 1791.
What would that look like?
"We seek a peaceable return of Vermont to a small, clean, green, rural, radical, non-violent, communitarian, sustainable, independent republic free and clear of the United States of America," said SVR founder Thomas Naylor during the Montpelier press conference.
Groovy.
And who is keeping Vermonters from realizing nirvana?
Wall Street, corporate America, environmentalist Bill McKibben and the Israeli lobby. Not necessarily in that order.
Nice touch blaming the Jews, especially since SVR has been chided for its ties to neo-Confederate groups such as League of the South and the Abbeville Institute. These groups would like to see the South returned to its pre-Civil War roots. You know, white, Anglo and Christian. Racist? Nah.
McKibben received multiple mentions at the presser. That's because he represents the Vermont left obsessed with quaint notions such as food independence and self-reliance, yet is willing to live under the yoke of the evil empire, said Naylor.
"I'm actually pretty close to a supporter of an independent Vermont," said McKibben in an email to "Fair Game." But it does strike me as odd to do it from a position of hating the U.S., which I don't."
Naylor has a theory about why 92 percent of Vermonters don't openly support secession.
"Vermonters are in a state of denial," said Naylor. "They are fat and happy and sassy."
Now, there's a campaign slogan.
Got a news tip? Email Shay at shay@sevendaysvt.com
Click here to follow Shay on Twitter.