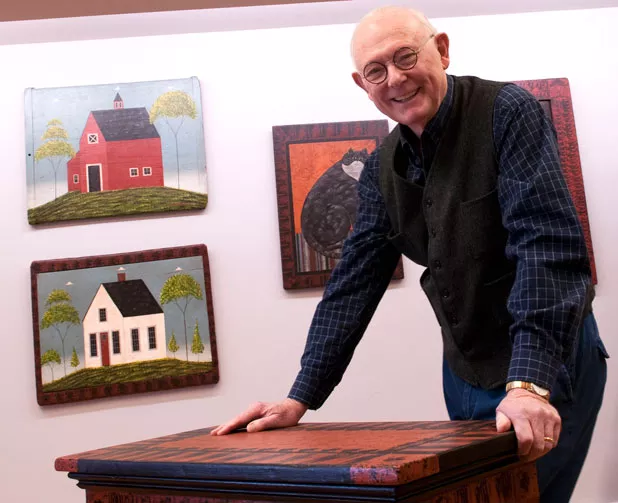 On a recent afternoon at the new Warren Kimble Gallery in Brandon, the namesake proprietor looks like he just stepped out of one of the folk-art paintings that made him famous. He's wearing a collarless, red-checkered shirt under an old-timey wool vest, and on his nose rest the perfectly round spectacles of a storybook grandfather. Kimble is 76, with snow-white hair, but he works — and makes plans — like a much younger man.
Since November, Kimble has been transforming an old pharmacy on Park Street into his gallery and studio. It's been several years since he and his wife, Lorraine, closed their place in Conant Square — which was not only a gallery, but the home of their enormously successful international licensing operation, selling everything from linens to light switches to bowties bearing images from Warren Kimble artwork.
Since then, Kimble's folk paintings have hung in the nearby Liza Myers Gallery, which will continue to sell signed prints. His contemporary work is and will be displayed at Brandon Music.
Kimble's new venue offers glimpses into both aesthetic worlds. One side of the room features elegant images of cows and barns painted on antique tabletops, old doors and winnowers. On the other side hangs his contemporary work, including part of the series "Let the Sun Shine," brightly colored abstract pieces inspired by Barack Obama's presidential campaign.
The place is part of the Kimbles' long-term nonretirement scheme. They have a big house in town that feels bigger since their two grown kids started families of their own and stopped visiting quite so often. Kimble wants to stay in his beloved Brandon and, especially, to avoid assisted-living communities. "Quite frankly, I don't want to eat with old people," he says. That's no surprise coming from a guy who spends all his time with young — well, at least younger — folks.
So, he and Lorraine are selling the big house. They plan to move into the apartment above the gallery, where they'll rip out the staircase and put in an elevator. Kimble envisions a skylight and maybe even a rooftop patio. "Café Provence is in the backyard," he says of the nearby restaurant. "So that can be Lorraine's other kitchen." The best part? The couple can remain connected to the downtown community they've played such a huge role in shaping.
The gallery opened just a couple of weeks ago and already appears to be a regular community hangout. Several visitors wander in during the afternoon, and Kimble chats them all up. The artist has a reputation as Brandon's cheerleader — he masterminded the establishment of the Brandon Artists' Guild in 1999 and has spearheaded annual town-wide art projects since 2003.
Kimble actually was a cheerleader in college, and has the faded photographs to prove it in the studio in the back of his gallery. He loved his experience at Syracuse University — he graduated in 1957 — and is consequently partial to the school color: orange. If Lorraine hadn't intervened with a tasteful shade of gray, Kimble says, he would have painted the new gallery walls that color.
Kimble talks a lot about the gifts he's received in his life, and his time at Syracuse was one of them. "I was a blue-collar kid from New Jersey," he recounts. His dad was a clerk for an insurance company, his mother a homemaker. Both left school after the eighth grade. "I wrote an application [to Syracuse], and they took me, and I don't know why," Kimble says. "But I wouldn't be where I am today without them."
His retrospective show at Shelburne Museum in 2008 was another gift. More than 150,000 people saw his work there — both his folk art and his contemporary series "The Widows of War," a response to the conflict in Iraq. Another gift? The woman who brought her veteran father to that show and wrote Kimble afterward to tell him how it made her father weep, how he talked to her for the first time about his own war experiences.
"There aren't many ways you can connect to people like that," Kimble says.
Lately, he's been sitting up nights thinking about writing something: "excerpts from my life — just the fun things," he says. He already has a few working titles for chapters: "Violet Was a Hooker," for the story of his rug-hooking aunt; and "I Flunked Blocks," for his own story of being held back in kindergarten.
"I've been asking myself, What's more important: writing or painting?" Kimble says. It's an unusual question, because he almost always chooses making art over anything else. Kimble never uses the computer, he says, because he fears he'd become addicted and lose precious painting time. He even avoids books as potential distractions — though he admits he's currently immersed in a biography of the Italian painter Amedeo Modigliani.
Still, painting comes first. Kimble even loved doing the gallery walls, and he saved the leftover paint for his next big art project. "I'm thinking of using rollers," he confides. "I love to paint big. That's what's coming next."