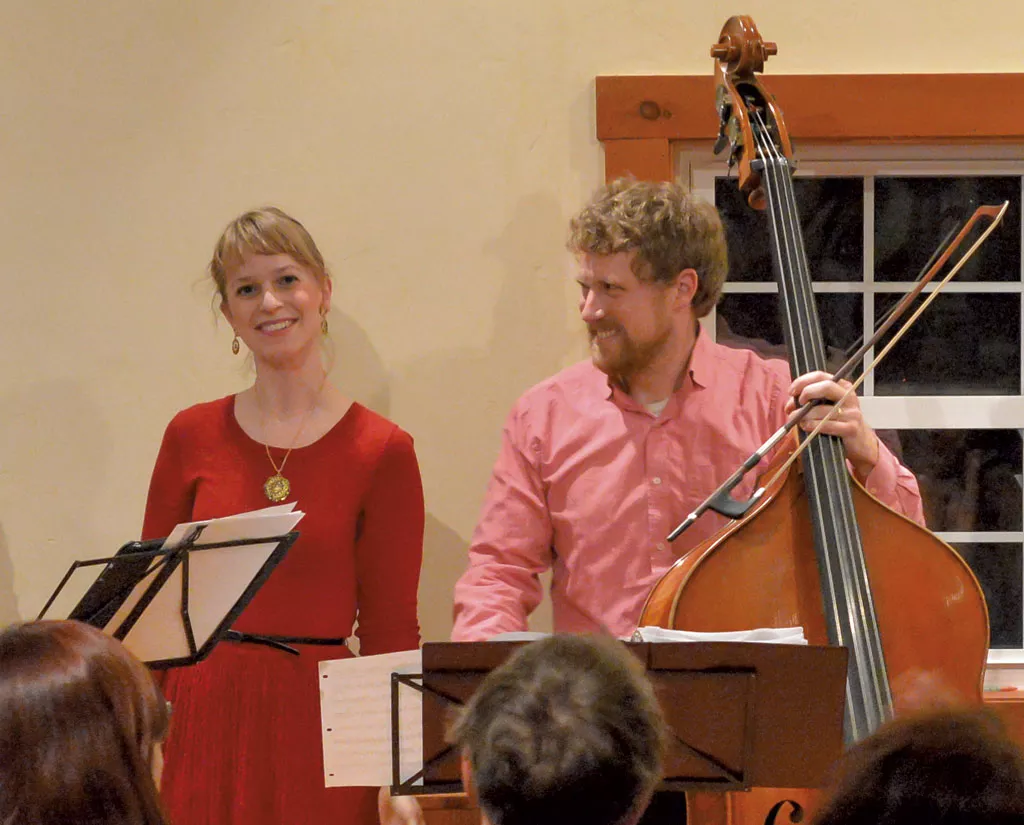 Courtesy of Robert Spring
Mary Bonhag and Evan Premo
Scrag Mountain Music, founded in 2011 by Warren residents Mary Bonhag and Evan Premo, is not your conventional classical chamber group. Audiences are told to "come as you are, pay what you can" — resulting in casually dressed listeners and a collection basket instead of tickets. Concertgoers are also encouraged to handle the instruments, look at sheet music when it is passed around and share opinions of the music, which is often new.
During one concert, the audience even made "wailing wind sounds" under the direction of a volunteer conductor, recalls Scrag fan Margaret Johnson of Warren. Bonhag, 28, a soprano who trained with Dawn Upshaw, and her husband, Premo, 29, a double bass player and former Carnegie Hall fellow, call this approach "community-supported chamber music."
This year, Scrag added a new way for the community to interact with music: a composer-in-residence program. The four-week residency, held by 33-year-old New York City composer Lembit Beecher, began in October with a performance of one of Beecher's earlier works. It will culminate in May with the premiere of a new one, for quintet and soprano. (The work is Scrag's first commission.) The community-participation part of the residency comes next Tuesday, April 8, when audiences will be invited to help Beecher develop his as-yet-untitled, unfinished work at an event that Scrag's founders are calling a "Very Open Composing Session."
With her 18-month-old boy audible in the background, Bonhag explains during a phone call what makes the event exciting. "[It] allows the composer to work directly with musicians prior to performance," she says, noting that most composers work in isolation until the premiere. And community members will have the chance to "witness the compositional process, ask questions and share their own perspectives" on the subject of Beecher's cantata.
Unusually for a composer as young as Beecher, that subject is aging. "It's not an easy topic, but it's a universal one," Bonhag says.
Beecher's librettist, Canadian Liza Balkan, is distilling the soprano's lines from interviews she has been conducting with older Toronto residents about their thoughts on aging. Balkan will be present at the Vermont concert to interview more folks and listen to audience comments.
Beecher, reached in New York, says that, so far, "Liza's interviews have turned up these amazing observations" about "the patterns and rituals we fall into as we age, and the self-awareness that goes along with that." One interviewee, he recalls, commented wryly that, in obituaries, "nobody dies anymore"; they simply "pass." Balkan is excerpting such "bits" and creating "little poems" from them, Beecher adds.
The composer became interested in aging partly as an offshoot of his compositions based on stories told by his Estonian grandmother, who escaped the Soviet invasion "on the last boat," as she told Beecher. His string quartet These Memories May Be True, performed by Scrag in an earlier residency event, is a meditation on the transmission of cultural identity through stories and songs.
Beecher's first work on the subject — his 2009 thesis composition for the doctorate of musical arts he earned at the University of Michigan, titled And Then I Remember — was written for then-undergraduate Michigan students Bonhag and Premo, among other musicians. The "documentary oratorio," as he calls it, retells his grandmother's stories by incorporating audio recordings of her voice.
In 2011, Beecher began a three-year term as the first composer-in-residence of three collaborating organizations: Opera Philadelphia, Gotham Chamber Opera in Manhattan and the Music-Theatre Group in Brooklyn. Gotham — which New Yorker music critic Alex Ross recently called "New York's leading alternative to the Met" — premiered Beecher's chamber opera I Have No Stories to Tell You in February.
That is the kind of top-flight talent Scrag draws, impressing audience members such as Johnson. "These Juilliard- and Carnegie-performed folks show up in their jeans. It's so accessible — to young and old, to not-so-trained ears and real aficionados," declares Johnson, who puts herself in the "not-so-trained" category.
Will she be at the Very Open Composing Session? "Oh, absolutely," Johnson responds. "I love going to the community stuff."
INFO
Scrag Mountain Music's Very Open Composing Session, with composer Lembit Beecher and musicians. Tuesday, April 8, 7 to 8:30 p.m., in the Emma Ford Room of Warren United Church of Christ. Free. Info, scragmountainmusic.org.