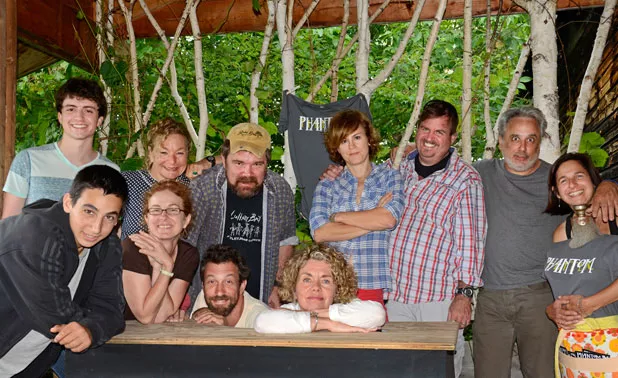 Back, from left: Asher Sinaiko, Pamela Rickard, Jeffy Carey, Jeanne Darst, David Gammons, David Sinaiko, Annie Elias; front, from left: Eli Sinaiko, Tracy Martin, Ben Schneider, Cat Carr
Reunions, especially after they pass the 25-year mark, can conjure equal degrees of anticipation and dread. Phantom Theater's main stage show this summer, Pure Gold: A Phantom Reunion, on the other hand, promises hilarity along with moments of fantasy, storytelling, music and existential drama. It will celebrate the Warren venue's past 28 years of experimental theater — bringing back previous performers to do so.
For the show, Phantom artistic director Tracy Martin and founder Cat Carr, who now lives in San Francisco, put out a call to actors and directors who cavorted onstage together from the mid-1980s through the '90s and now are furthering careers around the country. The feedback was instant. "I never dreamed we'd get so many positive responses," Martin says.
All of the participants have contributed to a script for the reunion show via emails that Martin describes as "brilliant and hilarious." This design-by-committee method of play construction recalls the process used for Phantom's second show, Air Brains, in 1987. The brainchild of David Esbjornson, then fresh from an MFA at New York University, the show veered from the first Phantom show — the far more conventional Crimes of the Heart — and set the tone for future productions. Air Brains adapted material from T.S. Eliot's "The Waste Land," the musical South Pacific and Christopher Durang's one-act "The Actor's Nightmare."
"No one claimed to know what it was about," Esbjornson says. "What we loved was that it had a freedom in it."
Now an internationally acclaimed stage director (most recently for a Broadway production of Driving Miss Daisy), Esbjornson is in Warren this week along with an ensemble of old friends, practicing their alchemy to create Pure Gold.
Think of it as a contemporary Canterbury Tales — something like this: "A rag-tag band, drawn together by fate, journey across the country and return to the site of their former glory. Despite their differences and the intervening years, they are able to recapture that elusive and intangible essence that only an ancient art form can create — the delicate glimpse of possibility, on the warm breeze of a summer night."
That description was contributed by Jeanne Darst, who showed up at Phantom as an audience member in 1997 and returned over the next few years to perform two solo shows that she wrote — a sizzling "Sally on the Mount" and "Je Regrette Tout," which was largely about her socialite, alcoholic mother. Darst included bits from the latter show in her well-received 2011 memoir, Fiction Ruined My Family. She's a regular on "This American Life" and is currently adapting her memoir as a pilot for HBO. But this week, she's going for Gold.
In the Phantom tradition launched by Air Brains, the reunion production will contain improvisation, literary references, music and movement. And a lot of humor.
Jeff Carey, who has spent the past decade writing, directing and designing plays at Creede Repertory Theatre in Colorado, is the group-appointed "poobah" of Pure Gold. He's joined by Ben Schneider, whose parents, Jane and Peter, have a home in Warren and are coproducing the reunion show. Schneider joined Phantom's summertime production of Marriage Proposals while he was still a college student at the University of Michigan. After earning a theater degree, he worked with Carey at a theater in Chicago and, in 1995, adapted Luigi Pirandello's The Oil Jar and Other Stories for a stage production at Phantom. Schneider traded theater for the restaurant business when he and his wife opened the Good Fork in Brooklyn, but he's back this week.
Also on board is David Gammons, an acclaimed stage director in Boston; and Pamela Rickard, a Warren native and transplant to northern California. She teaches theater in San Francisco and has employed her acting skills in conflict-resolution workshops in prisons.
Actor David Sinaiko has created memorable roles at Phantom, including ones in On the Verge, or the Geography of Yearning and Back Bog Beast Bait, but he originally came to Warren to perform in Crimes of the Heart. One of his fond memories of the place is of meeting his wife, Annie Elias, at Phantom in 1986, when she took an acting class from Carr. The couple returned to Phantom five years ago to write and act in Baron in the Trees. Elias now directs the theater department at Marin Academy; Sinaiko is a teacher, as well as associate artist at San Francisco's the Cutting Ball Theater.
Rob Donaldson, also an NYU grad, was another actor who journeyed to Vermont to act in Air Brains. Now living in Cambridge, Vt., he performs occasionally in the Burlington area.
Martin took the reins of Phantom, along with Calais resident Annie Wattles, after Carr left, and has maintained the theater's priorities: experimentation and education. Carr started Little Phantom Theater in the mid-'80s, and Martin still runs an acting camp for kids each summer. Some veterans of that camp are back this week: Ramsey Brown, 30, who grew up in Fayston, has returned to perform her solo show, "Stop, Drop and Roll," this weekend. She is also in Pure Gold. Miranda Kahn, 26, is an Elias protégée and graduate of NYU's Tisch School of the Arts; she has a supporting role in the production.
The youngest member of the troupe is 17-year-old Maia Sinaiko, daughter of Elias and Sinaiko. She'll be performing music for the reunion show — and surely making her own memories in the Phantom family.
Full disclosure: Janet Hubbard is on the Phantom Theater board; Ramsey Brown is her daughter.
"Stop, Drop and Roll" by Ramsey Brown, Friday and Saturday, July 26 and 27; "Pure Gold: A Phantom Reunion," Wednesday through Saturday, July 31 through August 3, both 8 p.m., at Phantom Theater, Edgcomb Barn, in Warren. $15. Info and reservations, 496-5997. More summer programming on the website, phantomtheater.info.