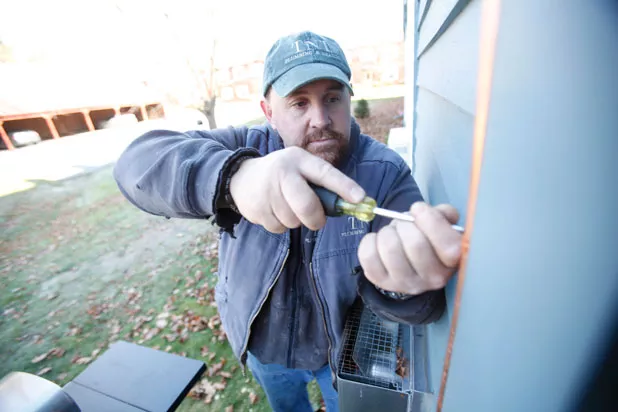 Jordan Silverman
Tom Turchin
This time of year, Tom Turchin's phone is ringing off the hook. Why? The master plumber and heating specialist is a go-to guy for clients whose toilets stop flushing, boilers stop boiling, or stoves won't fire. At a time of year when homeowners want to crank up the heat, Turchin is one of the guys people call when something goes wrong.
The cold season is "crazy," he says. "I could be changing out a toilet in the morning, fixing a boiler in the afternoon, replacing a faucet, doing service work on a fireplace."
When Seven Days snagged an interview with the plumber earlier this month, Turchin had already put in 22 straight days of work — and his schedule didn't show signs of slowing down anytime soon.
Turchin got his start in plumbing as a fresh-faced high school graduate who jumped straight into the Navy. There, he spent four years working on steam propulsions and boilers. "I was never very good at school, so to speak," he says, "but I was always good with my hands." He'd wanted to be an electrician but learned at boot camp that he was colorblind — which ruled out working in the color-coded world of high-voltage wiring.
Now Turchin is licensed as a master plumber and is an expert in propane and natural-gas heating systems. For the past seven years he's run his own company, shuttling among jobs as far flung as 100 miles from his home in Georgia. He goes by "TNT Plumbing and Heating Services" — an explosive name that really just boils down to Turchin's initials.
SEVEN DAYS: Why is this such a busy time of year for you?
TOM TURCHIN: I always tell my customers or potential customers, "If you need any service work, try to do it before August." But they always wait until that cold snap, and they turn their system on, and it doesn't work, or it works kinda, or there's a leak. One example: The attorney general for the state of Vermont is a good customer of mine, and he went to turn his heating system on, and it doesn't work. I went over there to do work on it and come to find out he's going to need a new boiler. He's mulling it over.
SD: I've heard gas stoves are something of a specialty for you. What should customers consider when they're in the market?
TT: The area to heat. Are they putting it in a basement, where looks aren't important? Or are they putting it in a brand-new kitchen addition? It all depends on what their ambiance is, and what their likes are. Sometimes it comes down to dollars; sometimes it comes down to what works for them.
SD: Does working with gas ever make you — well, a little nervous?
TT: It's one of those things; it's just like everything — you have to be methodical. I'm very comfortable working with gas. There are some handymen out there that do gas work that shouldn't be doing gas work, and that's when stuff goes boom. It's not rocket science, but there is some education behind it. And just because you're licensed doesn't mean you know what you're doing. It's just like driving a car.
SD: What's your favorite work to do on the job?
TT: I like doing gas piping. It's one of the lost arts in the trade, where you're actually threading black iron pipe. It's where a trade is still a trade.
SD: What's the difference between hiring a self-employed tradesman and a larger company?
TT: There are bigger companies out there, and the small, one-man-band type of shows, like me, actually need those larger companies out there for bidding power. I can bid on the same boiler job or the same renovation and actually come in lower and still provide the same amount of service. When you come to see me, and I give you a bid, you see me through the whole process. I come and, look at it, give you a number, do the work, and if there's an issue, you see me. I've got a ring of [customers'] keys in my truck. I've got more key codes for garages than I can even remember. That's good, to be able to have that trust with customers.
SD: What are some warning signs that homeowners should keep an eye out for?
TT: Noises are the first thing. Hot water or the heat takes too long to get there, or it's sporadic or delayed. A thermostat may not be working, or it's an old farmhouse and maybe a mouse chewed the wire. Toilets do lose their flush over time. If your toilet's 15 years old, you're right on the cusp. It comes down now to saving people money, giving them the comfort and empathizing with them. If people flick on the lights and don't have light, or turn on the water and have cold water, or turn on the heat and don't have heat, they're going to call somebody.