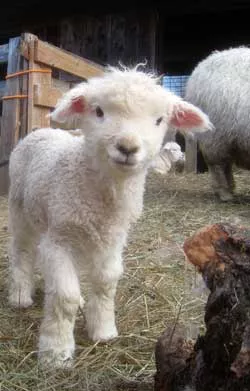 One of John O'Brien's Lambs
Last Thursday night, Comedy Central's Stephen Colbert interviewed Jim Cramer of CNBC's "Mad Money." As they bantered about the dire economy, big pictures of fuzzball kittens and puppies flashed behind them. Predictably, the audience greeted each with delighted laughter. The message? Perhaps only fluffy, adorable critters have the power to distract us from our fears about the recession. Unless, of course, we belong to the growing number of pet owners whose dwindling finances force them to "relinquish" their animal friends at a local shelter.
In this, our annual Animal Issue, we report on that trend as well as other news and views from animal lovers, rescuers, trainers, farmers, hunters, merchandisers, and, well, consumers. Yes, some members of the animal kingdom end up on our plates. But, as entries to our "Best of the Beasts" photo contest demonstrate, the ones we call pets make us happy.
Check it out:
» Winners and Entries in the Best of the Beasts Pet Photo Contest
» Furry Fare: A local bakery caters to critters by Suzanne Podhaizer
» Media Mongrels: Chester's Animal Media Foundation goes to the dogs — and cats and ponies... by Dan Bolles
» Cat Tricks: At the Humane Society of Chittenden County, training helps felines find homes by Margot Harrison
» Antler Archive: A Fairfax nonprofit collects "big-game" records by Mike Ives
» On the Lamb: A Vermont shepherd-filmmaker takes stock of his flock by John O'Brien
» Dog Days — Work: Anne Ross, Shelter Manager, Central Vermont Humane Society, Barre by Mike Ives
» Shelburne Family Sets Up A Fund to Support Retired Police Dogs by Ken Picard
» New Legislation Would Protect Working Farm Dogs From Nuisance Complaints by Ken Picard
» Hunters and Animal Advocates Push to Outlaw Coyote-Killing "Derbies" by Ken Picard
» Whole Hog: Sometimes it takes an office to eat a pig by Alice Levitt
» VIDEO: Stuck in Vermont 119 — Dog Artist Stephen Huneck by Eva Sollberger