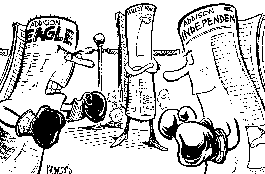 An old-fashioned newspaper war has flared in Addison County, complete with personal innuendo, charges of journalistic bias and accusations of "un-Vermont" and "un-American" behavior. The battle pits the well-established Addison Independent, with its award-winning news coverage and liberal editorial policy, against the insurgent Addison Eagle, which has implemented an aggressive marketing strategy in hopes of building an audience for its conservative message. Also on the scene is an uninvolved third party, the Valley Voice, an apolitical, human-interest weekly with a loyal and sizable readership.
Local newshounds think Addison County is fortunate to have such vigorous competition among its community newspapers, especially in an age when television and the Internet threaten to supplant print as a medium of information and entertainment. But even the most ardent editorial types doubt that all three papers can survive indefinitely in a county of only 36,000 residents.
The row between the two-year-old Eagle and the Independent, founded in 1946, also highlights the political and cultural shifts that have occurred during the past three decades not only in Addison County but in much of Vermont.
The sniping began after the Independent ran a house ad in November touting the quality of its news coverage and claiming superior performance as a vehicle for local advertisers. The Independent's self-promo didn't name either of the two other papers, but in a November 21 editorial the Eagle interpreted the blurb as "slick, un-Vermont attack advertising" intended to discredit the new challenger.
Independent owner and editor Angelo Lynn fired back November 29. Under the headline "Just Being Upfront," Lynn's signed editorial defended the ad's claims and took direct aim at the Eagle, suggesting that its circulation figures are inflated and charging it with "un-American" journalistic practices. Lynn said he found it "amusing that this Republican-backed paper (which supposedly believes in self-sufficiency and the free market) has long been heavily subsidized."
That prompted the Eagle, the following week, to deplore an "unprecedented low point in local editorial writing." The Eagle also reiterated an earlier complaint of "news-rack tampering," claiming that sinister forces bury copies of the Eagle beneath displays of competing publications at local outlets.
In its December 13 edition, Eagle "White House Correspon-dent and Media Critic" Les Kinsolving took a shot at Lynn and his brother, Emerson Lynn, publisher of the daily St. Albans Messenger. Recalling the Independent's claim that the Eagle is a Republican-subsidized organ, Kinsolving asked, "Won't this type of attack raise the question of a rumor about the time a Midwestern father purchased two Vermont weeklies (sic) and gave one to each son?"
The allegation isn't true, Angelo Lynn replies. He purchased the Independent on his own in 1984, he says, after moving to Vermont from Kansas, where he had owned and edited a community weekly for the previous five years. The brothers Lynn are also co-owners of a Vermont publishing group that puts out two other weekly papers: The Milton Independent and the Essex Reporter. For several years, independently owned Seven Days networked with the group to attract classified advertisers.
The Lynns' father is also a veteran newspaperman, who recently passed on to his daughter The Iola Register, a Kansas daily that has been in the family for four generations.
But even if his Republican father had financed his purchase of the Independent, Angelo Lynn continues, that would still be different from what he says is the subsidized operation of the unprofitable Eagle. "No one is pumping money into the Addison Independent or St. Albans Messenger," Lynn declares.
Valley Voice owner and editor Cheryl White, meanwhile, regards this whole contretemps with dismay. "Readers don't like it at all," White says of the Eagle-Independent feud. "It would behoove both of them to be more positive toward one another."
The wrangling has subsided in the past few weeks, but, given the sharply opposed political philosophies of Lynn and the Eagle's combative commentators, few readers would be surprised if the war erupts again.
---
The
Eagle
is struggling at present to make the transition from free mailbox distribution to paid subscriptions. At the peak of its effort to attract readers via direct mailings, the
Eagle
was sending just under 20,000 copies a week through the U.S. Postal Service at a per-paper cost of 14.4 cents, says business manager Dan LaBerge. A smaller number of papers are still being mailed unsolicited on a rotating basis among Addison County towns, but the
Eagle
intends that readers will soon have to pay 50 cents per copy, or $27.50 for yearly subscriptions.
The switchover is occurring "at a time of economic downturn," notes Eagle editor Lou Varricchio. "But we're on schedule and are aggressively pursuing the transition."
Angelo Lynn doesn't think the paper will recover from the expenses it incurred in its mass mailings. "The Eagle will kill itself," he predicts.
"They tried to buy their audience by saturating every household in the area," Lynn observes. "There's a reason that newspapers don't circulate this way. It's just too expensive to work."
Wall Street's slump may make it impossible for the Eagle's Republican backers to continue financing a money-losing, ideologically motivated endeavor, Lynn adds.
Although the Eagle was launched in 1999 by investors that included GOP officials, editor Varricchio says the paper's backers are now "of several different political stripes." They include Democrats and a Libertarian as well as Repub-licans, Varricchio asserts. The Eagle has recently undergone a change of publishers, with co-founder Michael Ploof of South Burlington being replaced by Bill Polk, a Panton businessman. Neither Ploof nor Polk returned phone messages requesting comment on their involvement with the Eagle.
Varricchio describes his paper's politics as "populist," arguing that such an outlook appeals to some Democrats as well as to Republicans. Only when pressed on the right-wing flavor of many of the commentaries appearing in the Eagle did Varricchio acknowledge, "OK, it's conservative."
Among the Eagle's current coterie of investors is Republican State Rep. Connie Houston, whose district encompasses a northern slice of Addison County. Pointing to what he says is the Eagle's frequent and favorable coverage of Houston, Lynn charges Houston with "a huge conflict of interest."
Because she does not serve on the Eagle editorial board, there's no conflict, Houston replies. Describing herself as a longtime entrepreneur, Houston says the money she has put into the Eagle represents "one of the smallest investments I have." Asked to quantify the amount, she responds, "That's not an appropriate question."
The Eagle was launched, Houston explains, expressly in order to "bring out a conservative point of view" in Addison County and environs. "There's a perception of the Independent as being Democratic in its point of view," she says. "And I believe strongly in competition — in having competing voices."
At the same time, Houston has no gripe with the Independent's news coverage — "They do a good job of reporting," she says — nor does she feel that Lynn's paper has treated her unfairly in its stories.
Lynn, for his part, acknowledges, "I do have more progressive views of politics than many county residents do." He encapsulates his own philosophy thus: "I believe government can help people, and I'm against a tax policy that favors the wealthy."
But Lynn says he considers himself more aligned with the Democratic Party — "I fall in line with Howard Dean a lot of the time" — than with the Progressive Party, which he regards as having too ideological an approach to issues.
The Independent publisher-editor rejects the suggestion that his liberal analyses put the paper out of step with prevailing opinions in Addison County. Al-though voters have elected Republicans to seven of the county's nine seats in the General Assembly, Lynn argues that many residents vote Republican "because of single issues like abortion and civil unions," not because they have a right-wing world view. Besides, Lynn adds, being an editor should not be "about writing wishy-washy editorials that try to land in the middle of what residents think."
Some local businesses will not advertise in the Independent because of its liberal stand on many issues, Lynn says. Advertisers have also been lost as a result of news stories in the paper that have highlighted "questionable or unethical behavior" on the part of a few local figures.
---
Over at the
Eagle
, Lou Varricchio describes his political stance as "Libertarian on some issues, but it's hard to pin me down. I'm not a monolithic thinker. I don't like to follow lockstep on every issue."
Varricchio has had a varied career. He edited community weeklies in Pennsylvania and Arizona, worked for 10 years as Champlain College's public relations director, and does occasional science reporting for Public Radio International. Varricchio, 47, expects to receive his Master's of Science in Space Studies — human exploration of the cosmos — later this year from the University of North Dakota.
Cheryl White, who edits the Valley Voice at a Middlebury office within half a mile of both the Eagle's Main Street storefront and the Independent's Marble Works building, has no desire to involve her weekly in the local political scene. Typical of the Voice's contents is the lead story in the January 9 edition chronicling an Orwell woman's struggle to overcome fibromyalgia, a painful disease affecting the muscles, tendons and joints. "We're more of a human-interest, hometown, lifestyle-type paper," White explains.
She bought the weekly in 1987 from Denton Publications — owner of Vermont Times — that had tried unsuccessfully, White says, to combine news from the New York side of Lake Champlain with reports on Addison County. White and her two adult daughters — one of whom has worked at the paper since she was 5 — operate a small business profitable enough to support themselves and to pay the salary of another full-time employee, newswriter and advertising salesman Mike Cameron.
The Valley Voice was founded in 1975 as a liberal and more contemporary alternative to the then-fusty Independent. The Voice's first editor was David Moats, who would go on to win a Pulitzer Prize for his civil-unions editorials in the Rutland Herald. Moats, by all accounts, made the Voice a respected and widely read publication. When he left in the early '80s, the paper lost much of its panache. That left an opening for Angelo Lynn, who developed the Independent as a punchier alternative to the Voice.
Under White's direction, the Voice's focus is markedly different from that of either the Independent or the Eagle. But White's weekly has considerable local appeal. "People like us a lot," the owner and editor says. Indeed, the Voice has the largest claimed circulation of the three Middlebury-based weeklies, distributing 12,000 copies at convenience stores and other outlets between North Ferrisburgh and Rutland. Lynn points out that neither the Voice nor the Eagle employs an independent auditing company to verify circulation and keep track of returns.
Eagle business manager LaBerge puts his paper's current paid and mostly free distribution at around 10,000. The Indepen-dent prints between 7000 and 7500 copies, says Angelo Lynn, but its circulation differs significantly from that of the other two papers. All copies of the Independent are purchased, not given away. And the arrival of the Eagle has put no downward pressure on the Independent's sales, Lynn says. "There's a lot less animosity to the Addison Indepen-dent than [the Eagle's founders] thought there was," the editor comments.
In addition, the Independent publishes twice each week — in tabloid form on Mondays and as a broadsheet on Thursdays. The semi-weekly schedule gives the paper a sharp news-coverage edge over current and potential weekly rivals, Lynn notes. Publishing once a week might save money, he admits, but such a degree of frequency "kills a good news team." Lynn says the Independent's five full-time reporters would bristle at having to wait a full week for their hot stories to hit the streets of Middlebury and Vergennes and the dirt roads of the farm towns along Route 22A.
The Eagle, by contrast, relies heavily on Associated Press wire stories in its coverage of Addison County. Varricchio's weekly employs two reporters, and he says newsgathering resources are already "so stretched" that the paper has given no thought to trying to compete with the Independent on a semi-weekly basis.
The Eagle does put emphasis on agricultural news, leading its second section each week with a set of farm-related stories. That angle is consistent with the claim by Eagle founders that many rural residents of Addison County feel neglected by the Independent and are alienated by its liberal editorial policy.
Some residents of the still largely rural county do hold strongly conservative views, says Liz Ready, a former Addison County State Senator who now serves as State Auditor. But, she notes, local voters trend Democratic at the top of the ticket — in their choices for governor and president, for example — while also sending one member of each major party to the State Senate. Gerry Gossens, Ready's successor as the Addison County Democrat in the Vermont Senate, agrees with her assessment, noting that a few years ago the county's General Assembly delegation was 7-2 Democratic-Republican — the opposite of what resulted from the 2000 election.
Ready, a liberal, offers high praise for the Independent's news coverage, and says of the Eagle: "They've never covered any issues I've been involved in since I was elected Auditor. The only coverage I ever got from the Eagle were front-page negative stories before the election."
Not surprisingly, editors of the three papers differ in their assessment of what the future holds.
Lynn says the Independent enjoyed its most prosperous year ever in 2000, and expects to continue publishing twice a week while the Eagle goes into a death spiral. White, the "voice" of the Voice, won't hazard a direct forecast. "We've been here 27 years," she says of her own weekly, "so I know the area can support at least two papers."
Varricchio predicts that all three papers will still be publishing a year from now. "It takes at least five years to judge the success of a new newspaper," the Eagle editor adds. "We're still in our infancy."