Cat Cutillo
Orange Zest Morning Bun at Black Cap Coffee & Bakery
T
here are many places in Vermont where you can find a decent cup of coffee. But if you're looking for a maple latte and a fresh-baked pastry — served in a casual café with an authentic local vibe — try
Black Cap Coffee & Bakery
. There are now three of them: in Stowe village, at the head of the Lamoille Valley Rail Trail in Morrisville, and on Burlington's Church Street Marketplace.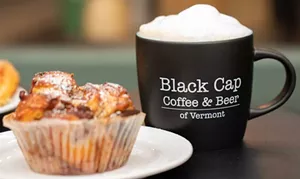 Cat Cutillo
Monkey bread and cappucino
Black Cap is popular with travelers looking for a real Green Mountain State experience — and with locals who keep coming back for sandwiches, baked goods and espresso drinks made from Waterbury's Brave Coffee & Tea. Black Cap's Google reviews confirm it:
"My fiancé and I are from out of town and we have really enjoyed this coffee bar during our stay," writes one reviewer. "The staff is so friendly and the drinks are amazing ... We will certainly miss it when we leave!"
"So happy that a Black Cap opened on Church Street!" writes another. "Their maple latte is my absolute favorite afternoon treat, especially with the chocolate almond torte, which I'm recently obsessed with 😍 "
On a weekend afternoon at the rustic-urban Burlington café, you'll see a steady stream of holiday shoppers, college students, families and tourists. Some might have seen Black Cap on Thrillist's "8 Must-Do Itinerary Ideas for a Killer Vermont Getaway," alongside iconic destinations such as the Ben & Jerry's factory and Cold Hollow Cider Mill.
Cat Cutillo
Black Cap general manager Danielle Dolisie, owner Vilalta and Stowe manager Maria Cabezas
Fueling Black Cap's success are the women who run it — owner Laura Vilalta and general manager Danielle Dolisie. Vilalta, a Stowe resident, is originally from Barcelona. She had a career in marketing and taught at a Spanish business school before moving her family to Vermont in 2010. She bought the first Black Cap location, in Stowe, in 2012. Dolisie, who lives in Johnson, had owned and/or ran several coffee shops and cafés over the last couple of decades before taking a break from the industry.
In 2015 at a spinning class, mutual acquaintances pointed them out to each other. Vilalta "kind of cornered me in the locker room, or vice versa," Dolisie recalls.
Before long, they were a team. Together they opened the second location, in Morrisville, in 2017, and the third, in Burlington, in 2021. "It worked out perfectly," Dolisie says. Vilalta agrees, noting that they have complementary skills. "She's a good hands-on person," Vilalta explains. "I'm a good computer-on person."
Vilalta does the books and closely monitors sales data and industry trends. In 2016, she rebranded the business as Black Cap Coffee & Beer and introduced to-go sales of popular local craft brews from The Alchemist, as well as those from up-and-coming brewers not available at grocery or liquor stores, such as Ten Bends, Lost Nation, Stone Corral and Hermit Thrush. The cafés have coolers full of them.
A few years later, Vilalta noticed a spike in demand for baked goods and decided to pivot again. She invested in equipment; hired a six-person team, led by a New England Culinary Institute-trained head baker; and rebranded as Black Cap Coffee & Bakery. It was good timing, because in 2020 Mirabelles moved from Burlington to South Burlington, leaving the downtown with fewer bakeries.
Today, all three Black Caps offer pastries baked fresh in-house. The selections include standard coffee shop fare — think buttery croissants and perfectly spiced pumpkin bread — and unexpected items with a little more flair, such as the orange zest morning bun, which has inspired a few Google reviews.

"This was hands down the best pastry I've ever had in my life," one fan raves. "The outside was perfectly delicate and flaky with the perfect amount of caramelization, and the inside was soo soft. The flavor was spot on."
Black Cap offers gluten-free and vegan options, as well. Three locations and increased volume make that possible, Vilalta notes.
Cat Cutillo
Gifts for sale at Black Cap
She also curates an array of products for sale at each location, such as notecards, Vermont goat's milk soap and the book Catching Murphy. Written by Wilson Ring, a journalist and Vilalta's husband, it's the endearing tale of a beloved golden retriever that went missing in Waterbury and the community that pulled together to bring him home more than a year later.
The eye-catching and reasonably priced art on the walls comes from Stowe Kitchen, Bath and Linens — Vilalta works with the company to source it.
Dolisie developed Black Cap's menu, incorporating some of the most popular items from her previous cafés and giving them a unique twist.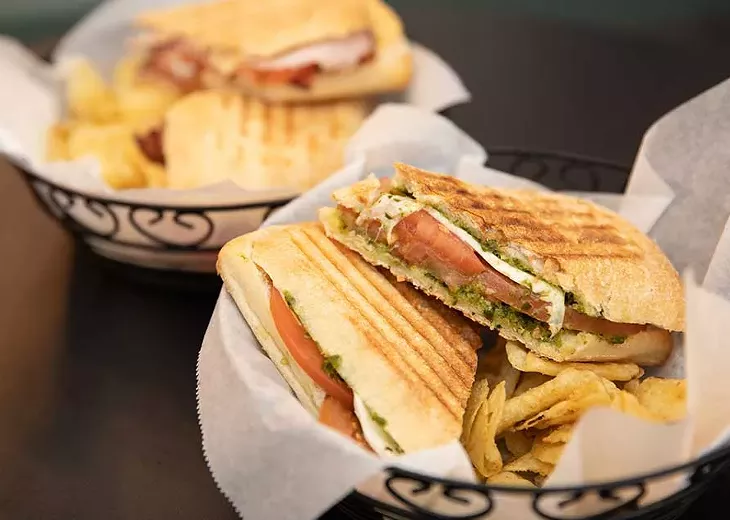 Cat Cutillo
The "Sophia Loren" sandwich at Black Cap
For example, Black Cap serves a caprese sandwich of pesto, tomato and fresh mozzarella on toasted ciabatta but calls it the Sophia Loren, after the Italian actress. "My dad was a big fan," Dolisie notes.
Then there's the Dope Sandwich, made of applewood-smoked bacon, tomato, Cabot cheddar and guacamole. Once, when Dolisie described it out loud, a teenager sitting with her said, "That sandwich is dope." The name stuck. "Bernie Sanders has come in, and he's ordered it," she says.
Dolisie also offers a sandwich known almost universally as the Vermonter. Black Cap's version features smoked turkey, crisp apple slices, Cabot cheddar and caramelized onions.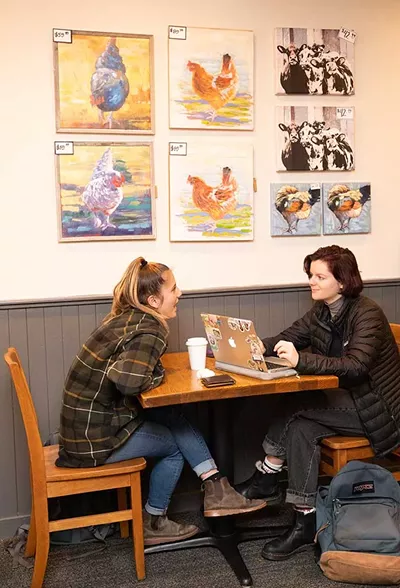 Cat Cutillo
Affordable artwork for sale
Dolisie's got an eye for trends, as well. "You have to keep up," she says. For example, coconut milk is out. "Everyone wants oat milk now."
She also emphasizes that Black Cap staff aren't coffee snobs. They'll serve drinks the way the customer wants them.
Both women are proud of how they've grown the business, which now employs more than 40 staff members at their three locations. Vilalta notes that most of the decision-makers — including Maria Cabezas, one of the senior Black Cap managers, are women. Just keeping the cafés running is a real achievement during the pandemic; the Starbucks located across from Black Cap's Burlington café closed in October. Black Cap, on the other hand, is thriving.
Vilalta wasn't surprised to see the Starbucks go; why get coffee in a place that you can find anywhere? "It's like going to McDonald's or KFC when you're in Europe," she says. Visitors to Vermont want to experience a real local shop. "This is part of the adventure."
Black Cap Coffee & Bakery locations:
Cat Cutillo
Black Cap Coffee on Burlington's Church Street Marketplace
BURLINGTON
42 Church Street
Burlington, VT 05401
(802) 540-1744
View Map
STOWE
144 Main Street
Stowe, VT 05672
(802) 253-2123
View Map
MORRISVILLE
53 Lower Main Street
Morristown, VT 05661
(802) 521-7197
View Map