Courtesy Of Kaity Mcsalis
The writer as a disaster victim
Last week I found myself sprawled beside a wrecked gasoline tanker, my arms and head covered in third-degree burns, blood dripping down my nose and glass shrapnel buried in my back. Meanwhile, a pregnant teenager across the road was going into labor. And then the lightning started.
My adventure had begun at 7:45 a.m. last Friday in the parking lot of Mount Mansfield Union High School in Jericho. There I joined 19 other volunteers participating in the first day of Vigilant Guard. The 10-day, $570,000 exercise is the largest mass-casualty drill ever held in Vermont. It involves more than 5,000 participants from more than two dozen federal, state and local agencies, including Vermont's Army and Air National Guards, 16 area hospitals, the Department of Homeland Security, the American Red Cross, and the U.S. Centers for Disease Control and Prevention.
Our jobs would be to serve as mock casualties, complete with makeup, costumes, prosthetics and acting parts, all of which help simulate the gory realism of an actual disaster. It's one thing for emergency responders to role-play a single-site disaster using mannequins. It's quite another to stress-test them with multiple scenes of mayhem spread over miles, each populated by actors outfitted with authentic-looking wounds and howling in pain.
My group was an eclectic mix of local thespians, comedians, makeup artists, high school and college students, volunteer firefighters, and retired military vets. Some had read about the job on Craigslist, others in the Seven Days story I wrote several weeks ago about E-9, the Colorado Springs, Colo., company contracted by the feds to provide logistical support to Vigilant Guard. E-9 works these federally mandated drills all over the country and pays its extras well.
While we waited, one woman yawned. "I'm not a morning person," she said sleepily.
"For 80 bucks and zombie makeup, I am," countered Nichole Magoon, a Champlain College staffer who does improv at the Vermont Comedy Club in Burlington. "I'm kind of hoping for my intestines to hang out."
At 8 a.m., a white cargo van pulled up, and out climbed Paul Ghiozzi and Charlie Vasseur, both with E-9. The two knew each other in the U.S. Marine Corps and served multiple tours in Iraq and Afghanistan. I'd interviewed Ghiozzi, a '96 Norwich University grad now living in Las Vegas, a few weeks ago by phone. He greeted me with a smile and firm handshake.
Ghiozzi wore a black polo shirt and baseball cap turned backward, both of which bore the E-9 logo and motto: "Make It Happen!" His forearms were covered in tattoos: One depicted the M-4 rifle he carried into combat; the other read "Zombie Apocalypse." Clearly, Ghiozzi loves his job.
Ghiozzi and Vasseur loaded us into the back of the windowless, seatless van, like human traffickers smuggling undocumented workers across the border. As we made the short drive to Camp Ethan Allen Training Site, where Vigilant Guard was being staged, the actors made small talk, mostly about AMC's "The Walking Dead" and other popular TV series.
Isaiah Gilbert of Huntington, the only African American in our van full of Caucasians, helped break the ice.
"Y'all know I'll be the first to die. No need to sugarcoat it," he quipped.
At the entrance to Camp Ethan Allen, we got out so the guards could check our IDs, scan us with metal detectors and tag us with fluorescent green wristbands. We returned to the van, which joined a long, slow-moving convoy of military vehicles headed toward the drill site.
We disembarked at a large, open-air tent that contained bins of clothing E-9 had bought from Goodwill. Staffers instructed us to strip down to our bathing suits, bag our regular clothes and pick out something comfortable to wear.
I chose a ratty pair of navy shorts and a World Wrestling Entertainment T-shirt that I couldn't wait to rip. Several younger women opted for tighter-fitting garb, which they shredded strategically with scissors for the obligatory sexy disaster-chic look of every Hollywood zombie flick.
Next, we waited in line for makeup. I watched Phalesia Pilkington, an award-winning makeup artist from Peoria, Ill., create bloody gashes on the shaved head of Bob Holmes. A retired Massachusetts National Guardsman, Holmes spent two years in Iraq, then six months on security detail at Guantánamo. Today, he's 80 percent disabled, mostly due to post-traumatic stress disorder, he explained.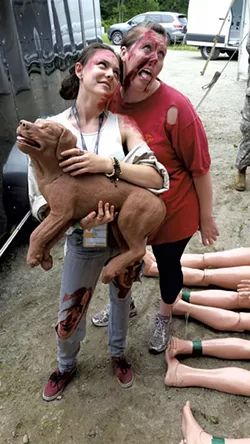 Courtesy Of Paul Ghiozzi
Zarrah Shethar and Nichole Magoon
"Are these radiation burns?" he asked.
"All day is radiation," Pilkington answered curtly.
"This stuff comes off, right?"
"Eventually," she deadpanned.
Once Holmes looked sufficiently gruesome, he got up, and I took his place. Pilkington had an impressive tableau of stage makeup and prosthetics laid out for modeling various wounds and conditions. She quickly scanned a roster of the casualties still needed, then grabbed me a laminated card on a lanyard. Using a Sharpie, she scrawled "severe radiological" on it, then got to work.
Pilkington, who'd worked previous E-9 disaster drills with Ghiozzi in Illinois, exuded the brassy, no-bullshit attitude you'd expect from someone charged with embedding glass shards in your back. She devoted a solid half hour to getting my head and shoulder wounds looking just right before she cut me loose.
It was readily apparent that our mock disaster involved a radiological incident, such as a dirty bomb or nuclear blast. Additionally, some of us were prepped for the other injuries that invariably accompany disasters. Nearby, I overheard Vasseur reviewing the casualties they still required.
"Chain-saw operator, cut leg," he said, checking off the list. "Car accident, leg crush, still alive. Truck crash, burned."
At 10:40 a.m. Ghiozzi shouted, "Who wants to be pregnant?"
Kaity McSalis, of St. George, stepped forward. Someone handed her a prosthetic baby bump, and several women packed it with clothes to make her look further along.
"Do you have any children of your own?" one woman asked.
"No, I'm 18!" she replied.
As my fellow actors hammed it up and took selfies, I perused a row of rubber cadavers sprawled on the grass. Unlike store mannequins, these faux corpses cost $1,000 and weigh 175 to 200 pounds apiece. There was even a CPR dog mannequin for role-playing a rescue-dog tragedy.
Despite the playful mood, I found something vaguely unsettling about watching a pair of National Guardsmen load corpses into the back of an open-bed truck. I was fairly certain that somewhere nearby, body bags were stockpiled for the real deal.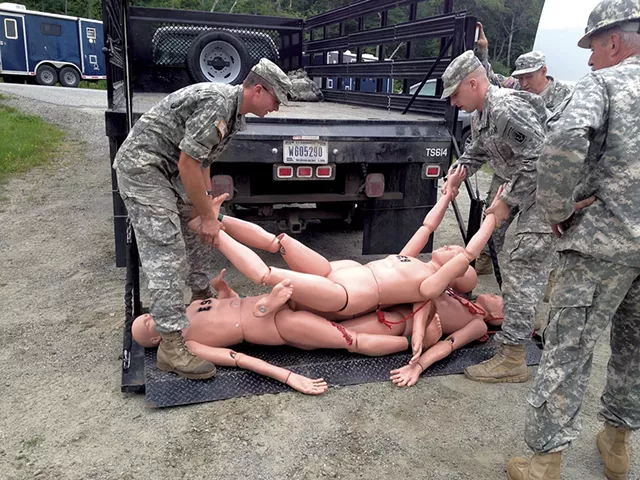 At 11:25 a.m., Vasseur loaded six of us, including the pregnant teen, into the van and followed a soldier driving an ATV up a dirt road into the woods. We bounced along for nearly 10 minutes before stopping at a checkpoint.
"This is Village One," the awaiting soldier said. "Kid in the well?"
"Nope. Not with us," Vasseur answered. We drove on.
At the next stop, Vasseur turned to us and asked, "Lacerated leg?"
"That's me!" shouted a teen from Middlebury.
"Have fun," I said.
We drove on, past a wrecked pickup with a bloody cadaver poking through a shattered windshield. Farther on, we passed a mock police checkpoint with an authentic-looking road sign written in English and Arabic — acquired, perhaps, in Iraq or Afghanistan.
Soon the ATV and van stopped at a three-way dirt intersection. Outside, a sign read "Village 7 — Gas Station." It featured a decommissioned gasoline pump, a wrecked tanker truck and a half dozen shipping containers, including one that read, "Birch Hill Fireworks."
McSalis and I got out. Before departing, the soldier pointed out the latrine and water jugs, then offered a warning.
"There are moose and bear up here. If you see one, go inside. They shouldn't bother you," he said. "Also, there are wasps in some of those containers. Try not to stir 'em up."
Vasseur assured us that if we waited more than two hours to be rescued, he'd return with food. The E-9 staff departed at noon, leaving McSalis and me with the bears, moose, wasps and a wrecked tanker parked precariously close to a fireworks depot.
We meandered around our "village," waiting patiently for the sound of rescuers. After a while, McSalis made herself comfortable on an old couch inside a shipping container, preparing to play the role of a woman in labor whose husband had gone missing. Soon to study theatrical music production at the University of the Arts in Philadelphia, she was far more qualified for her role than I was for mine.
Since we'd received almost no directions except to "keep it real," I shouted to McSalis across the road, asking how she intended to play it.
"All in!" she yelled back. "Screaming hysterically."
At 12:30 p.m., a helicopter buzzed overhead, and I assumed the exercise was under way. We watched and waited. And waited. And waited.
At 1:24 p.m., a truck approached. I got back into position on the trailer, pretending to be injured. I could hear radio chatter as the truck turned around, presumably to assess our predicament. I started moaning, trying to attract rescuers. Nothing. I tried again, louder. From the corner of my eye, I spotted a soldier examining the tanker through binoculars. Moments later, he drove away.
1:50 p.m. A light rain began falling. I huddled beneath the trailer to stay dry.
2:28 p.m. The rain stopped. More vehicles passed without halting. As the heat and humidity set in, the dried blood on my forehead melted and ran into my eyes.
"I think all the glass in your back fell out," McSalis informed me, en route to the toilet.
At 3:20 p.m., the sky rumbled with thunder, then opened up in a deluge. I climbed into the truck's cab beside the cadaver to wait it out. Five minutes later, two soldiers in a minivan picked us up.
"Called on account of lightning," one announced nonchalantly.
En route, we passed rows of decontamination tents surrounded by light stanchions. Back at the actors' tent, we found most of our group wolfing down sandwiches and sodas. Most of them hadn't been rescued, either, though a handful had been triaged and hosed down before the storm started.
Jane Schlossberg, who'd gone through decontamination, claimed that the staffers used real radioactive canisters to trip the hazmat teams' radiation detectors, though I couldn't confirm it.
"I hear tomorrow it's the plague," she announced hopefully.
Later, Pilkington called out the name of each actor, and Ghiozzi handed them $80 in cash before they climbed into the van for the drive back to the school.
Initially, I was disappointed to miss out on the full "disaster experience." Then it dawned on me: This was probably how day one of a real disaster felt. I hadn't had dozens of rescuers tending to my wounds, as helicopters hovered overhead and a Red Cross worker draped a silver rescue blanket over my shoulders. Instead, I got a glimpse of what some victims of Hurricane Katrina or the Orlando shooting experienced. Had this been an actual emergency, I'd be dead.
I came away with the harsh truth that a woman in labor and a burn victim may not be the highest priorities in a disaster, especially when bigger storms are brewing elsewhere.