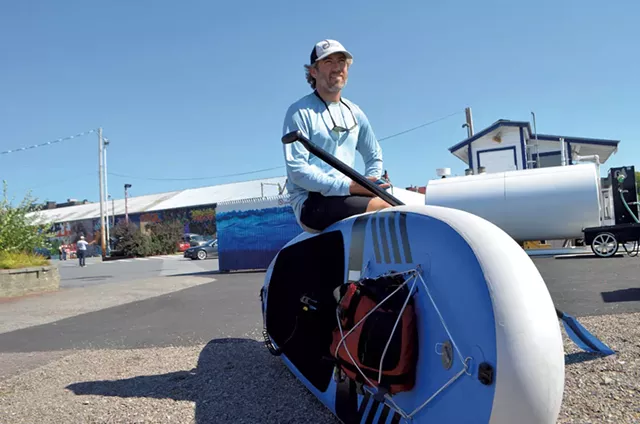 Sasha Goldstein
Eric Strickler
A Michigan man has conquered Lake Champlain by crossing it via paddleboard from Burlington's North Beach to Port Kent, N.Y.
Eric Strickler hopped aboard his inflatable standup paddleboard around 6 a.m. Monday and headed west. A strong southerly wind forced the fit 32-year-old to spend most of the time paddling on his right side. It also slowed him down considerably. He usually averages 3 to 3.5 mph. On this trip, he averaged 2.4 mph.
Around 9 a.m., Stickler took a pit stop on Schuyler Island on the New York side of the lake. By 10:30 a.m., he paddled into Port Kent, just in time for the 10:50 ferry back to the Queen City.
All in all, he said, not a bad 10.6-mile jaunt.
"I decided to come and paddle a big, pretty lake because it's here," Strickler said with a shrug.
He'd contemplated returning by paddleboard, but the windy conditions changed that plan.
"I'd much rather be on my paddleboard than not," Strickler told a reporter who met him at the ferry terminal in Burlington. "What's the old mariners' quote? 'A bad day on the water is better than a good day on land.'"
In August, he and a friend paddleboarded across Lake Michigan, from Milwaukee, Wis., to Muskegon, Mich. They stopped six miles short of their destination as conditions turned treacherous. The 73-mile journey took them 22 hours.
The Vermont-to-New York trip wasn't nearly as dramatic. But was it a record? No one at the Lake Champlain Community Sailing Center or SUP shop WND&WVS knew of anyone who'd done it.
Eloise Beil, the director of collections at the Lake Champlain Maritime Museum, recalled Peg Whitson circumnavigating the lake in a rowboat decades ago — but no paddleboarders.
Strickler didn't appear to be seeking accolades.
"I don't know what I'm going to do this afternoon," he said, shaking his head.
Then he dropped his board back into the lake and glided away from the dock, in the direction of North Beach.
"I'm off to find Champ again!" Strickler yelled, paddling into a stiff breeze.