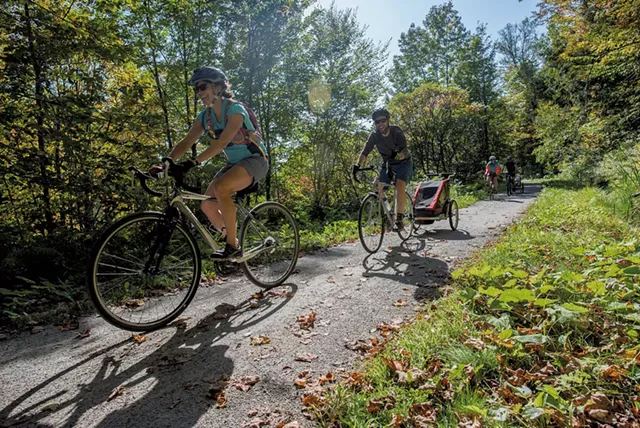 Glenn Russell
Bikers on the Lamoille Valley Rail Trail
The Lamoille Valley Rail Trail is a work in progress. The plan calls for construction of a 93-mile trail that traverses the state from St. Johnsbury to Swanton. Two sections are complete: 16 miles from St. Johnsbury to Danville and a 17-mile leg from Morrisville to Cambridge. In Sheldon, a 1.5-mile length of trail connects with the Missisquoi Valley Rail Trail.
But construction of the LVRT is "fairly stalled," said trail manager Ken Brown. The holdup is lack of funding for a project that costs $160,000 per mile of trail. The price goes up for a section of trail with a bridge on it. (About 90 bridges are on the LVRT.)
Put another way, a mile of the LVRT costs the same as 32,000 pints of beer at Lost Nation Brewing in Morrisville. The value of a walk or bike ride on the trail and a $5 beer can be appreciated in tandem at the trailside brewery.
Lost Nation chef Erik Larson said the taproom feeds a significant number of trail users. He figured the brewery could serve that clientele in one of two ways: by offering light fare to support recreating and exercise, or by providing a reward for people who arrive by their own power. The brewery opted for the latter.
"We're the treat at the end of the day," Larson said, "that big, greasy burger that's waiting for people when they're done with that 20-mile bike ride."
A Lost Nation cheeseburger was my treat at the end of a recent nine-mile walk on the trail. (OK, 8.9 miles — 19,680 steps — according to my phone.) The burger was one of three meals I ate on or near the trail with photographer Glenn Russell on the last Saturday of summer.
We started about a mile west of Johnson and hiked east to the brewery. The trip is a lovely and accessible way to see Lamoille County — through town and country — up close and at a leisurely pace.
On a blue-sky day, we walked through high cornfields, across a rusty railroad bridge spanning the Lamoille River, and past private homes and a dairy farm. Signs marked the miles and alerted us to tractor crossings.
The trip was built around three meals: breakfast in Jeffersonville, lunch in Hyde Park and late lunch in Morrisville. Our pace determined the timing of the meals — we were too fast to hit Lost Nation for dinner.
After breakfast, we drove (regrettably) seven miles to start our walk near Johnson. Eating there wasn't an option because we couldn't find a place that served breakfast — a deficit that's practically a sin in a college town. (If we blew it and missed a place, clue me in!)
Glenn and I enjoyed all three meals, but the great pleasure of the day was the walk between them, which presented a view of Vermont you can't see at 50 miles per hour.
You don't need to be in tip-top shape to walk (or bike) on the flat LVRT. For me, it was hard to stop walking. But a cheeseburger and a beer helped.
The Family Table
4807 Route 15, Jeffersonville, 664-8920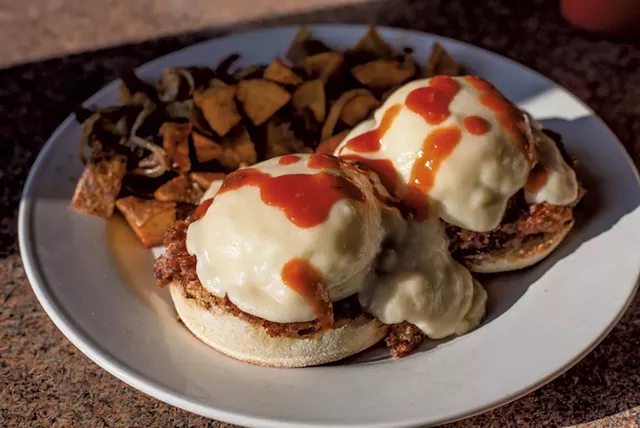 Glenn Russell
Biscuits and gravy with poached eggs at the Family Table
We left one car in the parking lot at Lost Nation and drove to breakfast at the Family Table in Jeffersonville. Founded 10 years ago by chef-owner John Raphael, the restaurant is at the traffic circle where routes 15 and 108 meet. Its enclosed dining porch overlooks the Lamoille River and the Cambridge Greenway Trail, which connects with the LVRT.
We ate in the dining room, which is decorated with scenic photos of Vermont — a kind of visual appetizer for the walk ahead — and staffed by a cheery server.
From a solid breakfast menu, I chose a meal listed in the "classics" category: biscuits and gravy with poached eggs. The grilled biscuits held their snap under a generous portion of gravy seasoned with shallots, garlic and fennel powder and studded with Raphael's housemade sausage. The eggs sat atop a pile of home fries. Our coffee mugs were kept topped off.
A few days after our visit, I called Raphael, 49, a graduate of the culinary program at Johnson & Wales University in Providence, R.I., to learn more about his restaurant. He lives in Belvidere and said he likes running a business in his community — even though, he added, "With my talent, with what I do, I should be in Burlington."
The Family Table has a full bar and a dinner menu that includes dry-aged rib eye and lamb burgers. "I try to keep it to what people like: big portions with lots of flavor," Raphael said. Skiers at Smugglers' Notch and snowmobilers on the trail are vital patrons.
"I don't care if it's a snowmobile, a car, a bike or a horse, you're driving around Vermont, and it never gets old," Raphael observed. "The mountains put your soul at ease."
Fork & Gavel
246 Main St., Hyde Park, 521-7910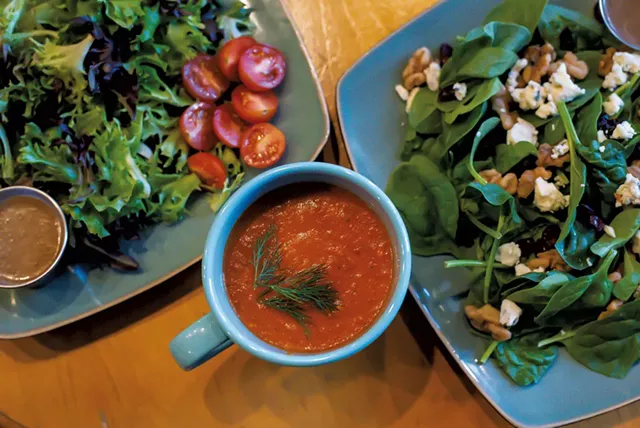 Glenn Russell
Salads and a mug of tomato, roasted pepper and garlic soup at Fork & Gavel
The path to Hyde Park started with a colorful blaze on the trail itself. The first stretch of ground was mysteriously sprinkled with cherry-red candies, leading us eastward.
On the way we passed a youth soccer game in Johnson and detoured slightly to see Dog's Head Falls, a spectacular spot on the river. Occasional bikers pedaled past.
Once in Hyde Park, we turned off the trail and walked a couple blocks up Depot Street to the heart of town. We heard music as we approached Main Street, where the high school band was playing and marching to lead the Home Day parade.
Festivities included candy throwing from floats, onion rings deep-fried along the sidewalk, dumplings and curry from a Nepali food vendor, and scones outside the courthouse. But we skipped the street eats in favor of lunch at Fork & Gavel, a Main Street restaurant that opened in March.
Anticipating another meal a few miles farther down the rail trail, we opted for a light lunch: salads and a shared mug of tomato, roasted pepper and garlic soup. Garnished with a sprig of dill, the soup was thick and flavorful. The salads — spinach for Glenn, greens for me — were simple, fresh and dressed in vinaigrette.
246 Main St.
Stowe/Smuggs
Hyde Park, VT
802-521-7910
Diner, American (Traditional) and Soup 'n' Sandwich
Fork & Gavel's owners are Jenna and John Decker. The couple's house in Cady's Falls, a Morrisville neighborhood, backs onto the LVRT.
"The rail trail is a really important part of our lives and livelihood," said Jenna. "It's an awesome amenity."
The Deckers, who also own the Stowe Public House & Bottle Shop, are expanding Fork & Gavel to add an adjacent general store. Its inventory will include Lamoille Valley Rail Trail mix; proceeds from selling the mix will be donated to support the trail, Jenna said.
"We want Hyde Park to be a stop on the rail trail, a little destination," she said later by telephone. "People [sometimes] say, 'If I wasn't halfway through my ride, I'd have a beer.'"
Lost Nation Brewing
87 Creamery Road, Morrisville, 851-8041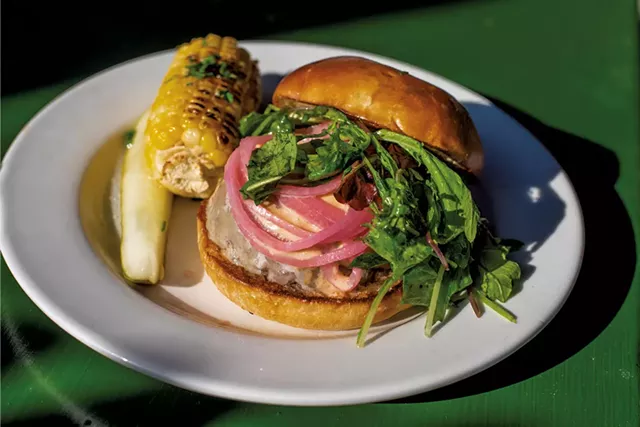 Glenn Russell
Cheeseburger with side of corn on the cob at Lost Nation Brewing
"You guys need a beer?" our server at Lost Nation asked.
"Need is a complicated word," Glenn answered.
"Yes!" I said, interrupting him.
We were sitting at a picnic table in the beer garden, having walked nearly nine miles in three and a half hours (not including a two-hour lunch break).
Though we had killed time in Hyde Park watching the Home Day parade and lying barefoot on the courthouse lawn, it was only 3 p.m. — a little early for dinner.
I ordered a glass of the Wind, a Gose-with-grapefruit thirst-quencher that tasted just right after our walk. I gazed with envy at the cooks in the outdoor kitchen, whose job and big yellow boombox I secretly desired.
I ordered a second beer, a pilsner, and regained enough energy to eat a bowl of mussels steamed in Gose. We waited a bit before ordering our main course: tacos for Glenn, a cheeseburger for me.
"Bloody," I specified, choosing between bloody and burnt, as the menu prescribes. (The wording on the menu is a reference to steak — burnt to a crisp or bloody as hell — in the movie Pulp Fiction.)
My cheeseburger was served red and juicy on a challah bun, topped with remoulade, lettuce and pickled onions. The side of grilled corn matched the hue of the boombox.
I've often wondered what makes a Lost Nation cheeseburger stand above the crowd. A few days later, I called Larson to ask.
He credited the blend of beef — brisket, short rib and chuck from Kansas-based Creekstone Farms — seasoned with salt and pepper. The cheese is Cabot Creamery sharp cheddar; the mayo-based remoulade is mixed with garlic, chopped red onion, tomato, pickles and a pinch of cayenne.
Larson, 43, attended the New England Culinary Institute and taught there. He's been Lost Nation's chef since the brewery opened in the summer of 2013. The following year, the brewery started its seasonal ritual of moving the kitchen outdoors from Memorial Day to mid-October. Working at Lost Nation is the longest-running job Larson's had since he began restaurant work at age 14.
"The owners are really great people," he said of Lost Nation. "They take care of their employees. In this industry, that's really important."
On his "weekend," Larson often takes his kids — ages 9 years and 18 months — for a walk on the rail trail. That's Monday and Tuesday, when Lost Nation is closed. So, no big, greasy burger for lunch.