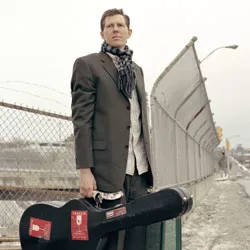 In October 2000, the New York Times described Chicago-based songwriter Robbie Fulks as "one part artful country, one part artful sendup of country, and one part everything else." And the Gray Lady got it right, mostly.
For all his talents, Fulks is a woefully underappreciated songwriter. Those who know his music adore him. But he is a virtual unknown outside of that small but devoted fan base. Perhaps that's because Fulks has spent much of his career championing the music of similarly overlooked artists. In addition to an impressive and varied canon of original music, he is equally admired for his tribute works. In 2001 Fulks released 13 Hillbilly Giants, a collection of misfit country classics. In 2004 he produced a star-studded tribute to the great Johnny Paycheck, titled Touch My Heart.
Earlier this year, Fulks released another tribute of sorts: Happy. Not dedicated to nearly forgotten country legends, mind you, but to late pop icon Michael Jackson. The album features 13 Jackson tunes culled from the gloved one's 30-plus-year career, dating back to the Jackson Five. It is composed of chart-toppers ("Billie Jean," "Black or White") as well as more obscure numbers ("Privacy," "Don't Let It Get You Down"), all twangily reimagined as country songs. And, believe it or not, it is excellent.
In advance of his two Vermont appearances this week, Seven Days chatted with Fulks by phone from his home in Chicago.
SEVEN DAYS: So, does the world really need another Michael Jackson tribute?
ROBBIE FULKS: No. It doesn't at all. But it's not really a tribute. It's more of a repurposing of his songs. I'm not really a huge fan of his or anything. But there's always the project of taking outside songs and fitting them into what you do. And I guess that's what this record is.
SD: You have a long history of honoring obscure, overlooked artists. But MJ is neither. Why choose to rework his music, specifically?
RF: Somebody else chose it, actually. I was hired to do a show, arrangements for a birthday or something, by a municipal outfit in Chicago. So I arranged a song or two and had a good time doing it, and then my band started playing a song or two, and it naturally came out of that. It's probably an ass-backward way to fall into a project.
SD: But there must have been a more specific, grand design at some point, right?
RF: Well, it started to fascinate me more and more once we decided to do a record. It's fascinating to look at this 30-year career and there's, like, 200 songs to choose from or something, if you count the Jackson Five. And I found that I was vaguely familiar with a surprising number of those songs — and I'm not even interested in that type of music.
SD: Well, MJ was ubiquitous back in the day.
RF: Right. And just from being alive through those years, you kind of grow up with these megastars. You hear them when you go shopping. They're just kind of piped into your life and it registers in some way. So, it gave me kind of a giddy feeling to take something that was so solidly done at one time and start from square one with it. Like, to make "Don't Stop 'Til You Get Enough" a bluegrass song. And to try and do it not to see how crazy a goofball idea we could impose on this song but to say, "If you want to do this song, how the hell would you do it?" "How do you make it country?" is what it came down to in probably half the cases.
SD: There was a version of "Smooth Criminal" that didn't make the record. Were others left on the cutting-room floor?
RF: There were probably, like, seven or eight. "Everybody's Somebody's Fool." A couple stabs at "Black or White." "Rockin' Robin." There were definitely some misses. But one of the benefits of letting it sit on the shelf so long was that listening to it seven years later gave me some perspective on it.
SD: Jackson's music was undoubtedly great. But it's hard to overlook the less savory aspects of his life. How much do you think we should take artists' personal failings into account when assessing their body of work?
RF: I guess I don't have that strong an opinion in his case in particular. I basically believe that he did what people say he did. It seems there's enough evidence, people came forward, and circumstantially, it rings true. And his behavior in the face of it rang untrue to me. So, I believe the terrible things that people said he did. And this is unfortunate, maybe, but no matter what people do, it doesn't erase the quality of their art. I mean, you'd have to throw away a whole bunch of art if that were true, from Wyndham Lewis to Ezra Pound to … I don't know … some of my friends, whose records I like but who are snakes and adulterers and felons. And that's certainly not to make light of child rape, which is probably the worst crime in the world. But I think as a general rule, it doesn't lessen the body of work.
SD: The obvious risk with a project like this is that it could be dismissed as either opportunistic, novelty or both. Was that ever a concern for you?
RF: It was. I was first going to put out the record in 2003. And that's when his legal and, um, boy troubles hit an apex. So I thought, Well, this definitely looks bad. It looks like I'm just jumping on the headlines of the moment. And that would have been fine, you know, if it made for some sales. But it was sort of contrary to the spirit of the record. It wasn't a "ha-ha, gotcha!" kind of record in spirit. Maybe the next record will be that way but this one wasn't.
SD: Probably not the best time to release it, in retrospect.
RF: It would have been bad to put it out then. But to put it out after his death, it just looks like a nice thing to offer a dead guy, I guess.