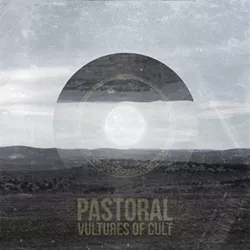 (Self-released, digital download)
Burlington's Vultures of Cult have made a name for themselves picking stringy flesh from the discarded carcass of post-rock. In 2010 the band offered a gnarly "stoner rock opera," Cold Hum. They followed with the blistering sludge of Fathoms in 2012, an album noted as much for its lengthy stretches of bleak and punishing soundscapes as its eerily quiet interludes. In 2013, the band took a quick beach vacation on the EP SVRF, applying the same sinister curiosity heard on their earlier works to the slippery guitar curls of surf rock. Then, in 2015, VOC released what may go down as their magnum opus, Bitter Gloom on a Golden Dawn, a sweeping and queerly mystical rumination on the natural world as brutal and beautiful as nature itself. "Cinematic" is overused in rock-scribe jargon, but Bitter Gloom was worthy of the term. So, too, is VOC's latest effort, Pastoral.
Pastoral is essentially one long movement, a 20-minute slow burn that simmers with ominous tension before unleashing its true, frightening fury. It begins with desolate guitar lines that meander, almost arrhythmically, just on the edge of dissonance, as if peering into the void. These lines eventually coalesce into a dirge, anchored by the beating heart of a kick drum. To return to Pastoral's cinematic quality, the chilling percussive effect is not unlike the sound of Leonardo DiCaprio's strained breaths that bookend The Revenant with such visceral immediacy.
Keenan Bouchard's drum work is the engine that drives the composition. His changes, while often subtle amid the hypnotic haze, serve as a vehicle for foreshadowing. When his beat shifts from heartbeat to tribal thump, the entire tone of the piece changes. Here, Justin Gonyea and Stephen Sharp's scorched guitar tones evoke the emptiness of blighted desert wastelands.
About seven minutes in, vocals finally emerge, as if sweeping across these sonic badlands. Sharp and Gonyea sing-chant in dire, Alice in Chains-style harmony, "Invocations / Spoken true / All is calm now / Light moves through."
VOC call forth the thunder, and it comes with a vengeance amid heavy Black Sabbath riffs and torrential drums that never relent. In fact, the storm continues to rage — over the same trancelike progression, no less — with increasing intensity all the way through to the composition's final screaming note, sustained in psyche-shattering feedback some 12 minutes later.
As is each of their records, Pastoral is as artistically ambitious as it is sonically bold. It is dense and evocative and, above all else, thrilling. In short, it's another masterstroke from one of Vermont's most creative and singular bands.
Pastoral by Vultures of Cult is available at vulturesofcult.bandcamp.com.