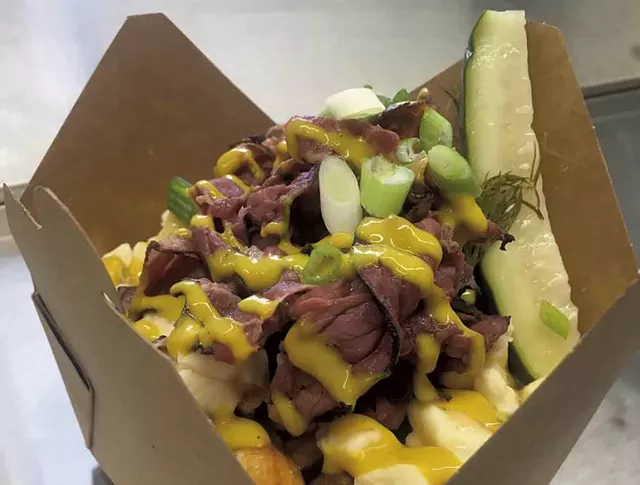 Courtesy Of Vulgar Display Of Poutine
Smoked pastrami, yellow beer mustard and pickle poutine
Hand-cut fries, local cheese curds and scratch-made gravy form the foundation of the food at Vulgar Display of Poutine, a poutinerie that opened over Labor Day Weekend at 69 Cross Street in Island Pond.
Chef-owner Ryan Fisher builds on that base to create a variety of poutines. "It's like pizza," he said. "You can put a million things on it. I've got about 50 ideas."
Fisher is a longtime cook and a punk rock drummer who toured for eight years with the band Off With Their Heads. Living on the road, he gravitated toward buffet eating.
"I love a variety of food," he said. "That's my jam."
A "variety of food" can be found on the poutine Fisher makes at the counter-service eatery he owns and operates with his girlfriend, Shannon Shepard. Priced at $10 to $15, most of the poutines start with fries, curds and Fisher's gluten-free gravy; he also makes veggie gravy for his vegetarian and vegan poutines.
One of his poutine variations is the North Shore 3-Way, with slow-roasted top round, James River BBQ Sauce, American cheese and griddled onion roll aioli. It's a nod to a popular sandwich in Fisher's home turf of Billerica, Mass. Another poutine, called Aren't We Doing a Pastrami One?, features smoked pastrami, yellow beer mustard and a house pickle.
Vulgar Display of Poutine builds on the mobile outfit of the same name that Fisher operated for three years in Lowell, Mass. He named it for the Pantera album Vulgar Display of Power.
"Pantera is my favorite band of all time," Fisher said. "The name kind of stuck and was a little too perfect for me personally."
In 2016, he notched up a best-poutine victory at NH PoutineFest in Merrimack, N.H., for a variation called A.P.I.G. (All Pork Is Good). The poutine, which ran as a special last weekend in Island Pond, features 16-hour pork shoulder, bacon-onion jam, crispy shiitake mushrooms and scallions.
Vulgar Display of Poutine is open Thursday through Sunday. Fisher plans to extend the hours soon.