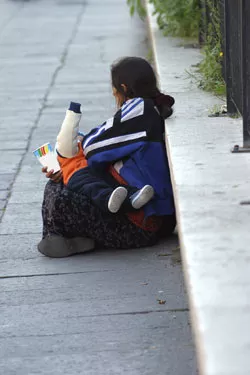 Vermont is in the midst of a baby boom, but it's not a trend anyone is celebrating.
Linda Ryan, who runs the Samaritan House, an emergency shelter in St. Albans, had a homeless woman referred to her on Christmas Day who had just given birth to her second child. Kendy Skidmore, director of the Bennington Coalition for the Homeless, says she's had newborns at her shelter, too five in the last six years, with another one due any day now.
Paul Capcara, who runs Morningside House in Brattleboro, says several single moms have moved into his shelter in their second or third trimester, and then brought their babies "home" there. It's "a profoundly disturbing and depressing experience for all involved," he said.
Elizabeth Ready, who runs the John Graham Shelter, a 25-bed facility in Vergennes, also notes that it's "not uncommon" for women to give birth at her shelter, or to be referred there straight out of the maternity ward. "In fact," she said, "putting on baby showers has become our specialty at John Graham. We've had at least four this year."
The face of Vermont's homeless has never looked more vulnerable. Earlier this week, the Vermont Housing Finance Agency released its report, "Family Homelessness in Vermont." Its two main findings: that Vermont leads New England in numbers of homeless, and that the fastest-growing segment is working families with children.
The news is disturbing, but unsurprising. For at least a decade, low-income advocates have been sounding the alarm about Vermont's escalating rates of poverty and its concomitant problems severe hunger, food insecurity, untreated physical and mental ailments, domestic violence, learning disabilities, depression, homelessness and despair.
As the VHFA report makes abundantly clear, the prevailing stereotypes about Vermont's homeless namely, that most are single, male, mentally ill, substance abusers and/or victims of their own irresponsibility simply isn't accurate anymore. These days, more and more Vermonters are, quite literally, being born into poverty.