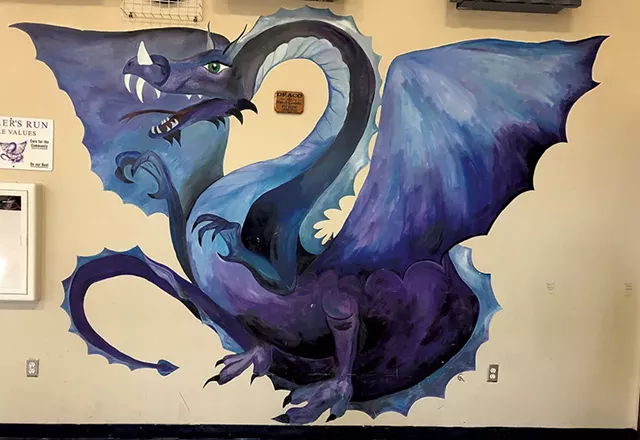 Photos Courtesy Of Vermont Arts Council
"Draco" mural at Miller's Run School in Sheffield
Last year the Vermont Arts Council fostered a statewide project called #VTArts251. The name recalls the 251 Club of Vermont, whose members aim to visit all 251 towns in the state. The arts council's goal was to receive photos from artists of every stripe in every Vermont town, who were invited to submit images of their work or anything "arty" in their vicinity.
Artists responded; more than 350 images are posted on the council's Facebook page and Instagram account. But it wasn't easy to get every town represented. Like just about any project with a deadline (December 31, 2019), this one came down to the wire. Still missing entries from some towns late in the year, VAC staffers fanned out to find art and take photos.
"We finished on the last day of 2019 at 3 p.m.," arts council executive director Karen Mittelman said. "Many [photos] were submitted, but the staff divvied up towns that we weren't getting submissions from."
Not surprisingly, most of those were really small towns — although Mittelman says the preponderance of responses were not, as one might expect, from populous Chittenden County. Apparently there's a lot of artful pride out there in the Green Mountain State.
By contrast, some residents, Mittelman noted, seemed not to recognize the art right in front of them.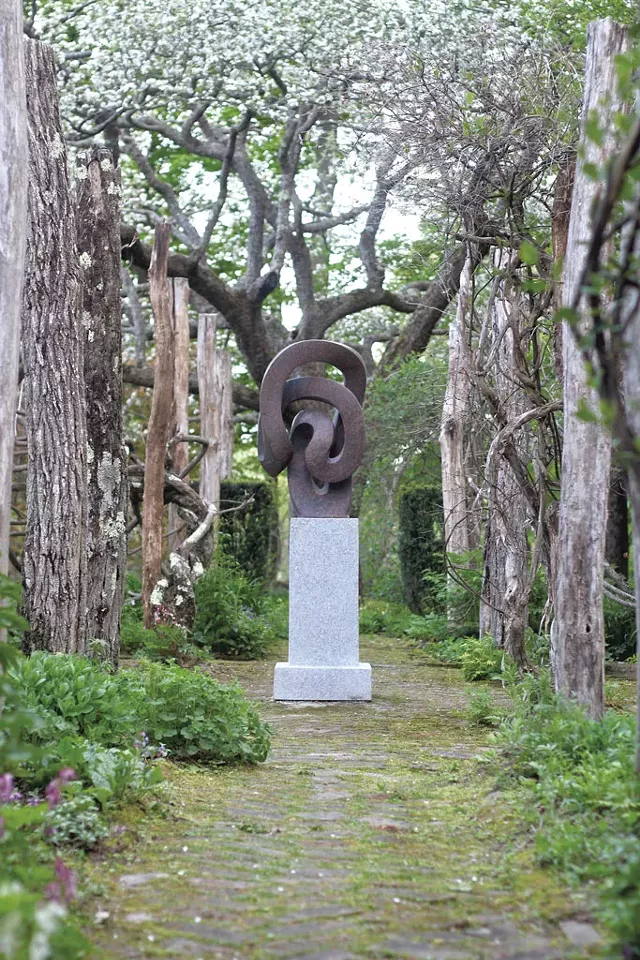 Courtesy Photo
"Locus" sculpture by Miles Chapin in Westminster West garden
Mittelman gave the example of the town clerk in Panton (whose website lists populations of "people 677, cows 3518, chipmunks 44,239). "She said, 'We don't have any art here.' I asked her if they had anything hanging on the walls [of the office], and it turned out they had an ink sketch by Margaret Parlour." Several of the local artist's pen-and-ink drawings are included in a 1995 history of Panton compiled by resident Earline Marsh for Champlain Valley Telecom.
Other surprise finds were internationally renowned artists secreted in rural Vermont: in Ryegate, Wampanoag artist Julia Marden; and in West Townshend, glass designer Robert DuGrenier, whom Mittelman called "the Dale Chihuly of Vermont."
The arts council director credited help from many other people on the search, including Obscure Vermont blogger Chad Abramovich.
What comes next for #VTArts251? Mittelman said she's not sure yet — after all, the project wrapped just a couple of weeks ago. "We're still digesting what to do with these images," she said. The hundreds collected run the gamut from elementary school murals to sophisticated fine-art sculpture, from tattoos to gravestones, from quilts to collages — and from dancers to musicians.
Courtesy Photo
Mural by Carolyn Enz Hack at Thetford Elementary School
"One thing we wanted to convey with this project is, art is everywhere," Mittelman said. "Also, being creative doesn't mean you have to be a professional; our staff took pictures of a lot of 'everyday' art.
"My biggest pleasure with VTArts251," she concluded, "was making all these discoveries — there are so many stories out there."