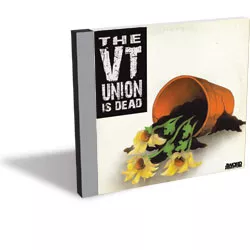 (4Word Productions, CD, digital download)
There is a reason why most truly great modern epics are trilogies. As a story device, a trilogy lends itself to a natural narrative arc. Generally, there is a rise, then a fall, and finally, redemption — think Lord of the Rings or The Godfather. In the case of local hip-hop collective VT Union, the story began in 2006 with their impressive debut, Tha Mixtape. In 2008, Messrs. Nastee, Dakota, DJ A-Dog, et al., followed that with an aptly titled sophomore effort, The Return. Now, with their third and final album, The VT Union Is Dead, their epic story ends. (Although we'd be remiss not to acknowledge VTU ringleader Nastee's 2009 solo joint, The Album B4 the Album, which, if the VTU canon is LOTR, would be the local hip-hop equivalent of The Hobbit: a great read and important back story, but not quite a classic on its own.)
Amid swampy Resonator guitar slides and bluesy vocal howls, the album opens on backwoods hip-hop anthem "Itz VT." Unlike on previous albums, Dakota stands front and center throughout much of VTU's parting shot. His performance, especially here, begs the question of why he wasn't featured more prominently before now. The Waitsfield native's flow is effortless, his witty lyrical turns blending down-home Green Mountain roots with urban musical savvy. He's not from the streets, but country roads. And proudly so.
The remaining VTU regulars are equally impressive. Nastee is at his gruff finest throughout, but especially on anthemic centerpiece "Make Rume" and "All My Dogz." Manus drops chill, hypnotic lines like a lyrical snake charmer on "Luv That." VTU part-timer S.I.N. makes a showstopping cameo on "All About." DJ A-Dog is his usual incomparable self throughout. The gang is truly all here. And then some.
Hard-charging BTV emcee BURNTmd and Boston's Akrobatik drop in on "Stand the Rain," borrowed from the former's excellent Let's Get Ill EP. Sean Price, of legendary Brooklyn crew Boot Camp Clik, pops up on "This Is Me." Malice of Clipse and Massive B's Bobby Konders hype up "Make Rume," and tear up the Statik Selektah remix of the song that closes the album. VT newcomer Colby Stiltz takes the reins on "My Nutsac," which is as sophomorically funny as its name suggests. Keep an eye out for Stiltz.
Partly out of necessity — the 802 at large has been painfully slow to accept local hip-hop — VT Union functioned on the idea that the whole is greater than the sum of its parts. The VT Union Is Dead furthers that collective philosophy. But it also suggests that local hip-hop has grown up enough to stand on its own, for which the VTU is due significant credit. And for that, VT Union may just live on forever after all.