Hannah Palmer Egan
Trimming beets from Harvest Hill Farm
On a spitting-rain November evening, Brian Bertenshaw stood at a stainless steel table trimming beets. With deft movements, he lopped off the roots' spiny tops and tossed their bleeding red bodies into a wide metal mixing bowl. His forearms were scarred with the shallow nicks and burns that are common among line cooks and other restaurant workers. But, in his hand, a 14-inch chef's knife told a different kind of tale.
The blade was tethered to the table with a braided wire cord, and the cook's prison-orange T-shirt identified him as a corrections inmate. Bertenshaw is one of 18 resident-cooks at the men-only Northeast Regional Correctional Facility in St. Johnsbury, where he is currently serving a minimum of 28 months for aggravated domestic assault.
"I like to keep busy," he said, rolling a beet toward the knife. "[The kitchen] is a good environment, and it gets you off the block."
So long as Bertenshaw works hard and stays out of trouble, NERCF dining manager Bryan Mitofsky will see to it that he picks up some new cooking skills, too.
And those beets? Local and organic.
Last May, Mitofsky met with farmer Bill Half from Walden's Harvest Hill Farm. "We set up what I like to think of as an institutional CSA," Mitofsky said, standing near the kitchen door as dinner service began. "I told him I'd buy three cases of lettuce every week, plus $55 [worth] of whatever extra [produce] they had around."
Most weeks, the $55 grab bag comes in the form of kale. "Every inmate here should be wearing an 'Eat More Kale' T-shirt," Mitofsky said, snickering at his only-in-Vermont statement. The cooks sauté fresh greens with minced garlic and maybe some diced tomatoes. Anything that can't be used within a few days gets chopped and frozen, then added to soups and other dishes throughout the winter.
Mitofsky connected with Harvest Hill through Green Mountain Farm to School's Farm Direct program, with which he'd signed on in August 2014. As with its other, similar initiatives, Farm Direct's main goal is to expand markets for, and broaden access to, Vermont-grown meats, dairy and produce. In practice, that means funneling more local products into institutions such as schools, hospitals and prisons.
"We care that local food is something for all Vermonters," GMFTS founder and executive director Katherine Sims told Seven Days via phone last week, echoing an oft-heard locavore mantra. "It's not just for the tote-bag-carrying ladies at the farmers market."
Sims cited studies proving that many prison inmates gain weight over time. While there are many reasons for that, typical prison diets — mainly processed meats and starches and frozen or canned vegetables — are a major contributing factor. So linking Vermont's jails with a steady supply of fresh, nutrient-dense food could help improve inmate health. And, since prisons are funded with taxpayer money, each dollar spent on local products circulates back into the state's economy instead of to midwestern factory farms, interstate distributors and multinational food conglomerates that dominate the institutional food market.
Since 2013, Farm Direct has steered some $1 million in revenue from schools, hospitals and prisons to local farms. Each week, the farmers harvest and pack the requisitions, which come in via an online ordering portal. Central Vermont's D & S Distributors picks them up, compiles and repacks everything by institution, and delivers the orders to their final destinations.
While access and logistics have improved, the trickiest part of making local food work in a prison setting is finding a price point that works for facility and farmer. In very real terms, Mitofsky said most Farm Direct purveyors can't accommodate NERCF's $1.25- to $1.50-per-meal budget on a week-to-week basis.
In 2007, the Vermont legislature passed Act 38, an agriculture viability act which encourages state-run institutions to buy as much Vermont-grown food as they can. In 2014, the Agency of Agriculture, Food and Markets began tracking local purchases at state facilities — and challenged those facilities to strive toward sourcing 10 percent of their food locally. *

During the growing season, Mitofsky said he can almost find enough budget-friendly product to meet the 10 percent mark. On a yearly basis, he estimated that Vermont-grown foods represent 4 to 5 percent of his $360,000 food expenditures.
On Good Behavior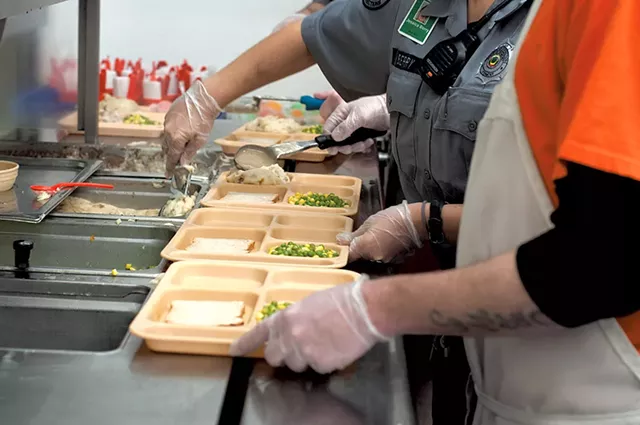 Hannah Palmer Egan
Preparing trays at Northeast Regional Correctional Facility
Most of NERCF's 130-some residents arrive on probation and parole violations or pass through on their way to or from other facilities or furloughs. They stay a few weeks or months, sometimes between court appearances in central or northeastern Vermont. Post-conviction, most who face lengthy sentences head to larger — and often out-of-state — facilities for long-term residencies.
"We have a lot of traffic in and out of here," said Northeast Correctional Complex superintendent Alan Cormier, who oversees NERCF and the adjacent minimum-security work camp for petty, nonviolent offenders.
At medium-security NECRF, inmates' offenses range from DUI to sex crimes to homicide. "There's a bit of everything here," Cormier said during Seven Days' visit earlier this month. "We don't discriminate."
When it comes to kitchen staffing, Mitofsky doesn't care what crimes landed his workers in jail. "Some of our best cooks have been murderers," the chef said, standing in his cramped office just off the mess hall.
In the prison's warehouse pantry, Scott Cota handles shipping and receiving. When deliveries arrive — perhaps bearing 50-pound bags of off-size spuds from Chappelle's Vermont Potatoes in Williamstown, or 17-pound pails of nonfat Regal Raspberry yogurt from East Hardwick's Kingdom Creamery of Vermont — Cota meets the truck at the loading dock. He signs in orders, tallies inventory, and shuffles cases of product to walk-in freezers or onto the soaring metal shelves that line the warehouse walls.
Cota landed at NERCF after authorities caught him red-handed with hundreds of emails containing child pornography. In some of them, he encouraged a Florida man to molest his infant daughter and send images of the action. In December 2014, Cota pleaded guilty to those offenses; the conviction came with a minimum four-year jail term.
But while awaiting trial, Cota had proven himself a good worker. "I was fortunate that they put a hold on me [so I could stay here]," he said, standing near the dish sink toward the end of his shift. During his two and a half years in the St. Johnsbury prison, Cota has worked as a baker, server and cook. "As long as you keep your nose clean and work hard," he said, "they'll work hard for you."
Mitofsky said that kitchen privileges — for which prisoners are paid pennies per shift — live and die on good behavior. "Before someone can even enter the kitchen," he said, "I'm looking at their incident history. How are they behaving in the facility?"
Men who bully their cellmates or pick fights on the block won't get anywhere near a scalding pan or a chef's knife. "This can be a dangerous environment," Mitofsky acknowledged. "I want zero incidents."
Hannah Palmer Egan
Dessert sherbet
Even candidates with a clean residential record must complete several volunteer shifts, during which the chef observes how they interact with the other cooks and monitors them for skill, work ethic and temperament. "I don't want someone who's gonna come in and be bossy," Mitofsky said.
Unlike most food operations — and contrary to the galley portrayed in the popular Netflix series "Orange Is the New Black" — NERCF's crew doesn't follow a defined hierarchy. Mitofsky prefers to step back and let the inmates teach each other. Though longer-term cooks often show newbies the ropes, the pecking order is more about mutual learning and exchange. More experienced workers learn soft management and teaching skills; newer guys focus on the basic how-tos of service, food prep and functioning in a busy kitchen. Everyone goes through ServSafe food-handler training.
Those skills and certifications don't evaporate once a prisoner is released. "A lot of these guys do this here, and that's what they do when they get out," Mitofsky said.
Particularly in Vermont, where an ongoing dearth of line cooks has forced many restaurants to post standing ads for kitchen staff, many food businesses won't begrudge a worker's criminal background. What's important is that they show up for work on time and do a good job while they're there.
And, as prison cooks grow more familiar with farm-fresh ingredients, their skill sets become even more valuable to chefs outside prison walls, where farm-to-table is fast evolving from exception to rule.
At the beet-trimming table, Bertenshaw said that working with Vermont produce has unlocked a new appreciation for the vegetal world. "The cool thing about it is that different things come in all the time," the inmate said.
Asked what product he most enjoyed working with, Bertenshaw didn't miss a beat. "Tomatoes," he gushed. "When the tomatoes come in, I'm psyched. You can't even find stuff that fresh at the supermarket. But seeing that come in — you know you're gonna get to do something with it. Vermont is different in that you can get so much of that stuff here."
Preventing Waste
Hannah Palmer Egan
Cooking utensils in the pantry
Super-fresh, vine-ripened tomatoes notwithstanding, most of NERCF's Farm Direct orders are for inexpensive storage crops such as winter squash and root vegetables. These appear en masse in fall and can create overstock situations. What's a farmer to do with a bumper crop of butternut squash, once he or she has exhausted the usual outlets?
Six miles from NERCF, Mary and Eric Skovsted cultivate dozens of crops at Joe's Brook Farm in St. Johnsbury. Their operation is one of the prison's main suppliers of local produce.
Still, Mary Skovsted said prison sales represent a small fraction of the farm's income — in fiscal year 2016, the farm sold the jail only about $2,700 worth of veggies. But she said the institution does represent a nice secondary market.
"The price point is so low that it barely pays for the cost of growing the stuff," Skovsted said. "But when we have excess or waste, we have a place to sell it."
Earlier this fall, the farmers were a few days late in harvesting a row of cabbage. The heads split, slashing their shelf life and rendering them unsellable to CSA, farmstand and farmers market customers. The cabbage needed to be used or processed right away — perhaps into kimchi or kraut.
Most of Skovsted's commercial clients, which include schools, restaurants and hospitals, run on skeleton staffs. They can't spare workers to chop, salt, knead and pack 100 pounds of imperfect brassica.

Andrea Suozzo
Source: Green Mountain Farm to School
But — with 18 sets of willing hands and a shiny new industrial food processor — Mitofsky could. He couldn't pay Joe's Brook a premium price, but then, he wasn't buying a premium product. The sale allowed the farm to salvage something from a large quantity of long-season produce that otherwise would have gone to compost.
In the NERCF kitchen, Mitofsky turned to Bertenshaw, who was finishing up the beets. "Brian, why don't you go into the walk-in and dig out that sauerkraut so we can have a taste?" he asked.
"Yes, sir," answered the inmate, already heading toward the cooler door. A few minutes later, he returned and beckoned Mitofsky into the cooler. Bertenshaw opened a 10-gallon tote of sauerkraut, immediately flooding the space with the funky-tart scent of fermenting cabbage.
"Go on, dig down in there," the chef instructed.
Wearing gloves, Bertenshaw wiggled a fork deep into the kraut, then handed samples to Mitofsky and superintendent Cormier before lifting the fork to his own mouth. He chewed carefully and paused to consider the flavor. "I think it may need a little more time," the inmate said, glancing toward his boss. "But it's getting there."
The chef nodded and explained that they'd made kraut using an old Bavarian recipe. It had been cold-fermenting for five weeks and wouldn't be ready for a few more, as Bertenshaw had just observed. But, once its flavor developed, Mitofsky expected the kraut would last for much of the winter.
On the back wall of the cooler, a metal locker stored cheeses — the kitchen's most coveted ingredient — under lock and key. To one side, clear plastic containers held leftover tomato sauce, chop suey, coleslaw and carrot spears.
"The golden rule is not to run out," Mitofsky said, nodding to the leftovers. "That's from an inmate point of view."
No one wants 130 hangry inmates on their hands.
Mess Hall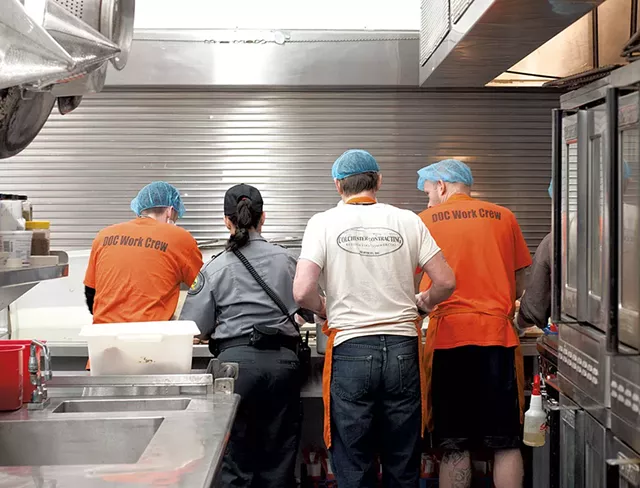 Hannah Palmer Egan
Dinner service line at Northeast Regional Correctional Facility
Out in the dining hall, the day's supper — turkey in gravy, potatoes, peas and carrots — garnered mixed reviews. At one table, three young men weren't very happy. "Oh," sneered one, who got booked in Burlington while visiting from Brooklyn, "we were just complaining about this meal. Seems like whoever's back there, they just thrown it all together."
At another table, a guy who said he'd been at NERCF for a couple of weeks was more positive. "It's fresher," he said. "The flavors are good compared to other places I've been."
"You don't go hungry, that's for sure," said another.
Yet another inmate pronounced the prison food a step up from his typical diet. "I eat better here than I do at my house," he said.
Across the table, a tall, wiry 27-year-old with serpentine, color-block tattoos creeping up his neck said he'd been in and out of NECRF for the past seven years. Asked if he'd noticed any improvements in the food, he said yes.
"It's been getting better," the inmate said, seeming to fight a smile. "I don't believe I'm saying that, but I am."
Near the door, an older fellow ate alone. His thin, graying hair was greasy against his skull, and he had a defeated look.
After getting picked up for a DUI in 2014, the man had spent the past two years awaiting trial. But when the conversation turned to his meals, he perked up a little. "The food experience isn't so bad," he said with a grin. "Even with no teeth."
The inmate acknowledged that he'd been eating more fruits and vegetables since arriving in St. Johnsbury. Still, he'd pined for something sweet: "I wish there was some way someone could give the [prison] a deal on blueberries," he said, "so we could have more pies during the year."
*Correction, December 6, 2016: An earlier version of this story misstated the role of Vermont's Act 38 farm viability law in institutional food purchasing.