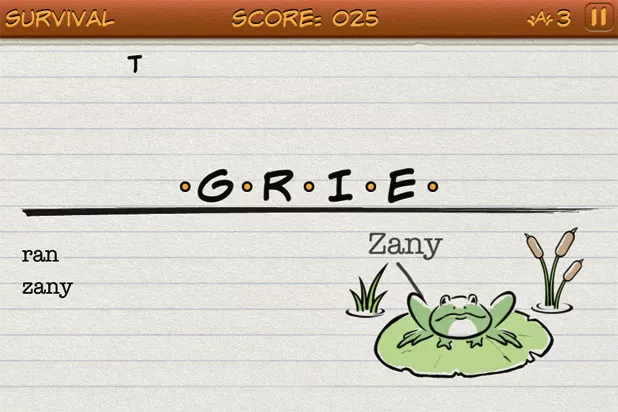 Screenshot from Swamp Talk
Looking for a quick way to waste time? There are few better options than Swamp Talk. Developed by the Montpelier-based company Tertl Studos, the game is available for iPod Touch, iPad and iPhone users. Though the company says its mission is to change kids' relationship with math and programming by putting more power in the learner's hands, Swamp Talk is a word game. And it's an addictive one that will easily keep you busy for three minutes on a break from work or between classes — or longer, if you aren't careful.
Swamp Talk plays like a combination of Scrabble and Tetris, but with its own style. As letters fall from the top of the screen, you must assemble them on a line in the center. You pull letters into place, then drag your finger across the created words to earn points and eliminate those letters from the bar. Longer words earn more points, but when too many letters accumulate, they start to fall off the end, leaving you a letter short of a word you might have been trying to create.
Swamp Talk offers multiple game modes to prevent it from getting stale, and to keep you playing. The first, 100 Letter Mode, gives you exactly 100 letters to form the best words you can to achieve a high score. The second mode, Survival, tasks you with keeping letters from falling off the edge of the line and into the "water." If too many letters fall, you run out of "lives," and the game ends. To keep the pressure on in Survival mode, the letters fall with increasing speed the longer you play, forcing you to think more quickly. And, by the way, there's a family-friendly filter that forces you to keep it clean.
Finally, there's a Custom Game creator, which lets you choose from a variety of options to devise your own game — part of the builder's self-computing model. It's a surprisingly deep feature, and it means that when you get hooked, you have only yourself to blame.
Without a doubt, Swamp Talk is one of the most entertaining games I have played on my iPod. With a simple and intuitive design that keeps you striving for higher scores, this $2 app is a steal.
Created by Tertl Studos. Available at the Apple App Store for $1.99.
Got a Vermont-made game or app? Send it our way to review: artnews@sevendaysvt.com