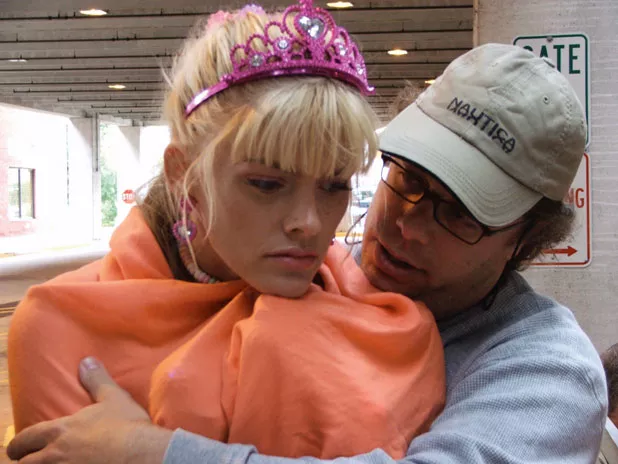 Anna Nicole Smith and David Giancola
Once upon a time, a young mini-mogul in sleepy Rutland, Vt., decided to make a splash by casting a notoriously erratic tabloid bombshell in his next film. His distributor said, "Please don't do this." His friend, a former primetime soap star, reluctantly agreed to produce.
The bombshell was chronically late to the set and could barely speak her lines (when she wasn't trying to rewrite them). But the ambitious director knew he could capitalize on the public's voracious interest in her to build buzz around his sci-fi spoof. The tactic worked beyond his wildest dreams. Edgewood Studios, formerly known mainly as a maker of low-budget disaster flicks (one starred a very young Jesse Eisenberg), was suddenly being mentioned on "Entertainment Tonight," Fox News and CNN.
Then, in 2007, just before the first scheduled test screening of Illegal Aliens, director David Giancola learned that Anna Nicole Smith was dead. Five months earlier, the fatal overdose of the star's 20-year-old son had cast a pall over the film. Now the media spotlight Giancola had courted glared harder, as cable news outlets rehashed the sordid details. When Illegal Aliens finally appeared on video, critics were quick to denounce it as exploitation, and its illegal downloads exceeded its sales.
But Giancola had an ace up his sleeve. Unable to insure the 2005 shoot (because of the reputations of Smith and costar Joanie "Chyna" Laurer), he'd devised a seat-of-the-pants "insurance policy": crew members filming behind the scenes. "If something goes wrong," he remembers thinking, "we'll have a reality show."
Giancola's footage would take years to see the light of day — not as a reality show but as a documentary. Screening for the first time in its finished form next Tuesday at the Green Mountain Film Festival, it's called Craptastic!. And its protagonist is not the former Playmate of the Year but Giancola himself.
For a while, he says in a phone interview, he let the footage lie because he had "a lot of anger about the whole thing." Finally, one summer, Giancola asked Edgewood interns to go through the tapes. "I found a story there," he recalls. "I found some heart there and some drama."
It took three more years for Giancola to edit the raw material into Craptastic!, which juxtaposes his set footage with media clips. "At some points I've walked away in disgust — at myself, at the media, at the whole thing," he says. Gradually, though, Giancola started to find the process "cathartic." The film got less angry as his friend and producer, John James, encouraged him to "take the 'fucks' out." And Giancola realized he needed to narrate the documentary himself — in a confessional, self-deprecating mode.
That meant detailing how he lied to the media — when, for instance, he denied drugs were used on the set of Illegal Aliens. "I told out-and-out lies; I told fanciful stories; I bent things to do what was best for the film," Giancola says now. No one ever fact-checked his claims, he notes.
Giancola says he's currently working on getting a distribution deal that could put Craptastic! in theaters next fall. He's "gratified" by the laughter he's heard at test screenings, and he hopes not to repeat the experience of Illegal Aliens, when "no matter what I did, we got accused of trying to make money off Anna's death."
That's why, says Giancola, he wants to stress that "Craptastic! is not about Anna Nicole Smith." Indeed, while the set footage shows Smith struggling to speak coherently, it's more sad than scandalous at this point. The real shock lies in seeing the star and her entourage plopped down in bucolic Vermont, strutting their stuff in barns and downtown Rutland.
Giancola says the movie is "about me and the people who went into it very wide eyed. ... You get to watch how we all get eaten by the media monster."
"Craptastic!" followed by Q&A with David Giancola and John James. Tuesday, March 20, 6:15 p.m. at the Pavilion Auditorium, Montpelier. $9. Advance ticketing info at greenmountainfilmfestival.org.