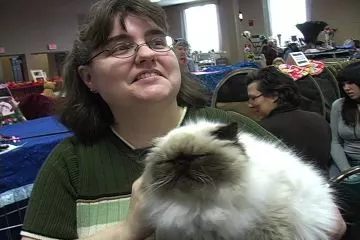 1/5/08: Once a year, VT Fancy Felines cat show takes over the Sheraton Burlington Hotel & Conference Center. Parades of well-cared for Balinese, Burmese, Exotics, Maine Coons, Persians, Russian Blues, Siamese, and Sphynxcompete for ribbons and titles.
Why do attendees love their cats so much? Spending hours brushing and grooming them, breeding them over and over again in search of the perfect cat and traveling all over the country to compete?
Cat lovers give us a peek into their world.
Some of the featured breeders are Suzette Garey of Cozycreek Cattery (and breeder of internet SUPA STAH, Goma!), Karen Greenman of Sunlit, Teresa Signore and Edwin Sweeny of Highlander Cattery, Carole Goubault of Chatterie Serenite, Margaret Gadouas of Dahlias and Karina Brien of Feli Folie.
You also might recognize cameos by local cat lovers/bloggers Sachie Tani and Undead Molly.
Here is a video montage of the fancy felines featuring the full-length Smittens song, "My Favorite Dream" from A Little Revolution: