The Marlboro Man cannot hold a candle to the elite group of Air Cowboys that travel around the world flying balloons at various festivals and gatherings. After all, can the Marlboro Man float 4,000 feet in the air and land wherever the tempestuous gusts of wind lead him?
These single-minded cowboys are obsessed with flight. From the first time they went up in a hot air balloon, they knew there was no other life for them.
The Fourth Annual Vermont Balloon and Music Festival took place June 1-3, 2007. There was hot-air ballooning, family entertainment and carnival fun at Champlain Valley Exposition in Essex Junction.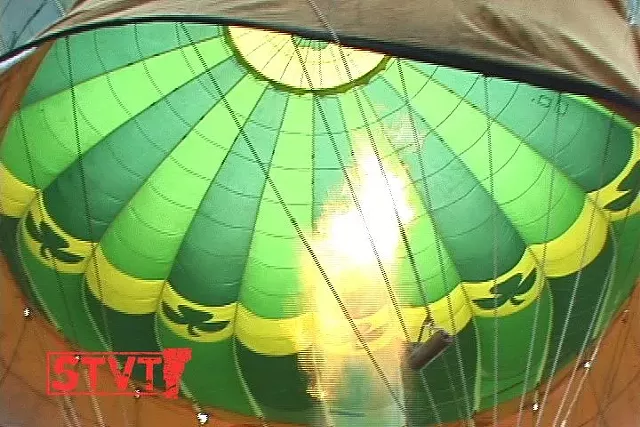 The Festival features up to 40 colorful sport balloons and special-shaped balloons from across the region and country.
I went up in a Press Balloon Flight early Friday morning. It was my first time and I was petrified.
My pilot was Art Voltaire (I kid you not) Moller from Albuquerque New Mexico. Four of us spent 2 hours in a tiny wicker basket floating through VT wilderness, mountains and forests, losing all sense of direction.
You don't know where you are landing when you go ballooning. The wind takes you where it pleases. You can only control your up and down.
We landed in Willow Hill Farm in Milton and luckily, the farmer was nice enough to let us park there. The landing was bumpy and we had to sit in the balloon basket waiting for our ride to get there - the wind pulling and tugging at our still-aloft parachute.
As scared as I am of heights, it was invigorating. Even if I did have this creepy sensation that I could have jumped out at any point and plummeted to my death. Maybe next time. For now, I am just glad my camera didn't fall on its head.
Aptly titled songs "Fire" and "Bird" by cccome? off their album, Come (MySpace).