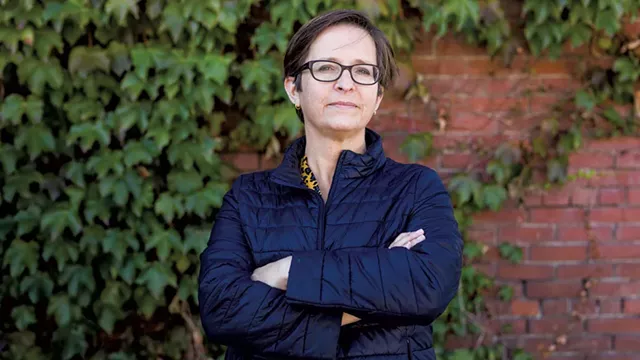 Oliver Parini
Elise Brunelle
When Elise Brunelle accepted the job of executive director of the Vermont Symphony Orchestra in May, three months into the pandemic, she knew she wouldn't immediately be leading the organization in its core mission — bringing live performances of symphonic works to audiences. The VSO draws half its members from outside Vermont, which affords the orchestra a wider talent pool but currently makes it impossible to unite them under one roof.
Instead, the Minnesota native and new resident of South Burlington will bring her talents to bear on two simple imperatives: finding money to do interesting things and doing them.
"My role is running a functioning business," the energetic, shorthaired director said through a mask in the VSO's Burlington office. She replaces Ben Cadwallader, who left in December after four years to head the Los Angeles Chamber Orchestra. "We'll embark on artistic programs we can afford to do."
Brunelle has proven experience in this arena. Her previous job was at Cape Town Opera in South Africa, where she began in 2007 in financial development and became managing director in 2018. Over her 15-year tenure there, the company commissioned and produced 16 new operas and toured 400 performances in 19 countries.
"You find the money and you do it," she said.
Brunelle grew up around music — her father led the Minneapolis Opera, among other jobs — and studied violin from age 5 to 17. But her early love was theater. Planning to be a set designer after college, she spent three months backstage at Weston Playhouse — her only Vermont experience before joining the VSO. She went on to learn carpentry as a fellow at the Berkeley Repertory Theatre in California and worked as production manager at the Guthrie Theater in Minneapolis and other stages, and as financial manager of the University of Minnesota School of Music, before moving to South Africa.
Brunelle will bring her visual orientation to bear on the essentially auditory experience of a concert.
"I really want to expand upon what you can do visually," she said, referring to the eventual return of live concerts to the Flynn. Instead of a static ensemble onstage, she envisions ballet incorporated with Maurice Ravel's Boléro, for example, or projections paired with works by Dmitri Shostakovich.
"Let's get dance [and] visual art involved to make the overall experience more exciting," Brunelle declared, then conceded, "It doesn't always work. I don't see how it can work with Brahms."
More immediately, she will build on existing projects and launch others.
Already in place was a commission plan initiated by VSO creative-projects chair Matt LaRocca. Instead of commissioning orchestral works from one or two composers a year, as the VSO typically does, LaRocca has tasked 10 composers from Vermont and beyond, of various ages, genders, ethnicities and styles, with composing pieces for small chamber ensembles.
Brunelle wants to continue that trend. "There's no reason we can't be doing new composers on a regular basis," she said. "This is an evolving, living art form — if you make a point of making it that way."
She also plans to launch a series of four livestreamed chamber concerts, two purely classical and two in the vein of Jukebox. That successful VSO series, begun by Cadwallader, brought intimate chamber playing and nontraditional programming to audiences at unconventional venues, including ArtsRiot and Higher Ground. At new unexpected venues — she won't reveal her choices yet — Brunelle plans to film ensembles of four to eight musicians playing six feet apart. She'll hire professional videographers to make the concerts interesting to watch.
"If we're going to be joining the world of streaming like everyone else, then [audiences] have to enjoy what they're seeing, not just hear incredible music," Brunelle said.
Northfield Savings Bank, whose Innovation Fund supported Jukebox, will continue its support for the streamed chamber concerts. The bank's vice president of marketing, Mark Mast, served on the search committee for executive director. He said he was pleased with Brunelle's interest in reaching new audiences through unconventional means.
During Zoom interviews with the search committee, Mast recalled, Brunelle "was full-bore on board with that type of programming. It was very apparent to me that she understood how important it was to do things a little out of the norm."
LaRocca, who also sat on the search committee, was equally impressed. "She's AWESOME," he wrote in an email. "From my end, it was clearly Elise. She is, in my estimation, a total badass."
Brunelle, who has a 13-year-old daughter, also plans a series of online after-school programs to replace the VSO's normal school outreach. ("Teachers are overwhelmed right now," she pointed out.) Starting in November, five sessions for elementary students will showcase individual musicians and their instruments. Beginning in January, Middlebury College assistant professor and composer Matthew Evan Taylor will hold five online classes for middle and high school kids on composers of color.
As for the VSO's efforts toward diversity, equity and inclusion, Brunelle said, "I'm aware that it needs to be addressed completely across the board — staff, musicians, audiences, composers — but I'm just taking baby steps. If we don't look at it wholesale, [our solutions] could be construed as tokenism."
Such issues will affect the selection of a new music director to replace Jaime Laredo, who is currently serving his 20th and last year. Seven finalists were identified before the pandemic, but the process is on hold until the finalists can guest-conduct the full orchestra.
At Cape Town Opera, a predominantly Black organization, Brunelle added, she never had to think about issues of diversity and inclusion. She only recently heard of the Detroit-based Sphinx Organization and its effort to fund nonwhite musicians' audition travel — an effort the VSO began supporting with membership under Cadwallader.
One of Brunelle's planned "baby steps" at the VSO is nevertheless significant: to engage with New Americans, a population traditionally left out of the orchestral experience.
"I want us to look into the music of refugee communities in Vermont, incorporate their music in our programming, showcase their composers and get them to attend," she said.
Meanwhile, Brunelle is phoning each member of the orchestra individually to find out "where they're at." And she's expanding the VSO's social media presence to reach younger audiences.
Brunelle is also focused on securing funding: She's currently working on an application for the organization's fourth pandemic-related grant. ("I came in wonderfully surprised at how the Vermont government is supporting the arts," she commented.)
"With financial development, my personal mantra is: I'm not an artist, but I'm fortunate to work in the arts," Brunelle continued. "I love running an organization that allows artists to pursue what they do best. [Funding] allows us to do more programming and hire more musicians to do more music. That's what we're here for."