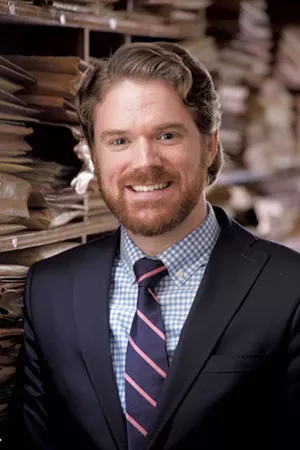 File: Matthew Thorsen
Ben Cadwallader
Just a little more than four years after Ben Cadwallader became the energetic new executive director of the Vermont Symphony Orchestra, he's moving to California to take up the same position with the Los Angeles Chamber Orchestra.
Cadwallader, 35, brought new audiences to the VSO through innovative programming in unexpected venues — particularly the Jukebox series of small chamber performances at locations including ArtsRiot in Burlington and Merchants Hall in Rutland, and a collaboration with singer Kat Wright at the South Burlington club Higher Ground. Jukebox, a sliding-scale series, regularly packs in audiences; the Wright concert sold out in a day.
A familiar lobby presence at the VSO's more traditional concerts at the Flynn Center for the Performing Arts in Burlington and Paramount Theatre in Rutland, Cadwallader could greet most concertgoers by name. He introduced popular touches such as post-concert Lake Champlain Chocolates for audience members and meet-and-greets with musicians at local bars. And he regularly enthused about each program's classical selections in "From Ben's Brain," a segment of the VSO's email newsletter.
Vermont composer Matt LaRocca is an early collaborator with Cadwallader who eventually became VSO's creative projects chair. He says the executive director's legacy is his infusion of innovation into the orchestra's traditional mission.
"There's still a healthy dose of tradition, and there's a healthy dose of the new," LaRocca says. "I think that mix is what is going to keep everything alive."
Cadwallader grew up in South Burlington from age 7, played oboe in the Vermont Youth Orchestra Association and studied oboe performance at the Mannes School of Music in New York City. Halfway through a master's degree, he discovered an aptitude for administrative work under the mentorship of VSO music director Jaime Laredo, among others.
In 2012, Cadwallader became the education programs manager and director of the composer fellowship program at LA's premier orchestra, the Los Angeles Philharmonic. He continued working with composers when he took the job at the VSO, commissioning work from Vermont composers including LaRocca and Matthew Evan Taylor in Middlebury. In addition to two original commissions, LaRocca estimates he wrote "dozens" of orchestrations of popular and other music for Jukebox, the Wright show and a concert collaboration with the band Guster.
Because of Cadwallader, LaRocca suggests, "Now we're on the radar of new composers."
Cadwallader also made measurable efforts to increase the diversity and inclusionary practices of the VSO's programming, performers and staff. He established a partnership with the Sphinx Organization, a Detroit nonprofit that helps young African American and Latinx musicians develop and access auditions around the country, which he hopes will continue under the new executive director.
Cadwallader's new job will take him back to the SoCal metropolis with a similar goal of increasing diversity. Asked if he will miss Vermont, Cadwallader says, "Hell, yes. Everyone jokes, 'Oh, you're off to the California sunshine,' but I lived in Vermont from ages 7 to 18, and I will always be back for holidays. I will miss the people of Vermont."
Cadwallader says he didn't plan to leave the VSO so soon, especially given the announcement last fall of Laredo's planned retirement in 2021.
"This is not my ideal time frame," he says. "I would have been happy to see the new music director's first season through." (He will serve as strategic adviser on the music director search through August.) He also regrets having to miss the VSO's planned fall tour version of the Wright concert. But the Los Angeles Chamber Orchestra's search committee reached out to him and convinced him to apply, he says.
The LA orchestra is about five times larger than the VSO, Cadwallader estimates. Founded in 1968 to give top film and television recording studio musicians a classical outlet, it's among the best chamber orchestras in the country.
Though widely different, the VSO and the Los Angeles Chamber Orchestra share certain characteristics, Cadwallader says. In both groups of musicians, "there's a sense of family," he notes. "You can hear that in the music — the mutual love and respect the musicians have for one another."
The VSO's next executive director, Cadwallader suggests, will need to be "an experienced fundraiser. I almost think that's more important than someone who's going to come up with a whole new suite of programming." Keeping the programming vital will be LaRocca's talents, a staff that now "understands about venue" and, "in an ideal world," the new music director.
Cadwallader's last day is February 7. Audiences will have a chance to say goodbye at two Jukebox concerts this weekend, at the January 22 Farmers' Night concert at the Statehouse in Montpelier — the last of its kind for both Laredo and Cadwallader — and at the "Love, Leila, and Luther" traditional concerts on January 25 and 26.