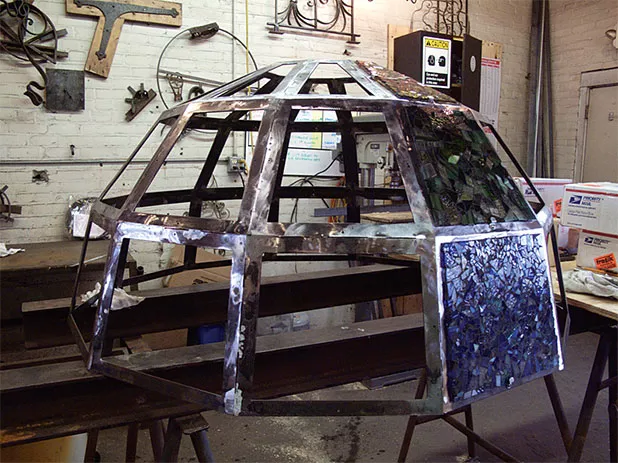 The Hyde Street Triangle Park in Burlington's Old North End is known mostly for litter, dog feces and drunken college kids raising a ruckus.
That's expected to change when VSA Arts of Vermont, the Winooski-based program that makes arts accessible to people of all abilities, unveils its "O.N.E.der dome" at the park. On Saturday, April 10, VSA will host a party to introduce the 9-foot-tall metal structure officially. According to VSA Executive Director Judith Chalmer, the hope is that beautifying the pocket park will bring it new respect. She foresees the space being used for neighborhood performances, and calls it "the perfect spot for coffee or tea or conversation."
Burlington artist Terry Zigmund first visualized the dome three years ago while teaching one of her classes at the Burlington Community Glass Studio through Can Do Arts, a program of VSA. Zigmund sought to find a public park in a low-income area that was big enough for community gatherings.
Zigmund and Chalmer contacted Burlington's Community & Economic Development Office to obtain funding. Then Zigmund's students created colorful stained-glass pieces for the dome — each window frame is a patchwork of shards with a color theme. One is yellow, orange and light brown. Others are different shades of green or blue.
Meanwhile, Zigmund asked John Marius of Champlain Metals if he would be willing to build the dome's infrastructure. When CEDO came through with grant money this year, the carefully stored glass panels were ready to be placed in Marius' curlicued steel structure.
Chalmer notes that CEDO's financial help comes under the umbrella of its Center for Community & Neighborhoods improvement division. "That public art qualifies as neighborhood improvement just tickles me," she says. Moreover, Chalmer is thrilled to demonstrate that "people with disabilities can be the leaders and catalysts for improvement."
The dome, designed to be wide enough for two standing adults or one person in a wheelchair, will not be the only creative display at the April 10 party. Neighborhood resident Trish Denton plans to wrangle her dance students at H.O. Wheeler Elementary School for a showcase performance. Ishana Ingerman, a local who says she's a retired opera singer, will entertain attendees as well. And the Awareness Theater Company, VSA's theatrical branch composed of "proudly not neurotypical" adults, will perform "A Car Owner's Lament." Director Emily Anderson's 15-minute play about property crime seemed like the perfect fit for an event about making a friendlier community, says Chalmer.
To the VSA director, however, the most important part of the project is proving the value of teaching art to the differently abled and showing that "the artist in everyone can find their strength in one discipline or another."