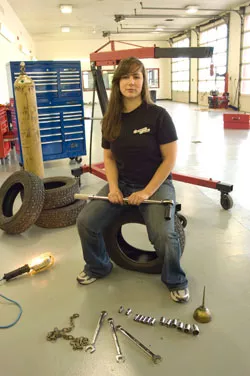 Matthew Thorsen
Demeny Pollitt
When plotting a career path a few years ago, Demeny Pollitt figured there were only two fields she could get into that would not put her to sleep: psychology and car repair.
She loved the idea of working as a psychologist, helping people pick their way through the brambles of the mind. But that would require a minimum of six more years of schooling, and Pollitt, 30, wasn't interested in that. Admittedly, she was not the most industrious student.
Once she'd nixed the psych route, car repair seemed to be the way forward. Pollitt enrolled in the automotive technology program at Vermont Technical College and after two years became a certified technician. She was ready to work in a garage.
But Pollitt, who lives in a pool house at a B&B in Shelburne, was not keen on working for someone else. She has a sassiness that would make many employers nervous, and she's a little too headstrong to take orders.
While at Vermont Tech, Pollitt hatched a plan to start an all-girl garage — female-owned, with female mechanics who were sensitive to the needs of female car owners.
The first iteration of that shop opened in South Burlington a few weeks ago. Girlington Garage is a full-service repair shop where Pollitt hopes customers, female and male, feel comfortable and cared for. It's not the all-girl garage she dreamed of, but the ideals are the same.
Pollitt's interest in cars stems less from an all-consuming love of the automobile than from her experiences dealing with her own vehicle meltdowns. More often than not, she believes, the repair shops she turned to treated her differently because of her sex.
"Every time I'd save my money, my car would break down," Pollitt says. "I always felt like I was getting screwed over."
Her 1996 Honda Civic jalopy is proof she's not a gearhead. But Pollitt does have a weakness for American muscle cars. Her dream car is a 1981 T-Top Chevy Camaro Z28S. "They're beautiful," Pollitt says.
Not exactly what you'd expect from a graduate of the Putney School, a progressive boarding school in southern Vermont, where greasy wrenches would seem about as out of place as genetically modified cafeteria food. But one fundamental thing Pollitt learned there was to follow her own path.
After earning her degree at Vermont Tech, Pollitt worked as a technician at Saturn and Dodge dealerships around the state. She got fired from her last service job.
"I was sure I must be the worst mechanic ever," Pollitt says. "I figured it was a good time to open my own shop."
But she came to realize, she says, that the problem wasn't her skill with a socket wrench or a grease gun, but her disagreement with the way many garages are operated and managed. Pollitt wanted to work in a shop where it's understood that people find it hard to part with their money, especially for car repair. She began to plan her own shop, one that would acknowledge customers' concerns and provide transparent service. Girlington Garage was born.
With a loose business plan in mind, Pollitt peddled her idea at a couple of seminars for women in business. At one of them, she met Jeannie Lynch, director of the Vermont branch of the Key4Women program, a women's business development initiative at KeyBank. Lynch, a longtime champion of women-owned businesses, loved Pollitt's idea.
"I almost jumped over the table to get to her," Lynch says. "I love women in the trades, and the fact that she had this energy was even better."
Though Lynch took to Pollitt and her vision immediately, she encouraged her to scale back the plan slightly and invest in the business end of the enterprise. She also gave Pollitt some homework. "Everything I asked her to do, she did," Lynch says.
Lynch concedes that the odds are stacked against Pollitt. Of every 100 business ideas, only about 10 are viable. Of those 10, only two or three will get funding, Lynch says. And statistically, one out of every five businesses will fail.
Pollitt is trying to get into a high-risk business at a time when the economy is forcing many established enterprises to shutter. But, Lynch says, Girlington Garage has a lot going for it.
First, women like to do business with other women. If Pollitt provides the kind of thoughtful service she intends, Girlington Garage should have no trouble attracting customers, Lynch says. Plus, car repair is one service sector that's growing, because in a down economy car owners keep their vehicles longer. That inevitably means more repairs.
With the opening of Girlington Garage, Pollitt joins a small club of female car-repair-shop owners in Vermont. Amy Mattinat co-owns Auto Craftsmen in Montpelier, and Marcie Osborne owns Vermont Crossroads Auto Repair in East Montpelier. Both women are trained technicians in addition to being business owners.
Pollitt's dream of a five-bay garage with all female technicians may be a little ways off, Mattinat says, since there are so few women mechanics in the state. But Mattinat has faith in Pollitt.
Lynch introduced the two women, and Mattinat has made herself available to answer Pollitt's questions about the business. Mattinat says she's been impressed by Pollitt's drive and growing business savvy.
"I think she's going to be incredibly successful," Mattinat says. "She'll take the time to educate her customers. She understands that piece of it."
Drop-ins shouldn't be surprised to see a man draining oil or replacing spark plugs at Girlington Garage — Pollitt's first hire was a male mechanic. But despite his XY chromosomes, he's on board with his boss' way of doing things.
Pollitt believes customers should be armed with as much information as they want to digest. For some, that means knowing the difference between a tie rod and a strut rod. For others, it means knowing how to replace the windshield-wiper fluid and nothing more. Car owners are welcome to come into the service area when their car is on the lift and talk to the technician, Pollitt says. She also plans on hosting car-care clinics geared toward women, which will cover the basics of changing the oil or a tire and examining the brakes. Car owners will learn how to ask educated questions and avoid being taken advantage of at a garage.
"We're selling an environment where customers feel welcome and respected," Pollitt says. "They'll be taken care of here. It's ridiculous, over-the-top care."
Though her business is still in its infancy, Pollitt has the support of Lynch, a most valuable cheerleader. And she has Girlington Garage T-shirts to sell.
"How could you not admire her?" Lynch says. "To me, there's nothing more beautiful and courageous than a woman starting her own business."