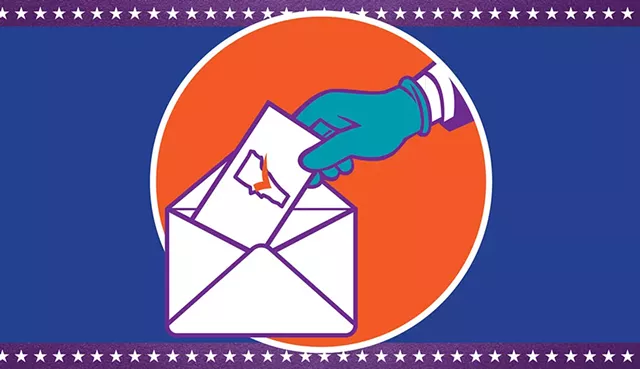 Vermont town clerks received a record number of mail-in ballots in the August 11 primary. Unfortunately, there were also a record number of spoiled ballots. More than 6,000 ballots — roughly 3.5 percent of those cast — were disqualified for one reason or another.
Many of those errors were specific to the primary. Voters received three ballots, one for each of the state's major parties. They needed to mark one ballot and return the other two blank ones, which may have confused first-time absentee voters.
Voting by mail in the general election should be simpler. Here are some step-by-step instructions to help you do it right.
Don't crease or tear your ballot, or take notes on the margins. Follow the instructions to fill it out correctly.
Be sure to fill in the ovals next to your preferred candidates completely.
You may be able to vote for more than one candidate for legislative and local offices, but be careful not to vote for more than the number allowed. If you over-vote, your vote will not count for that race. It's fine to choose fewer candidates than allowed, and it's OK to skip some races altogether.
Once you've completed your ballot, put it in the enclosed voted ballot / certificate envelope and seal it.
Be sure to complete all the required steps before sending in your ballot. You must sign and date the certificate envelope before you turn it in. This is one of the most common reasons ballots are not counted.
Mail your ballot ASAP or by October 24 at the latest to be sure it arrives by November 3. Check to see that it arrived by logging on to your voter page at mvp.vermont.gov.
Missed that deadline? Worried about postal service delays? Drop your ballot off at your town clerk's office before the election, or bring it to your polling place before polls close on November 3.
More Voting by Mail FAQs
I'm a registered voter, but I haven't gotten my ballot yet. What should I do?
If you don't have it by October 7, call your town clerk to make sure there hasn't been a mix-up.
Can I recycle my ballot if I plan to vote in person?
No — bring your ballot with you to your polling place. You can still vote without it, but you'll need to sign an affidavit swearing that you did not already vote.
My dog ate my ballot. Now what?
Contact your town clerk to get a new one, or plan to vote in person.
Do I have to pay the postage to mail in my ballot?
No. Postage is prepaid.
I'd rather drop off my ballot at my town clerk's office or at my polling place. But if I can't get there myself, can I ask someone to do it for me?
Yes. It's fine to ask someone you trust to drop off your ballot. The only people who can't do it are candidates or their staff — unless they're members of your immediate family.
Can I check to see if my ballot was received?
Yes — you can track its status at mvp.vermont.gov.
I just realized I forgot to sign my envelope, but I already mailed it in. Can I fix it?
No, once your ballot is received by the clerk, it can't be returned to you for any reason.
If I made a mistake on my mail-in ballot, can I show up to vote at the polls?
No. Don't even try it! You could be charged with perjury and hit with a fine of up to $10,000 — and sentenced to up to 15 years in prison.
Can I vote for my housemate who moved out last month? He forgot to change his address, and his ballot arrived today.
No. Filling out someone else's ballot is a crime punishable by fines and prison time. Contact your town clerk about the ballot.
Can I still vote in person on November 3?
Yes! Find your polling place by calling your town clerk or logging on to your voting page at mvp.vermont.gov. And remember to wear a mask.