Jeb Wallace-Brodeur
von Trapp Brewing Bierhall Restaurant
At Trapp Family Lodge, the hills are alive with ... heritage. As anyone who's watched The Sound of Music knows, the singing von Trapp family had to flee their native Austria in 1938 — but they soon found a taste of home in the scenic mountains of Stowe. All these years later, all it takes is a sip of von Trapp Brewing's Vienna lager to transport Vermonters to the old country.
1333 Luce Hill Rd.
Stowe/Smuggs
Stowe, VT
802-253-5750
Brewery and Swiss/Austrian
"For decades, I dreamed of brewing crisp, clean craft lagers like the ones we tasted on trips back to Austria," writes Trapp Family Lodge president Johannes von Trapp in the bierhall menu. Von Trapp Brewing started in 2010 with a small operation out of a renovated bakery; that bloomed into a 30,000-square-foot brewhouse and restaurant in 2015.
Jeb Wallace-Brodeur
von Trapp Brewing Bierhall Restaurant
After hiking, biking or cross-country skiing at the lodge's expansive outdoors center, visitors plop onto wooden benches or stools in the bierhall and tip back brews amid mountain views. The clean-drinking Helles is bright and delicately bubbly; the darker Dunkel balances bitter Munich malts with toffee-like sweetness. Deep-golden Bavarian pretzels soak up the buzz — swipe each bite through a creamy orange cheese dip for maximum enjoyment.
In plain sight, chefs labor over sizzling sausages at the wood-fired Parrilla grill. Traditional bratwurst, knackwurst and bauernwurst arrive, perfectly charred, on the table, adorned with apple sauerkraut, braised cabbage and creamy mashed potatoes. Crispy chicken schnitzel is served over swirls of lingonberry vinaigrette and topped with a fried farm egg and an artful pile of arugula.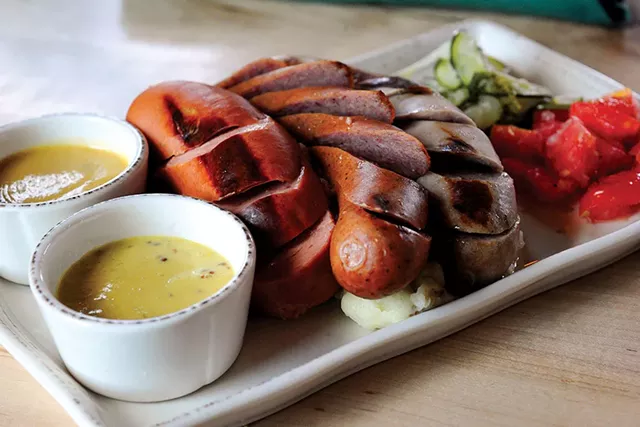 Jeb Wallace-Brodeur
von Trapp Brewing Bierhall Restaurant
Fair warning: Forks are bound to stray from plate to plate, so order extra sides when dining with a group — think Austrian potato salad or shaved salted radishes. While this isn't the kind of raucous bierhall you'd find abroad, it does foster good cheer and an atmosphere of sharing. Visit during the fall Oktoberfest for more where that came from: live oompah bands, lawn games and a pig roast.
It's enough to make your heart sing.