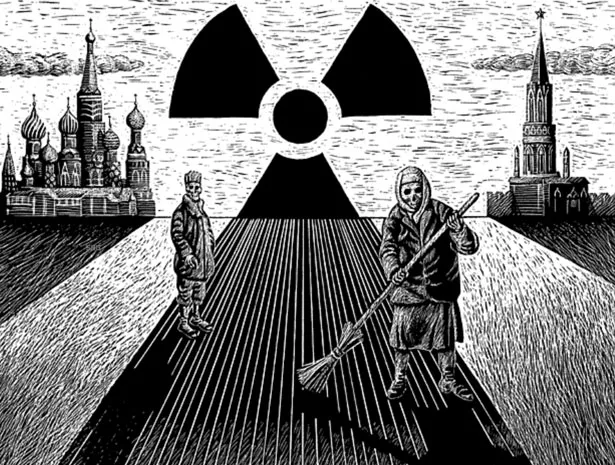 This Friday, Burlington's Firehouse Gallery hosts an event that proves the laws of physics also apply to storytelling. From powerful events come transformative stories. When the event is a nuclear explosion, like the one that occurred at Chernobyl on April 26, 1986, this is the kind of testimony you get:
Colonel Yaroshuk is dying now. He's a chemist-dosimetrist. He was healthy as a bull. Now he's lying paralyzed. His wife turns him over like a pillow. She feeds him from a spoon.
And:
One day I walk into the hallway and tell the nurse, "He's dying." The nurse says, "What did you expect? He's got 1600 roentgen. Four hundred is a lethal dose. He's a nuclear reactor."
These vignettes and others make up an hour-long "readers' theater" play based on the 2005 National Book Critics Circle Award winner Voices From Chernobyl: The Oral History of a Nuclear Disaster by Ukrainian journalist Svetlana Alexievich. Six readers will perform the play, with narration by former Vermont Governor Madeleine Kunin.
Spencer Smith, 69, a Burlington-based writer who has taught at Burlington College and other schools, adapted Voices from Alexievich's book. Smith witnessed the tragic long-term effects of radiation poisoning while teaching with the Peace Corps in the Ukraine from 2001 to 2003, but it wasn't until a second visit in 2006 that she read the newly translated Voices From Chernobyl and decided to write a play in support of the antinuclear campaign. "There are those of us who chain themselves to the fence and those of us who write editorials," she explains. Smith will soon return to the site of her inspiration as a Fulbright Scholar, teaching creative writing and academic research methods at Belarus State University in Minsk.
The Chernobyl incident may seem a world away, in both time and space, but Smith says radiation seeps through those barriers. "The real awful thing about radiation," she asserts, "is that once it has infected the gene pool, it gets transmitted down through the generations."
It spreads in other ways, too. Smith points out that strontium-90, a radioactive isotope, was found in the milk of Vermont cows after the disaster. "And that's the thing with any of these incidents," she says, "the radiation goes into the jet stream and it goes around the world."
Smith first presented the play last April in Montpelier and Brattleboro, both to commemorate the 21st anniversary of the Chernobyl explosion and to remind Vermonters of our nearest nuclear reactor, Vermont Yankee. "What we found was that people were just blown away. The words are so strong that people were speechless afterwards - it's just such incredible material," she says.
Culled from the book's many monologues, that material gives voice to a wide spectrum of the Ukrainian and Belorussian population, from an illiterate peasant woman who thinks the Chernobyl disaster was "made up," to three men with scientific training who know just how real it was.
Smith has interwoven the stories of these disparate people to add drama to their testimony. The readers - a group of central Vermonters including Ben Scotch, the former head of the Vermont ACLU - will be dressed in black and speak from a raised podium.
Smith hopes these sad, sometimes darkly humorous tales remind us of the awful capability of nuclear power gone wrong. But even when a plant is functioning properly, she adds, it releases dangerous radioactive elements into the air. She notes that Windham County, where Vermont Yankee is located, has the state's highest death rate for people under 35. "Even if there's no explosion at Vermont Yankee," Smith warns, "every day they're releasing this toxic stuff into the air, and you basically have a nuclear bomb that's controlled."