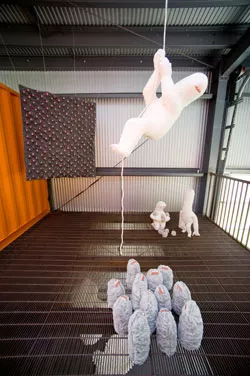 Click here for more Summer 2008 Hot List picks.
They say that many New Yorkers have never been to the Empire State Building. After all, they see it in the skyline — why bother to visit? The same may be true of many Vermonters and the Shelburne Museum, and that's just wrong. Rubbernecking its lovely grounds from Route 7 doesn't count. And, for those thousands of natives who have visited — once — let it be said that a single visit is not enough.
That's because the museum changes every year. Not just by rearranging its vast permanent collections of folk art and artifacts — although that happens, too. (Case in point: The hand-carved and painted Dentzel Carousel figures — horses, goats, reindeer, lions, giraffes and other creatures — have been painstakingly restored and aptly arranged in a circle in the Round Barn. Nineteen-oh-two never looked so jolly.)
But Shelburne Museum Director Stephan Jost knows that history is always being made, and he excels at drawing connections between traditional and contemporary art. He also realizes that humans are attracted to the new and different. For a kaleidoscopic view of that old-new continuum, there's the Warren Kimble exhibit — a retrospective of Vermont's famous folk artist, including his recent searing antiwar works (featured in Seven Days May 14).
But the "something old, something new" aesthetic takes a turn for the truly quirky with an exhibit called "Longoland: It Might Be Contagious." The title references hip "plush artist" Joshua Longo of Brooklyn, and, while his textile-and-plastic creations are unlikely to spread infectious disease, they're sure to provoke reactions. Housed in the minimalist Kalkin House, Longo's stuffed, toothy monsters are bizarre and repulsive — or cute and cuddly, depending on your point of view. And some have anatomical features that will, let's say, startle everyone. What would founder Electra Havemeyer Webb say?
She might suggest that "Longoland" is one of many damn good reasons to make the Shelburne Museum a summertime staple. Besides, admission is half-price for Vermonters all season. If you're a member, it's free.