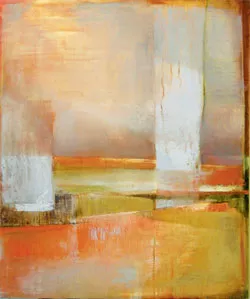 "Upriver" by Helen Shulman
Branch Gallery and Sculpture Park in Stowe has strong sculptural programming all year, but it's also one of Vermont's best venues for viewing large-scale abstract paintings. Its current exhibition, titled "Human Landscapes," pairs figurative abstractionist Craig Mooney with Helen Shulman, a nonobjective painter whose work is rooted in the natural environment. The two visionaries are perfectly paired — both respond to the sensual qualities of paint and forcefully manipulate light in their works.
Both shows have full-color catalogues with essays by art critic Ric Kasini Kadour, and both reference the Hudson River School. Shulman alludes to the greats of that mid-19th-century American movement in her artist's statement, and Kadour picks up the thread in Mooney's catalogue as well. In both cases, the luminosity of Bierstadt, Cole and other romantic heavyweights justifies such comparisons.
In Shulman's "Upriver," a brown sliver frames the upper-right side of the 30-by-36-inch oil and encaustic, pushing the composition to the left. It's a technique that Hudson River painters would have recognized. Shulman also concentrates earth tones in the center of the piece, emphasizing that it is indeed a landscape and not simply an abstract-expressionist idyll.
California abstractionist Richard Diebenkorn (1922-1993) was arguably on Shulman's mind when she created her 36-by-48-inch "Leaving Town With the Circus." Like Diebenkorn in many of the paintings from his famed "Ocean Park" series, Shulman uses a triangular shape to break the work's horizontals and verticals. She does so subtly, however; her lines are softened into whispers rather than being divisions and barriers that would suggest urbanism.
"Champlain Ribbon" and "March Beauty Through August Eyes" are 18-by-60-inch horizontal vistas that draw strength from the Vermont landscape. Both possess prominent horizon lines and airy sienna, rusty red and darkly verdant mists.
Among Manhattanite Craig Mooney's works, the Hudson River School connection is most apparent in his 48-by-72-inch painting "Avenue." Like Bierstadt in his views of Yosemite and the Sierra Nevada, Mooney places his brightest lights deep within the picture plane, drawing viewers into the canyons of New York City. His other urban images present more prominent figures, such as the silhouetted man with umbrella in the 40-by-40-inch "City Mist." Again, Mooney places light deep in the picture. He also uses dashes and daubs of color to define atmospheric conditions and reflections on the wet sidewalk. The figure is centered, but horizontal splashes of lavender and various intensities of paint add vitality to the scene.
While Mooney's cityscapes are dramatic, his female figures in interior spaces are intimate — that is, in the Degas tradition of letting color and mass be the true narrative. The woman in "The Reader," a 48-by-48 inch oil, sits rigidly on a crimson, overstuffed chair slightly to right of center. But her presence is of less interest than the way Mooney has painted her, making her rather resemble a faceted jewel. In his 48-by-60-inch "The Bather," a standing nude holds a blue robe. She throws a shadow on the wall at left, while Mooney renders the background vertically, à la his cityscapes.
It is possible for strong artists to be a little too facile, relying on tried-and-true aproaches to their imagery rather than investigating form anew. That subtle weakness is evident in certain pieces of both Mooney and Shulman. They're in good company — more than one art historian has declared that Picasso was so afflicted in his later work. Still, one doesn't want artists this gifted ever to take it easy. In "Human Landscapes," they mostly don't.