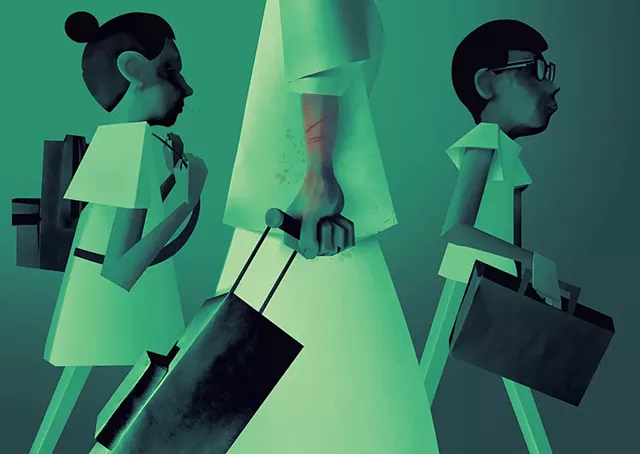 Huma and her husband were newlyweds when he first hit her. She had never imagined that such a thing could happen, even though domestic violence is not uncommon in her native country in Central Asia.
The assaults continued after her family moved to Vermont in 2008 and sought political asylum. For many years, Huma did not report her husband's abuse, in part because she feared she might be deported.
"I never sought help or spoke with anyone about it," Huma later said in an affidavit describing her first two years in America. "I was under constant stress."
While she was willing to have her real name published, Seven Days is using a pseudonym to protect her from potential danger from her ex. Though they are now divorced, he has visitation rights to their children.
Domestic violence victims often don't report the abuse to authorities, but the decision whether to call the police is particularly fraught for undocumented immigrants and people such as Huma, whose status in the U.S. is tied to that of their spouse. They fear that the police will find out about their immigration status or that reporting abuse could lead to deportation.
"I often see [immigration] status as a control mechanism," said Margo Batsie, director of program services at Steps to End Domestic Violence. "Abusers will use that as a way to control their partners."
After enduring almost a decade of abuse, Huma left her husband in May 2013, taking their kids with her. Ten months later, he removed her name from his petition for asylum, leaving her vulnerable to deportation.
Huma was able to grab a lifeline. In April 2014, she applied for a U visa, one that can be granted to immigrant crime victims who have suffered mental or physical abuse and who have helped police in the investigation or prosecution of a crime. The visa allows successful applicants to remain lawfully in the U.S. and to apply for permanent residency after three years.
U visas are not an easy way to obtain legal residence in the United States, said Erin Jacobsen, a staff attorney at Vermont Law School's South Royalton Legal Clinic. More than 128,000 people have applied, according to federal officials, but just 10,000 such visas are granted nationwide in a year. The long wait makes life difficult for applicants.
Realistically, a petitioner today can expect to wait 12 years before his or her case is decided, according to Michele Jenness, legal services coordinator at the Association of Africans Living in Vermont.
No one tracks how many Vermont residents are waiting for action on their U visa applications. Jacobsen said she handles between two and three new cases a year. Many of her clients are women, partly because the cases she gets are often related to domestic or sexual violence.
Eligible applicants can be granted deferred action while they await a decision — meaning they aren't subject to deportation and can seek a work authorization card.
"The initial intent is to have people come out of the shadows and not be afraid to report these crimes," said Jenness.
A petitioner needs a document from a law enforcement agency that certifies that the individual has helped in the investigation or prosecution of a crime. Huma was a witness against her husband in a criminal proceeding.
Her case took only three years because the backlog was smaller then. With the help of the office of Sen. Bernie Sanders (I-Vt.), Huma won deferred action shortly after she filed her U visa application.
Applying for the visa does not solve all of a petitioner's problems. President Donald Trump has stepped up enforcement of immigration laws. In other states, there have been reports that crime victims with misdemeanor convictions are being rounded up, even while they have U visa petitions pending.
The administration has also sought to restrict the number of Central Americans who are seeking asylum in the U.S. by rejecting claims from those who crossed the Mexican border illegally. On Sunday, U.S. border agents fired tear gas at migrants who skirted Mexican authorities and approached a border crossing near San Diego.
Requests for cases to be considered for deferred action sooner are now being denied, Jacobsen said. "I have clients who are just waiting with no work authorization, and they're not in deferred action so they don't even have a promise from the government that [it] is not going to try to deport them," she said.
When Huma petitioned for the U visa in 2014, her lawyer told her there was no guarantee that her application would be approved. Still, she was optimistic. She had gained a sense of independence and confidence after leaving her husband, she recalled in a series of interviews.
She's a tall, fair-haired woman with a ready laugh, though she teared up several times as she recounted her story.
Societal pressure made it impossible for her to seek a divorce in her home country, she said. She once reported her husband's abuse to police there, but they dismissed her complaint and told her that marital disputes were common. After each violent incident, her husband would apologize. "I gave him many chances," Huma said.
Huma's husband moved to Vermont in May 2008; she and their children followed him soon afterward. She thought the trip would be a short one and would include a visit to Disney World. She didn't realize her husband was moving the family to the U.S. In September of that year, he applied for political asylum for himself and the family without her knowledge. They never made it to Disney World.
"My husband never told me why he was applying for asylum," she reported in a 2014 affidavit in her divorce case. "He deceived me and has repeatedly told me, 'You can't divorce me. You'll lose your case and they'll kick you out of the country. You had better listen to me.'"
Huma has a college degree in education from her home country, but her husband did not allow her to get a job there. In Vermont, she first worked in sales and then became a dental assistant. Over time, her English proficiency improved and she made friends.
But she never told anyone about her abusive marriage. Her husband would become enraged if she got home late from work, and she was often afraid to head home. Her children saw their father strike her, she said.
In December 2010, Huma called the police after her husband flung his car keys at her chest. He was arrested and charged with domestic assault; he pleaded guilty to a lesser charge of disorderly conduct.
"When they arrested him, I was very frightened," Huma said in the affidavit. "I had no idea how to raise two kids in a foreign country. I thought that maybe he would be punished, and he would stop hurting me."
But the abuse continued.
In 2011, Huma sought treatment at the Community Health Centers of Burlington for frequent headaches and fatigue. A social worker referred her to Women Helping Battered Women, now known as Steps to End Domestic Violence. Huma said the nonprofit gave her a lot of emotional support and, when she decided to leave her husband in May 2013, helped her find housing.
Her husband continued to harass her. He went to her apartment, sent threatening text messages, violated restraining orders and removed her name from his asylum petition.
"I think he is trying to get me deported, and he will then follow me back," Huma said in her divorce affidavit. "I am very scared that he will leave the United States and take the children when we get divorced. I remain truly afraid of him."
Though she was worried about the repercussions of reporting the abuse and divorcing her husband, she was mostly tired of being controlled by him.
"I'm a human, too," said Huma. "I have a right to live how I want."
Huma's decision to end her marriage even before she learned about the U visa was unusual. Noncitizen victims of domestic violence often remain in abusive relationships because of their immigration status, advocates say.
It's tough to gauge how many victims don't come forward with criminal complaints. Vermont State Police don't track the number of crime reports from immigrants and citizens, Major Ingrid Jonas said.
"Victims or witnesses of a crime ... would not typically be asked about their immigration status, nor would that be a factor in a case," said Jonas. But the police are concerned that the crime-reporting rate is lower in immigrant communities, especially in undocumented populations, she said.
Armina Medic, the crime victims' advocate at the Chittenden Unit for Special Investigations, said she always informs a survivor about potential resources, including legal assistance. She doesn't make assumptions about anyone's status, she said.
Still, many undocumented immigrants remain fearful and resist reporting crimes, said Marita Canedo of Migrant Justice, which advocates for farmworkers in Vermont. She lets them know they can still access social support services without calling the police. But to apply for the U visa, she tells them, there has to be some collaboration with law enforcement.
Still, a language barrier and isolation make it more difficult for migrant workers to report abuse, Canedo said. She learned about domestic violence when she organized monthly meetings for female farmworkers in order to establish trust between them and Migrant Justice.
But the women were too afraid to attend the meetings after U.S. Immigration and Customs Enforcement started arresting Migrant Justice members. Earlier this month, the group filed a lawsuit alleging that ICE has systematically targeted its leaders for deportation.
Huma experienced an emotional roller coaster while waiting for her U visa application to be approved. She put up a brave front whenever she made video calls to her parents, she said. She worked out to relieve stress. Her children, she said, were her main motivation for trying to stay in the U.S. She wanted them to have better education opportunities. She worked two jobs to support her family. In October 2017, she received her U visa.
Huma said she shared her story because she wants those who continue to be affected by domestic violence to realize that they, too, can end the abuse.
"When you're sinking, don't give up," she said.
Sara Tabin contributed reporting to this story.