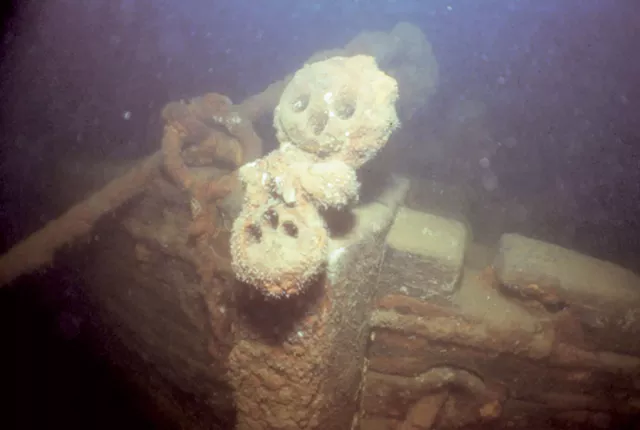 Courtesy Of Lake Champlain Maritime Museum
Images of the 1862 canal boat General Butler
The Lake Champlain Maritime Museum in Vergennes made the difficult decision last month to suspend all in-person visits for the 2020 season.
Immediately, Chris Sabick began looking for other ways to connect to the museum's constituencies. As LCMM's director of research and archaeology, Sabick knew that his visitors couldn't get more socially distanced than touring the lake's bottom from the comfort and safety of their own homes.
Lake Champlain is home to one of the world's largest and most diverse collections of sunken vessels. More than 300 shipwrecks, some dating back to the 1700s, have been identified, and more wrecks and artifacts are still being discovered.
Normally, the museum operates the Escape, a 50-passenger vessel that allows visitors to climb aboard and, without donning scuba suits, explore some of those wrecks via a live video feed from a remotely operated underwater vehicle. After the pandemic grounded all the museum's boat tours, those underwater explorations moved online.
Fortuitously, Sabick, who is himself a diver and nautical archaeologist, already had much of the audio and video needed to produce a series of short virtual shipwreck tours. Because the maritime museum manages the Vermont Underwater Historic Preserve on behalf of the state, Sabick and his team regularly shoot video of nine of the preserve's 10 shipwrecks that lie in Vermont waters. (Most of Lake Champlain's wrecks aren't part of the underwater preserve, he explained, only the most historically and archaeologically significant ones.)
In October, at the end of each year's recreational dive season, Sabick inspects at least three or four of the preserve's shipwrecks to document how they're aging, the progression of zebra mussels, and other damage caused by divers, anchors or the environment. Some inspections are conducted using ROVs, others with dive teams.
Sabick has paired those videos with audio narrations that were originally produced and aired in 2009 by Vermont Public Radio as part of its "History Under the Waves" series. The result is three virtual shipwreck tours, with more expected this summer.
Among those now available is a four-and-a-half-minute tour of the Phoenix, which is considered the world's oldest known steamship wreck. As narrator Adam Kane explains, on September 4, 1819, the steamship left Burlington en route to Plattsburgh, N.Y., with 46 passengers and crew aboard.
At 11 p.m., a passenger discovered a fire below deck and alerted the crew. As passengers boarded the first lifeboat, it became apparent that the entire steamship would be completely engulfed in flames. In the chaos, several crew members panicked and launched a second lifeboat too soon, leaving behind 11 people. After dropping off survivors on nearby Providence Island, the lifeboats returned for the remaining survivors but found only five.
After the vessel washed ashore, the Lake Champlain Steamboat Company stripped it for parts and left behind its burnt hulk; lake ice later pulled it into the shallow waters of Colchester Shoal, where it currently rests. In the underwater video, the vessel's massive, charred timbers are still discernible.
Thus far, each of the virtual tours involves vessels with known histories. But as Sabick begins producing new ones, he expects that some tours will become more informational than narrative, because the vessels' names and histories are unknown.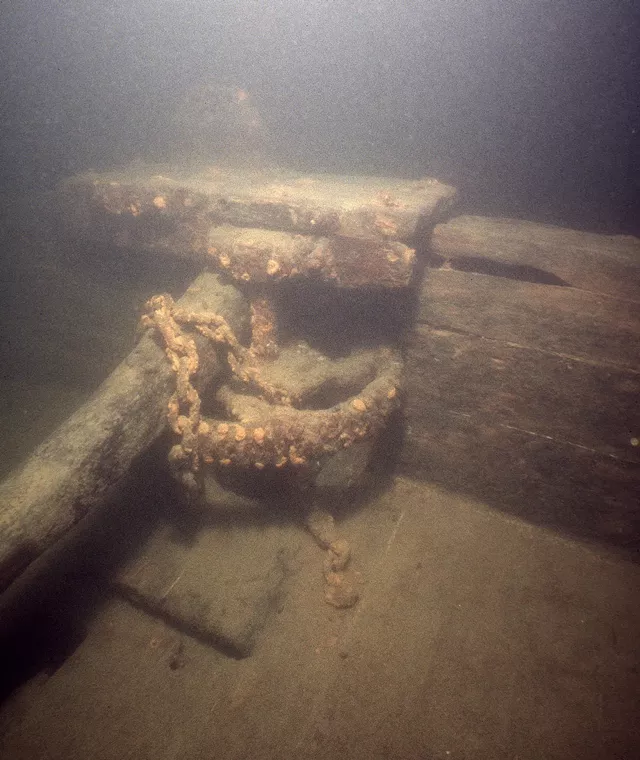 Courtesy Of Lake Champlain Maritime Museum
Images of the 1862 canal boat General Butler
One such example is the Sloop Island canal boat, located near the Charlotte-Essex ferry crossing. Resting at a depth of 85 feet, Sabick said, "It's a deep, dark dive, that's for sure.
"We know a lot about that boat, but we don't know its specific name or what its story was," he added. "We can only tell what we can infer from the archaeological process."
Sabick envisions that this vessel's virtual tour will exemplify the forensic nature of nautical archaeology. What's known is that it's an 1873 canal boat that probably sank in 1914 or 1915. The timing was determined from a seemingly insignificant finding: a charcoal briquette found in the stern cabin. As archaeologists learned later, charcoal briquettes weren't made until the second decade of the 20th century.
Virtual tours like this one are helping the Lake Champlain Maritime Museum chart a new course through a post-COVID-19 world, Sabick added.
"It's really a challenging space to be in right now," he said. "But we can continue to do our work and have new material to present through other means next year."