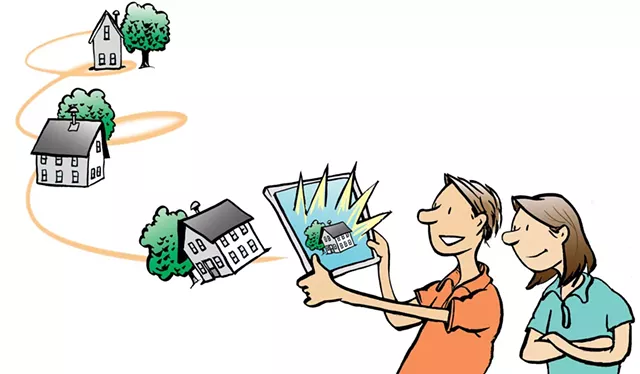 Linda and Ryan Logan, a West Virginia-based couple in their late twenties, had no choice but to move during the pandemic. Ryan, who works in information technology, can do his job from anywhere, but Linda was completing her medical school degree and had matched at the University of Vermont for a residency in pathology that would begin on June 12. They needed to buy their first house in a state where Gov. Phil Scott's "Stay Home, Stay Safe" order meant they had to purchase sight unseen.
"We decided to buy a house during COVID-19. That was a crazy thing," Ryan said by phone a week before their move in mid-May. "We were a little hesitant. It would be crazy not to be. Vermont is 953 miles away."
After the Logans told their Vermont agent, Kathy O'Brien of Four Seasons Sotheby's International Realty, their requirements and budget, she jumped into action — or as much as she was allowed to.
"I would drive into neighborhoods and FaceTime them," O'Brien said of her house hunters. The agent couldn't enter people's homes, so she showed the Logans eight houses from the outside.
When a house in Milton popped up on the Multiple Listing Service at the end of March, the couple was in luck: A contract on it had just fallen through, but the buyers who had backed out had already completed an inspection — another aspect of home buying that had become impossible during the pandemic shutdown.
Again, technology filled the void. "The owner did little 30-second iPhone videos of the interior, sent them to me, and I strung them together and sent it to Ryan and Linda," O'Brien explained.
Linda immediately identified with the newly redone interiors: "I love the interior design. Being from the West, [I think] it has a very Utah-Colorado feeling," she said during a phone call.
Based solely on the video images and a summary of the building inspection, the Logans put in a bid within four hours of "seeing" the place, and they got it.
The novel coronavirus forced Vermont's traditional real estate industry to shut down for five weeks, starting in mid-March, but buyers and sellers who had to move quickly pivoted to virtual ways of facilitating property transactions. These methods — particularly video and 3D tours — may have a lasting effect on the industry.
While virtual tours were occasionally available on real estate websites before the pandemic, they've become more sophisticated and practically de rigueur, making virtual buying and selling more accessible than ever.
Steve Lipkin, the Realtor-broker who leads the Lipkin Audette Team at Coldwell Banker Hickok & Boardman, said that while "a few" of the agency's listed properties had Zillow 3D tours before the pandemic, now most of them do.
As soon as the governor first relaxed restrictions on real estate transactions on April 20, allowing single agents to enter houses on the market, the team bought an extra camera to create more Zillow tours. The technology involves setting the camera on a tripod in the middle of each room, where it takes two 180-degree photos that are later stitched together.
At the same time, Lipkin added, "We were teaching sellers how to do videos and send those to us: Make sure you hold your iPhone vertically, don't shake, and so on."
O'Brien, a real estate agent for 26 years, previously used a wedding videographer and acted as director on the occasional pre-pandemic video — including one in which she had the owner play guitar while sitting in his hammock. Now, each property O'Brien represents is listed with professionally produced videos and a Matterport 3D tour.
"Before the pandemic, I might have gotten 200 views [of a video] over three months. Now we'll get 200 views in two weeks, because people are at home and their world just changed," O'Brien commented. "I think video is the wave of the future."
Jessica Bridge, co-owner of and principal broker at Element Real Estate, pointed out that agencies are investing in virtual tours for another reason. "I think many of us are preparing for another potential shutdown, so we're providing a virtual for all of our listings now, so we can continue operating safely."
The transition to virtual home showing and buying strikes Lipkin Audette agent Kim Corey as natural.
"People are just doing it in a different way [now]," she said.
Corey has facilitated two virtual sales since April 20. For one, as the agent for buyers in Pennsylvania, she FaceTimed her client while walking through four properties. The buyers eventually chose a newly constructed house in Colchester.
"You have to have a little bit of a sense of humor, because when I was FaceTiming them, I was wearing a mask," noted Corey, who has worked in real estate for 11 years in Manhattan and Vermont. "I find it very fun," she added. "You can zoom in on the countertop or the type of flooring, and I can touch it and describe the feel."
Verbal descriptions may work in a pinch, but virtual buying has its limitations. Said Lipkin, "There's no replacement for physically getting in there. You don't get a sense of the noise, the smells, the vibe, the flow. [Virtual touring] is the best alternative, but it's still not the same."
Corey made her other virtual sale as the sellers' agent for Sue and Chris Capetz. The couple needed to sell their South Burlington house because Sue, a merchandise planner, was starting a new job in Florida.
"When we listed it [on April 10]," Sue recalled, "we said, 'We're never going to sell this house during this situation.' The issue was that the Realtor had a stager and a photographer, but no one could go into your house. So, to list, we had to make our own pictures and video and send it to their team, who edited it down. I thought they looked pretty good."
The buyers ended up being from South Burlington, too. They viewed the house on April 11 via a "walking Zoom tour" on Chris' phone. Both agents were also on the call.
"My husband walked through every room in the house, opened all the closets," Sue recalled. "The potential buyers asked, 'Hey, could you put the camera over here, over there?' It lasted an hour and 10 minutes — it was a very thorough showing. The next day they submitted an offer."
As of May 27, agents can show a property to a group of 10 or fewer people, according to Kathy Sweeten, CEO for the Northwestern Vermont Board of Realtors. But safety standards, issued by the Vermont Agency of Commerce and Community Development, are stringent. Everyone must wear a mask and practice physical distancing; touching hard surfaces should be avoided; and visits must be spaced to allow for a half hour of cleaning time in between. Open houses are now permitted under the same rules.
Contact tracing, added Bridge, is part of the new real estate picture, too. "Every agent is supposed to keep a log of who they've shown property to and which properties they've shown. And listing agents have been asked to keep a log of who is showing each property."
Safety will be paramount in what promises to be a particularly busy — if delayed — Vermont market this year. Many agents indicated that pre-pandemic listings were already scarce, and they predicted that demand would only grow.
"Because of the quarantine, there likely will be an influx of people who live elsewhere purchasing in Vermont," Bridge commented. "We just have less density [than threatened urban areas], and our infection numbers have been low."
Bridge also noted that "the median number of days a home is on the market was [already] at an all-time low in Chittenden County" before the pandemic; meanwhile, demand has increased.
It remains to be seen whether virtual home transactions will continue as the state begins to open up. Some may agree with Sue Capetz, who sold her home virtually but won't buy her next one that way.
"That's not for me. I need to go in and feel it out," she declared, adding that she and her husband will stay with relatives in Florida while looking for a house.
The flood of online tours does mean that buyers can be more selective about what they want to see in person.
Meanwhile, Lipkin noted, "Inspection dates, appraisals, financing dates are all being extended for these extraordinary times. It just feels like everyone's pulling together — sellers, buyers — to figure it out."