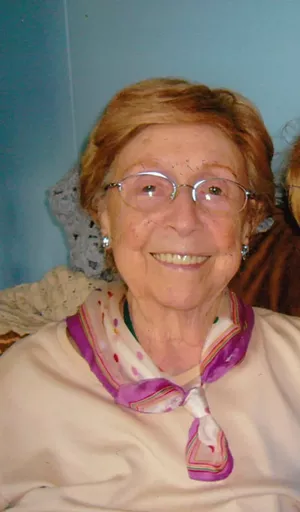 Virginia Mae Colt, 97, a longtime resident of Burlington and Sarasota, FL, passed away April 10, 2015 at the University of Vermont Medical Center. She was born February 4, 1918 in Burlington, VT to Walter and Alice (Senna) Burke and graduated from Cathedral High School. She operated beauty salons in downtown Burlington for many years. Virginia also entertained at the Black Cat Cafe with her musical skills on the organ and piano. She and her late husband, Peter, retired to Sarasota, FL and she moved back to Burlington after Peter's death.
Left to cherish Virginia's memory are her son William Caputo, grandson Josh Caputo, great-grandchildren Joey and Evangeline, nieces; Cynthia Steffen, Claire Myers, Louise Doyle, Priscilla Lisor, Kathleen Burke, and Carol Burke, nephews; Steve Fraser, Michael Fraser, and John Burke, extended family and countless friends. Everyone will miss her quick wit and fun nature.
She was predeceased by her husbands William Caputo, Dr Roy Bartlett, and Peter Colt.
A Memorial Mass will be held 10:00AM Wednesday at St. Joseph's Residential Care Home Chapel, 243 North Prospect St, Burlington, VT 05401. Interment will be held at a later day in New Mount Calvary Cemetery, Burlington. Arrangements are under the care and direction of LaVigne Funeral Home and Cremation Service.
Online condolences may be shared with the family at www.lavignefuneralhome.com.