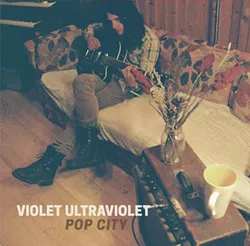 Violet Ultraviolet, Pop City
(Section Sign Records, digital download, vinyl)
Violet Ultraviolet is the recording project of Burlington-based singer-songwriter Jake Brennan, who pulled stints in local indie-jangle bands Paper Castles and Shelly Shredder. VU typically features a rotating lineup of other local folkies and indie rockers such as Wren Kitz and Rob Voland. But for his latest release, Brennan struck out solo, recording Pop City over a two-year period with Ryan Power of Stu Stu Studio.
The album's warm, spacious sound recalls the modern minimalism of Kurt Vile and Real Estate — though Brennan's nasally vocals reach back several decades earlier to the likes of Neil Young. Accordingly, a cozy 1970s rock vibe washes over the album, bathing the listener in a steady rhythm that evokes a brooding beach drive at twilight.
Brennan's reverberating, metallic guitar line opens the title track. His whiny — but not self-indulgent — delivery conveys suburban boredom. Yet something ominous portends when he wonders, "Well you could call it an accident / Call it the past / Do you think it's gonna rain cuz I hear thunder."
The contemplative and catchy "Avalanche" offers a cool slice of layered harmonies and propulsive percussion. Brennan posits himself as the loner in the corner, confessing, "It's hard to talk out loud / unless nobody else is around / it's hard to break out of my head."
"Phones" opens with spiraling, tightly distorted guitar before flattening to gentle riffs. Here Brennan sings in a low grumble, which contrasts with bright, overdubbed harmonies.
Hints of his atmospheric synth appear on the broken-love ballad "Hysterical." Brennan's plaintive wail is at its most defeatist when he mourns, "I love monsters / So here I am / I'm looking for good times / I swear I'm clean / You love me / Then you doubt your friends / That ain't true love / True love doesn't exist."
Echoing chants of self-doubt define "Low Tide." As if to convince himself, Brennan repeats, "I never let down anyone / I just let my guard down."
Literary references are also ambiguously peppered throughout the album. The opener "Stroke of Good Fortune" draws its title from a short story by southern gothic writer Flannery O'Connor. The moody closer "Lemongrove" pays homage to Karen Russell's collection of short stories, Vampires in the Lemon Grove. Sung with grit, it's one of Brennan's strongest and most affecting vocal performances.
There are some lackluster moments. The muddled "Wetter" is forgettable, while the writing on "Phones" is a little half-baked.
These slight missteps aside, Violet Ultraviolet's Pop City simply sounds good. Brennan masterfully balances obscured vocal murmurs with moments of pleading, high-pitched intensity. The guitar work is delicate, layering acoustic and electric riffs in an easy, carefree manner. Sonically cohesive and dark in all the right places, Pop City tells a story of hidden moments, private thoughts and what lurks beneath our defenses.
Violet Ultraviolet's new album, Pop City, is available at sectionsignrecords.com.