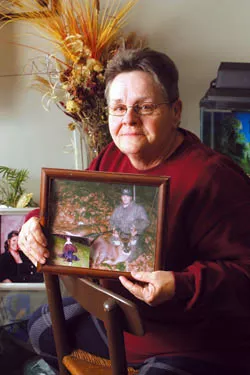 Linda Rodriguez holding a picture of her son, Omar Rodriguez
Steve Rodimon lay in the parking lot of a St. Johnsbury shopping center, blood gushing from bullet holes in his stomach and leg. Rodimon had made a daring attempt to grab the 9mm pistol away from the man who was aiming it at him, but succeeded only in knocking the black mask off the man's face.
And now the shooter — whom Rodimon recognized as Omar Rodriguez, his girlfriend's estranged husband — was ordering Rodimon into the trunk of his beat-up Chevy Prism.
With his wounds, Rodimon didn't think he could stand up, let alone fold himself into a trunk, he later recalled. Plus, he thought, hopping into the trunk of a car never went well for people in the movies. And even if he were willing, there was no room: His trunk was full of papers and an old air conditioner he had been meaning to get rid of.
"Are you kidding me?" Rodimon asked Rodriguez.
Rodriguez squeezed the trigger once more, sending a third round into Rodimon's stomach.
"I told you I wasn't kidding," the shooter said.
Rodimon's memories of the next five hours of that night in March 2012 are fragmented, flashes of horror unfolding between lapses in consciousness. But the outlines of the case authorities built against Rodriguez are emblazoned in his mind:
Rodimon being forced to crawl into the front passenger seat. Rodriguez, somehow manic and methodical at the same time, positioning himself with a gun in the backseat. Rodimon's coworker, an innocent bystander named Tina Evans, being forced to drive the car for 71 miles across northern Vermont and New Hampshire as Rodriguez negotiated with police on the phone and threatened more bloodshed.
Rodimon and others involved discussed the ordeal for the first time in interviews with Seven Days, shortly after a December hearing in which Rodriguez, a 37-year-old St. Johnsbury resident, was sentenced in U.S. District Court to 22 years in prison.
Rodimon, who has largely recovered — at least physically — from his wounds, said he expected those hours to be his last.
"You don't bring a gun unless you are planning on using it," he said in an interview in the Wells River apartment he shares with Felicia Rodriguez and the three children she had with Omar Rodriguez. "I figured this was the end."
Marriage Gone Bad
Rodimon grew up across the Connecticut River from his current home, in tiny Piermont, N.H., and graduated from Woodsville High School in 1987.
He stayed in the area his whole life and by 2011 had settled into a midlevel managerial job at Ocean State Job Lot in St. Johnsbury.
During that summer, he grew close with a new cashier, Felicia Rodriguez, who soon told Rodimon about her strained relationship with her longtime husband, Omar.
The couple had had their first child only months after marrying in their early twenties. Times were tough from the start. Omar Rodriguez was diagnosed a few years later with diabetes, which soon led to kidney failure. By the time he was 30, Rodriguez needed kidney dialysis three times a week to stay alive, and doctors told him he would be unlikely to see his 50th birthday.
He struggled to find work, and Felicia worked a string of low-paying jobs to make ends meet. They stayed for months at a time with Rodriguez's mother, who lives in a trailer park in St. Johnsbury.
Felicia Rodriguez said the relationship turned violent, and court records show she took out a restraining order in 2011, alleging that Omar had struck both her and their sons.
In the fall of 2011, Felicia said, she began making plans to leave Omar and move to Massachusetts: She obtained permission to transfer to an Ocean State Job Lot store outside Boston and filed for divorce.
But, Felicia Rodriguez said, she couldn't leave the state with her sons before the divorce was finalized. Further complicating her plan, she recalled, she began to fall for Rodimon. They started spending time publicly together outside work, and Omar Rodriguez, according to state and federal court documents, began to focus his anger on Rodimon.
In February 2012, Rodimon applied for a restraining order against Rodriguez, accusing him of trying to break into his vehicle, following him while he drove to work, slashing his tires multiple times and leaving threatening voicemail messages.
A judge scheduled a court hearing for March 6, 2012, to decide what, if any, action to take against Rodriguez. The hearing would never occur.
'A Bunch of Bullet Holes'
The night before the scheduled hearing was bitterly cold, and plunging temperatures had scared away all but a few customers at Ocean State Job Lot. Rodimon and his boss, Evans, shut down the store together and walked outside into the main parking lot a few minutes after 9 p.m.
Evans testified that she heard footsteps behind them as they walked through the empty parking lot. They turned around and saw a man dressed in a black ski mask, black jacket and boots, and white latex gloves. He had a gun in his hand.
"Keep walking," he said.
Evans thought she recognized the voice. One of her daughters was friendly with Rodriguez's oldest son, and she was aware of the marital strife, she explained while on the witness stand during Rodriguez's sentencing hearing.
Nearing Rodimon's car, they stopped.
"You know what this is about," said the masked man. For a few brief seconds, a standoff ensued. Then Rodriguez lowered the gun slightly, and Rodimon thought he saw his chance and rushed forward.
"I wanted the gun," Rodimon said in an interview. "That was the only thing I was thinking."
Rodimon stands a sturdy 6 feet 2 inches tall, but Rodriguez is just as big. Rodimon couldn't wrestle the gun away. During the struggle, the driver's side window was broken, Rodriguez's mask flew off and he fired two shots into Rodimon.
Rodimon fell to the pavement. After he was shot a third time, Rodriguez ordered him into the car, and his victim managed to pull himself into the front passenger seat. Rodimon even remembered to put his seat belt on.
Rodriguez ordered Evans into the driver's seat, where shards of glass from the broken window dug into her legs. Rodriguez, his gun never leaving his hand, sat in the back.
He ordered Evans to drive 14 miles to the Frank D. Comerford Dam in Monroe, N.H., across the river from Barnet, Vt. Once there, Rodriguez told Rodimon to call Felicia Rodriguez.
Back at home in Wells River, Felicia Rodriguez became concerned when she saw Rodimon's number on her caller ID. Rodimon used a TracFone, and making calls was expensive. He generally communicated with her through text messages.
When she picked up, she heard her estranged husband say, "Get up, Steve." Then the line went dead. It was shortly before 10 p.m.
Felicia Rodriguez called the police, who sped to Ocean State Job Lot and found blood in the parking lot. She didn't hear from her husband or Rodimon for another half hour; Evans, following orders, had set out north for Littleton, N.H., 17 miles away. Meanwhile, Felicia Rodriguez drove to the Vermont State Police barracks in St. Johnsbury and waited for another call.
At first, she believed her husband had only beaten up Rodimon. But during their next phone conversation, while she was at the barracks, Rodriguez told her it was much worse.
"He already has a bunch of bullet holes in his body," he told Felicia.
For nearly five hours, Evans drove, looping along dirt roads and main highways in Caledonia County in Vermont and Grafton County in New Hampshire. Along the way, they passed three hospitals and at least one police station.
As they approached St. Johnsbury's Northeastern Vermont Regional Hospital, Rodriguez announced he was going to drop off Rodimon. But when they reached a left turn to the hospital, Rodriguez made Evans turn right, toward Interstate 91, Rodimon recalled.
Cellphone service was spotty, but Omar Rodriguez managed to make at least 10 calls to Felicia Rodriguez during the odyssey, she said.
His demand was always the same — he wanted to see her.
"I was like, 'You aren't getting me, because my kids need me,'" Felicia Rodriguez recalled thinking to herself.
Around 12:45 a.m., Felicia decided she couldn't handle another call, and handed her phone to Vermont State Police Trooper Denis Girouard, who knew her husband from growing up in St. Johnsbury.
"We've got to get people to safety," the trooper said to Omar Rodriguez.
Rodriguez told Girouard that both Evans and Rodimon were unharmed. "I need to speak to Felicia," he said.
"I don't think that's an option ... the way things are going right now, I don't think that's possible," Girouard said, according to a recording of their conversation.
"The only thing that can happen is you guys will have to put me down," Rodriguez replied.
Later, Rodriguez expressed confusion at the violent turn of events he had caused.
"I never thought something like this would happen," Rodriguez told Girouard. "I didn't think it would get this far."
Giving Chase
Neither did Rodimon, who said in the interview that he remembers being confused when his car did not run out of gas that night. Rodimon had coasted into work that day on fumes, and held out hope that he would be saved by an empty gas tank. But he was unconscious for large chunks of the trip. During one of those intervals, Rodriguez made Evans pull over at a gas station in Littleton, N.H., and put $20 of fuel in the tank.
As the car reached Lisbon, N.H., Rodimon regained consciousness, but, he said, he began to lose hope. Rodriguez had again ordered Evans to pull over, along the Ammonoosuc River.
Across the river, Rodimon could see the Lisbon police station. He would either get help, or he would die, and both outcomes were beyond his control.
"That's when I stopped caring," Rodimon recalled.
But things were changing for the better – Girouard and other troopers were able to keep Rodriguez on the phone.
As the group neared Wells River, some of the armada of police cruisers that had descended on the region finally caught up to Rodimon's Chevy Prism and began to give chase.
At the intersection of Route 302 and I-91 in Wells River, police deployed spikes that deflated the car's tires. At Rodriguez's order, Evans pulled the damaged vehicle into the nearby P & H Truck Stop in Wells River, where police waited.
With Rodriguez's permission, Evans dashed out of the car. Rodimon crawled to safety. At about 2 a.m., after a few minutes of negotiation, Rodriguez left his gun in the car, opened the door and surrendered.
Rodimon was airlifted to Dartmouth-Hitchcock Medical Center in Lebanon, N.H., where doctors pumped 15 liters of blood into him before they could even begin operating. He stayed there for six months. His spleen was removed, his pancreas repaired and his leg healed.
The prosecution of Rodriguez dragged on for nearly two years, slowed by a transfer of the case from state to federal court and by complications that arose when Rodriguez suffered kidney failure in prison.
But in late 2013, a plea deal was struck. On a recent December afternoon, Rodriguez rose during his sentencing hearing and offered his first public comments on the ordeal.
"I take responsibility for everything, and I'm truly sorry," he said, before being led away by sheriff's deputies to serve a 22-year sentence for kidnapping and attempted murder. (Because of his kidney problems, doctors expect Rodriguez to die in prison long before that sentence expires.)
His attorney, Michael Desautels, argued that Rodriguez intended to kill only himself that night, and that he was "self-centered."
Evans told the judge that she now lives in constant fear: She rarely leaves home except to go to work. Her children call her constantly to make sure she is safely en route back from her shifts at the store.
"I don't do anything any more," Evans said.
In the summer of 2012, Rodimon went back to work and now parks in the same lot where he was kidnapped.
But he lives with new limitations. He walks with a stutter, the result of a blood clot that developed in his leg after he was shot. He must take blood-thinning medicine (which makes him drowsy) for the rest of his life. Walking for any length of time can exhaust him; he hasn't bothered to get a fishing license for the past two summers.
"Some days I feel shattered," Rodimon said.
He and Felicia Rodriguez are raising her three children, who range in age from 9 to 16 and have not seen their father since his arrest. The Rodriguez's divorce is pending.
While the criminal case has wrapped up, the incident is never far from Rodimon's mind. A few months after the incident, his dad returned to him a box of belongings that had been left in his car after police finished cleaning up. The night he was abducted, Rodimon was wearing his Ocean State Job Lot name tag, which hung on a lanyard just above his belly.
When he pulled the name tag out of the box, he saw the plastic marked with a streak of red and a small, round opening. It almost looked like the mark of a holepunch.