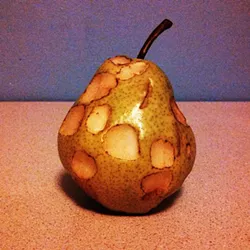 Villanelles, Blue Heart Attack
(Self-released, digital download)
Villanelles are a Burlington rock band that emerged from Champlain College and have always seemed destined for greatness. Their self-titled 2010 debut album netted them a Best New Vermont Band Daysies award, and their quality has only improved since, blessing us with two punchy EP releases that demonstrated some serious growth.
Blue Heart Attack, the band's second full-length album, has been a long time coming. Villanelles started recording it in the summer of 2012 and have been threatening to release it for almost two years. That may seem like a slow-burn approach to marketing, but it's really the result of the eternal conflict between music careers and, well, adult life. Plans for a vinyl pressing were finally set aside, and the album was quietly unleashed online at the end of April.
Was it worth the wait? Without a doubt. Villanelles have fully digested their influences and honed their sound into something distinct. And big. Huge credit is due to the engineering of Stu Stu Studio's Ryan Power and the mixing work of Ryan Cohen of Robot Dog Studio. And perhaps their former bassist, Evan Borden, who is credited as "muse" and "mix consultant" to this day. The production here is beyond professional: This album sounds flat-out awesome.
Singer Tristan Baribeau is blessed with a formidable and flexible set of pipes — a soprano register that's equally expressive from a whisper to a scream, and there's plenty of both here. He's also become a smart, playful lyricist, able to impart sly wit and genuine emotion, often simultaneously. To top it all off, he kinda shreds on guitar, too.
Villanelles have been together more than eight years now, and, boy howdy, you can tell. They sound effortless, with a range and restraint that evokes Elvis Costello's longtime backup outfit, the Attractions. A lot of that is due to the tastefully accomplished keyboard work of Zane Gundersen, who shines on every track here. The band also boasts one of the finest rhythm sections in Burlington right now. Drummer Seth Gundersen and bassist John Rogone clearly have absurd chops, yet their pyrotechnics never once get in the way of the songwriting.
Speaking of which, the songwriting is ambitious, dynamic stuff, especially the brilliant pop of the first four songs. Several of the tracks are just scorching. For example, the high-speed wail of "Wolf Bait," which achieves liftoff in the first few seconds and accelerates from there. It's easy to hear how much thought went into this project: The pacing is perfect, and the transitions between songs always work.
Blue Heart Attack is a serious piece of work, the kind of career capstone that few bands achieve. At least half of the songs here could be college radio hits, and I suspect this album will be a sleeper success that continues to gain momentum as the world outside Vermont gets exposed to it. Villanelles are ready for bigger things, and this album is just the business card to get them there. Besides, that vinyl release still has to happen.
Blue Heart Attack by Villanelles is available at villanellesmusic.bandcamp.com.