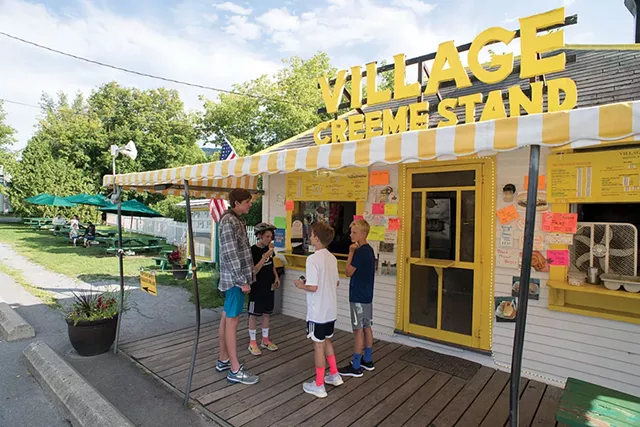 Caleb Kenna
Village Creemee Stand
A hot summer day in Bristol screams for two things: a brisk dip in the tumbling waters of Bartlett Falls, followed by ice cream at the sole spot in town that advertises, "No shirt, no shoes, no problem."
It's the Village Creeme Stand — and if you're accustomed to another spelling of Vermont's word for soft-serve, you're mistaken. "C-R-E-E-M-E is the right way," Tom Wallace says in a stern voice — but with a smile. The Bristol native and his wife, Claire, have been in the ice cream business since 1982. Their word is law.
41 West St.
Middlebury Area
Bristol, VT
802-453-6034
Fast Food
And their creeme stand is an iconic seasonal stop for visitors from all across Vermont and New England. Newlyweds pose for photos in front of the quaint yellow-trimmed exterior. Motorcycle clubs and classic car owners park out front. Punk band Bison Bison even featured the stand on one of their album covers.
As soon as the front window opens for business — in late April or early May, depending on weather — the crowds line up. "It will be 50 degrees, and they will still come get creemes," says Claire. "It's like waiting for Christmas."
Caleb Kenna
Village Creemee Stand
Claire and Tom — high school sweethearts now in their seventies — share with their family the rigorous responsibility of serving "thousands and thousands" of creemes per season. Daughters Kelly Laliberte and Piper Westbrook both started working at the stand in their early teens. Today, Piper manages it, employing all four Wallace grandchildren and more than a dozen other local teens.
On a blue-sky August afternoon, customers chatted easily on the porch, where Tom's home-garden surplus — supersize zucchini and squash — sat in a crate, free for the taking. Fifteen-year-old Tatum Laliberte worked the window, scribbling down orders for fried chicken sandwiches, juicy burgers and maple dogs — hot dogs cooked in Vermont maple syrup, of course.
Caleb Kenna
Village Creemee Stand
Sides such as creamy mac-and-cheese bites, onion rings, and Howlers (jalapeño poppers) fulfill any fried-food craving — but save room. Dessert here is nonnegotiable.
Handwritten menus list the many options, from malts to milkshakes, sundaes to ice cream sandwiches. Dusted with nutmeg, a cone of coffee creeme is dreamy — or perhaps you'd prefer cherry-dipped vanilla. Can't decide? Ask Tatum to whip up her personal favorite: a small chocolate with Oreos, fudge and homemade sprinkles.