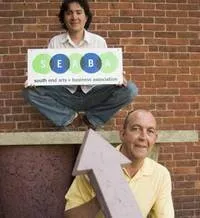 Matthew Thorsen
Seaba Director Carlos Hase and Art Hop Coordinator Bob Bolyard
PARTY POOPERS? Apparently, the Friday night party that kicked off last year's South End Art Hop was just that: the last. In Hops past, the South End Arts and Business Association (SEABA) and the Burlington Police Department struggled to keep partiers safe and the popular event from ballooning out of control. This year's solution is to avoid assembling the masses at a single beer-tented bash on Pine Street: Instead, organizers will present "Strut II" — an indie fashion show by local designers — on Friday and then spread other events throughout the month. Along with,
September 7 and 8 will merely be a "jump start" to the Hop, says new coordinator Bob Bolyard. Meanwhile, he's put out a call to artists for said studios, as well as to businesses that want to host artwork. Bolyard advises that http://www.seaba.com is under construction, but registration should be up by this Friday, June 29. Stay tuned for further developments . . .
***********
INSIDE STORY Last Monday the History Channel aired a one-hour special titled "Journey to the Center of the World," about a team of professional cavers and scientists — with, of course, filmmakers — traveling waaay deep in a sacred Mayan cave called Naj Tunich, in Guatemala. The program was co-created and executive produced by a pair of Vermonters, Jim Tabor and Johnny Reid of Waitsfield. Tabor is a partner in Gillen Tabor Communications, as well as a mountaineer, cave explorer and author. (His book Forever on the Mountain: The Truth Behind One of Mountaineering's Most Mysterious and Controversial Tragedies was just published.) Reid, who produced the Phish doc It, splits his time between Vermont and New York City, where he runs his aptly named Journey Entertainment Production Company. Until recently, Reid reports, the technology for shooting in a cave environment didn't exist — the cameras were too big, the lights too heavy, the batteries too short-lived. But high-def video has changed all that. Now, if technology could only conquer claustrophobia.
AND . . . The booming biz of audiobooks proves that grown-ups enjoy being read to as much as the Goodnight Moon set. That's why Burlington's Fletcher Free Library is making available hundreds of digital audiobook titles, beginning July 1. From classics such as Wuthering Heights to contemporary bestsellers to foreign-language manuals, the books will be downloadable 24/7 via Recorded Books and NetLibrary. The service is free to anyone with a library card. Bonus: No late fees! Unless they're renewed, titles simply stop playing after 21 days . . . Speaking of books: Irasburg novelist Howard Frank Mosher is the honoree of the 2007 Burlington Book Fest, reports Director Rick Kisonak. Several of the author's works have been made into movies by Vermont filmmaker Jay Craven, including the recent Disappearances. Mosher's latest is On Kingdom Mountain, out next month . . . The Center for Cartoon Studies in White River Junction nudged its first batch of graduates out of the nest not long ago. But if any of those fledgling cartoonists want to stay in school, they can now apply for the brand-new Master's of Fine Arts degree. The State Department of Education Board recently approved CCS, directed by renowned cartoonist James Sturm, for one-year advanced certificates. Declares board member and artist Peggy Kannenstine: "What NYU's Film School is to film or Iowa's Writing Workshop is for writing, the Center for Cartoon Studies is for comics."
PAMELA POLSTON
MOORE OR LESS Talk about poor treatment. On Monday, the distributor of Michael Moore's Sicko tried to pull the movie from Vermont. "As I understand it, they had a last-minute change of marketing strategy," says Rick Winston of Montpelier's Savoy Theater. "Rather than roll it out to 3000 markets this Friday, they decided they'd start with 300 of the larger markets." Logic? "They wanted the word to build," Winston says. But the movie is already getting rave reviews, and both Winston and Merrill Jarvis Jr. have been promoting it for weeks. Further complications: Jarvis, who runs Merrill's Roxy in Burlington, is donating a portion of the proceeds from all four Friday screenings to the Community Health Center. Physician and health-care advocate Deb Richter is speaking after the 7 p.m. show. Jarvis' fundraiser apparently convinced the distributor to send him the movie as scheduled. Winston's booker made his case as well and, after three hours of pins and needles, Sicko was back. Executive producer Harvey Weinstein, who is also co-distributing the film, is getting credit for the capricious marketing. He's also reportedly unhappy with the movie's portrayal of Hillary Clinton — his presidential candidate of choice. Coincidence?
PAULA ROUTLY