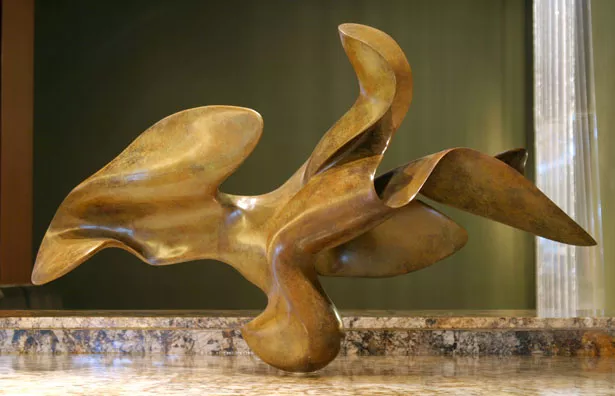 Vermont sculptor Richard Erdman is accustomed to thinking big. From his Williston studio or in the marble city of Carrara, Italy, he has crafted weighty works in stone or metal for more than 115 exhibitions. His work is in private and public collections all over the globe, from New York to Singapore to Riyadh. His enormous sculpture "Passages," at the Donald M. Kendall Sculpture Gardens at PepsiCo., is the largest in the world - 25 feet long, 16 feet high - made from a single piece of marble.
Erdman's latest sculpture - a bronze - is smack in the middle of the largest construction project in the State of Michigan: the brand-new MGM Grand Detroit Resort and Entertainment Center. The $800 million enterprise includes a 400-room hotel, a 14,000-square-foot ballroom, three "celebrity chef" restaurants and, of course, a casino. Oh, and parking for 4400. That's a lot of potential eyeballs for Erdman's "Sequita," installed in the central lobby over a reflecting pool. Reportedly, it appears to be floating - no small illusion for a 5-foot-long hunk of heavy metal. But, as always, Erdman has created a form that is both sinuous and sensual, abstract but oddly botanical.
Whether or not all those gamblers will save an economically depressed Motor City, Richard Erdman was a safe bet.