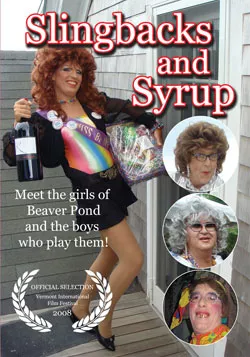 Among the sights you may spy at next week's Vermont International Film Festival: Swedish vampires. Vintage footage from the infamous NYC '70s swingers club Plato's Retreat. A drug-addled rock star tangling with gangsters. And the ladies of Burlington's own House of LeMay.
No, the historically earnest, politically oriented Burlington fest hasn't suddenly gone glam. But it has got a new venue and a younger, more pop-cult orientation than in years past. From October 23 through 26, 25 features and shorts from around the world will screen at the Palace 9 Cinema in South Burlington. Meanwhile, downtown, the Main Street Landing Performing Arts Center will show 18 Vermont-made films selected by the VIFF board of directors from a pool of local entrants.
In the past, the fest's organizers did all their programming by issuing a call for entries and picking the best films that came their way. Last year, they decided to limit this approach to the Vermont Filmmakers Showcase and focus on obtaining a handful of non-local films that already had festival buzz. This year, two from the U.K. stand out: Guy Ritchie's snazzy gangster flick RocknRolla and Mike Leigh's Happy-Go-Lucky, another acclaimed slice of life from the director of Secrets and Lies.
Instrumental in getting these films was Palace 9 owner Harold Blank. He says he used his contacts at the Toronto Film Festival to snag movies for the VIFF such as Wendy and Lucy, in which Michelle Williams plays a down-and-out young woman wandering the Northwest with her dog, and American Swing, the aforementioned doc about Plato's Retreat.
Though this is the first year he's been involved, Blank says he's "watched the fest over the years. I always thought it needed to be a more broad-based independent film festival." Coming off last year's changes, he says, "I got the feeling this was a transition year, and there might not even be a fest this year. If the fest had a home such as the Palace, it could develop into something bigger and better."
Board President Deb Ellis agrees that the VIFF was at a crossroads when Blank came on board: "If we didn't do a fest this year, we really ran the risk of losing it. We've been going through a couple of years of self-evaluation," she adds, explaining that most fests around the country have shifted to a new model, from offering recognition to unknown filmmakers to drawing audiences with exciting films. Still, she says, "We haven't made an absolute statement that we will never have a call for entries again. This partnership allowed us to look at what the festival could do in a different way."
And, Ellis points out, the Vermont Showcase still gives local filmmakers much-needed exposure. Three prize-winners will get cash, too. Besides donating three of his multiplex's screens, Blank has created two $1000 Margaret and Harold Blank Film Awards for the Vermont entrants, one for storytelling and the other for creativity. They join the $500 James Goldstone Award sponsored by the Vermont Film Commission. All will be presented at an opening-night party on Thursday at the Palace, followed by an early screening of Friday's major release Pride and Glory.
Among the local entries is Marlboro team Alan Dater and Lisa Merton's documentary Taking Root: The Vision of Wangari Maathai, which has already garnered acclaim outside Vermont. Bjorn Jackson's Under the Cloak of Darkness peers into the lives of Mexican migrant workers in Addison County. On a lighter note, Russell Dreher's doc Slingbacks and Syrup shakes its boa at beloved Burlington — or "Beaver Pond" — drag divas The House of LeMay.
Fans of Craftsbury's Bill Lee — that's Bill "Spaceman" Lee, formerly of the Red Sox — can catch him at a showing of the documentary High and Outside on Friday. The directors of Trouble the Water, a first-person account of Hurricane Katrina, take questions on Thursday. And the fest returns to its roots with a Saturday celebration of the 10-year anniversary of the Chiapas Media Project, which brought new-media tech to the Zapatistas of Mexico.
Ellis hopes next year the volunteer-board-driven VIFF will be able to hire staff — namely, a festival director. "I'd like to see it grow, more sponsorships evolve," concurs Blank. "Bring more name people in. I see this as a new beginning.