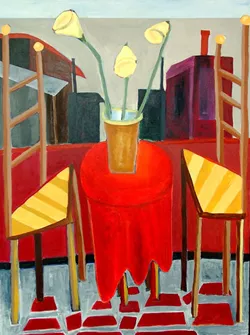 EXHIBIT: Sandra Berbeco: "Zero to Sixty," a retrospective. 215 College Street Artists' Cooperative, Burlington. Through April 22.
ARTWORK:"View from the Balcony" by Sandra Berbeco
It would be easy to mistake Sandra Berbeco's one-woman exhibition for a group one. That's because her "Zero to Sixty" show, at 215 College Street Artists' Cooperative in Burlington, is gathered from more than 15 years' worth of work. While some artists are content with a consistent style, Berbeco's retrospective includes a variety of themes and media. Monotype, paintings and ceramics are on display, and her pictorial ideas seem to have evolved from straight lines toward brash strokes.
Links to art history abound in Berbeco's works. Her acrylics "Wild Flower" and "View from the Balcony," painted in 1995 and 1993, respectively, reflect a thorough examination of Fauvism.
The 46-by-32-inch "View from the Balcony" is strictly decorative in the Matissian sense of the word: defined by patterning and bright colors. The loosely mirroring halves of its strong central axis draw eyes into the picture by distorting one-point perspective. Berbeco also achieves this effect with color, by placing purple in background buildings and yellows in the foreground chairs.
The 22-by-30-inch "Wild Flower" is painted with greater freedom. The red, green and white canvas contains none of the hard edges and straight lines found in "View from the Balcony." Lines are more agitated, and fiery waves of scumbling add bulk to the oversized floral form.
"3 Moons" is based on a dream Berbeco had when her son was visiting the southern African nation of Lesotho. The 58-by-54-inch canvas is very textural - Berbeco layered it with modeling paste. She scratched lines into the surface, creating a horizontal band of overlapping "stick-figure" huts in a ruddy, raw sienna field, then darkened the finely etched lines with shoe polish. Berbeco's effect is akin to the fine, trembling lines of Paul Klee. The three moons of the title appear as a row of small disks in the upper right corner.
Berbeco's landscapes, some painted as recently as this year, exude the liberated exuberance of Milton Avery. In "Desert Mountain," a 16-by-20-inch acrylic on linen, she constructs scenes with gradations of paint intensity as well as values in transition. The desert foreground is thin, watery paint, while distant, hulking mountains are thicker and darker, seeming to plod along the horizon. Berbeco's sky and clouds are naturalistic; here she's traded the Fauvist palette for a more traditional one featuring local color. Her current landscapes are also smaller - generally either 16 by 20 or 18 by 24 inches.
Two 30-by-22-inch monotypes dating from 1995 are entitled "East Coast Head Shot" and "West Coast Head Shot." Both demonstrate a free way of drawing that is at the heart of Berbeco's present style. The abstract, full-frontal faces of ambiguous gender are executed in a spontaneous - almost impulsive - manner. Her use of color is equally direct. Shadowy areas of "East Coast Head Shot" and details around the eyes of both images are rendered in blue-green, while all remaining areas are yellow-orange.
The oldest pieces in the show are six "Ceramics Measuring Cups" arranged on a shelf. Berbeco lists the materials as "slip cast with Majolica glaze," which was applied to her vessels in a very painterly fashion. Some colors were allowed to drip down the cups' sides, while other surfaces were left raw. The cup shapes themselves are irregular and organic. Two of them have broken-off handles, and that flaw actually makes them appear more sculptural, even as it detracts from their functionality.
Berbeco arrived in Vermont from the Boston area in 2001. Her artist statement reads: "Since moving to Vermont I am attracted to landscapes both distant (mountain ranges) and very near (bugs and buds). I spend a lot of time looking at [a] scene, so that when I begin to paint I know just what I want to capture."
But in Berbeco's case, observation isn't about realism. It's about freshly envisioning her surroundings.