Courtesy of Jim Westphalen
"Coal Shed 1"
At Edgewater Gallery's Mill Street location in Middlebury, Jim Westphalen's photographs seem to open like windows onto Vermont's crumbling, leaning and sagging vernacular architecture. The Shelburne artist's solo show, titled simply "vanish.," elevates the documentation of New England's dilapidated barns and industrial relics to the level of rich, intimate and astoundingly sharp portraiture. Westphalen's sophistication results from 30-plus years as a commercial architectural photographer.
Courtesy of Jim Westphalen
Jim Westphalen
"Even as a kid, when we traveled to New England, it held this certain mystique to me," he says. "The farms, the barns, the old outbuildings — I've always had an affinity [for them]." He describes himself as a romantic: "I feel like maybe I was born in the wrong century."
Westphalen was born on Long Island in New York — in the 20th century. He majored in marine biology in college and, as a professional photographer, considers himself "pretty much self-taught." He learned his trade by attending seminars in New York and during an early three-year stint as an assistant to a portrait photographer.
Courtesy of Jim Westphalen
private residence, Vermont
In 1995, Westphalen and his wife visited Burlington for the first time; they moved to Shelburne the following year. "I knew I couldn't be specializing in any one thing," he says, "because I had to make a living." His commercial work now spans interior and exterior architecture, landscapes, lifestyle, and fine dining, and has been featured in Design New England, New England Home, EatingWell and Vermont Life, among other publications — including Nest.
Courtesy of Jim Westphalen
private residence, Cape Cod, Mass.
Westphalen's attraction to shooting landscapes contributes to his reputation as a cinematically oriented architectural photographer: "I love landscapes, and, when you're shooting that kind of photography, you include the landscape as well," he says. "When I started working for architects and designers, it really clicked."
Regardless of subject matter, Westphalen explains, "It comes down to composition and light. I shape a photograph, whether it's a plated dish or an interior, with light."
Resorts, he notes, "are where I get to use my complete bag of tricks." That makes sense, since promotions of the getaway experience generally include sweeping vistas, lush interiors, relaxed guests and enticing dishes of food.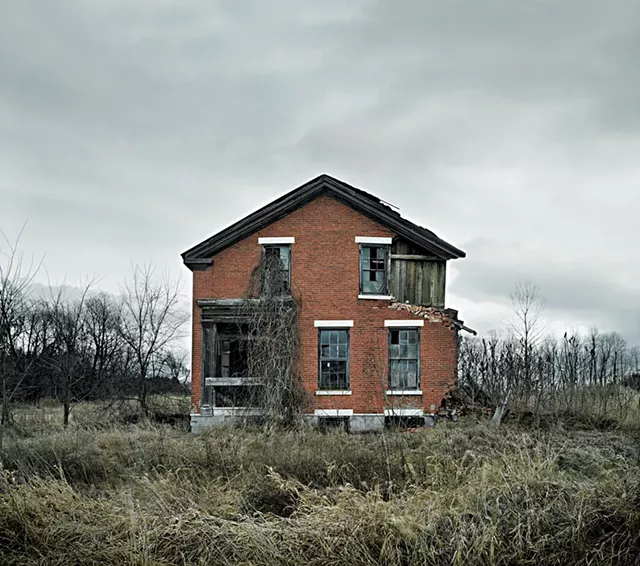 Courtesy of Jim Westphalen
"Shoreham Abandoned 1"
The photos in "vanish." are in many ways the polar opposite of the images that grace glossy magazine pages and marketing materials. No one would shell out hundreds of bucks to spend the night in, say, a partially collapsed circa-1850 brick house in Shoreham or an abandoned Salisbury dairy barn that is "no longer structurally sound." Each of the images in the exhibition is accompanied by a description of the building's history, giving the works additional depth. "I wonder what the people were like there, what the history was, what the structure was used for," Westphalen says. "I always have those questions in my head."
Courtesy of Jim Westphalen
"Coal Silo 1"
The window-like quality of the photographs is the result of many creative decisions, beginning with the digital image itself. "The pixel formation on the sensor itself has a certain look," Westphalen explains. Instead of using glossy paper, he chose to print the images on watercolor paper to evoke "a painterly feel," he says. The works are mounted like canvases, without glass. "It brings the viewer in — you can really check out the detail," Westphalen says.
His works convey the serendipitous moment of cresting a rural hill when the light is just so and encountering a monumental, ruin-like barn. Though the images can be a bit melancholic, Westphalen masterfully captures the dignity of his building-subjects.
The photographer describes mounting "vanish." as "a bit of a risk," noting that he wondered, Is it just me? Is anybody else going to get this? But viewers' responses to the show have set his anxieties to rest: "I found it has really resonated," Westphalen says.