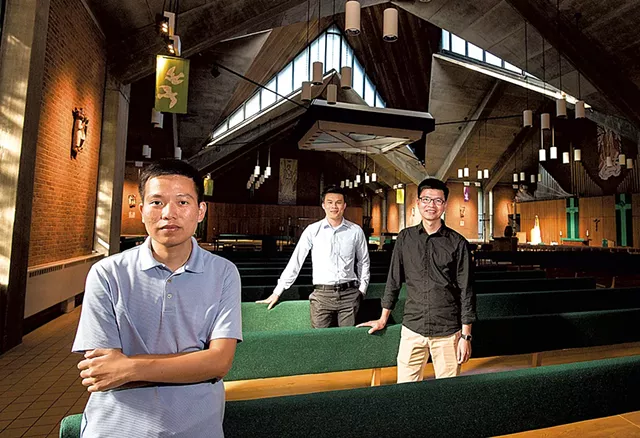 Glenn Russell
From left: Giang Vu, Thang Nguyen and Luan Tran at the Chapel of St. Michael the Archangel on the campus of Saint Michael's College
Thang Nguyen believes the best way to express gratitude is to pay it forward. Catholic missionaries arrived in Vietnam in the 17th century to preach the gospel. "Now," he said, "another country needs God. We should go."
That country is the U.S., where the declining number of local-born clergy has prompted several Catholic dioceses to tap into the flourishing religious populations in other parts of the world.
In May 2017, Nguyen, 25, and two other Vietnamese men moved to the U.S. to receive a seminary education, sponsored by the Roman Catholic Diocese of Burlington. The trio is currently living and studying in the Burlington area; once ordained, they will serve in the Green Mountain State.
Leaving the country to spread the word isn't uncommon for young Vietnamese natives with a spiritual vocation. "In my parish, many, many young people become missionary priests in [the] Philippines and Laos," said Nguyen, who also holds a law degree.
Last year, Vietnamese nationals were the second-largest group of international seminarians studying at the graduate level in the U.S. after Mexicans, according to data from the Center for Applied Research in the Apostolate. That's a nonprofit affiliated with Georgetown University that conducts social-scientific studies on the Catholic Church. About 67 percent of those foreign-born seminarians were preparing to be ordained for a diocese in the U.S.
When Luan Tran, 31, told his mother that he was going to apply to become a seminarian — and eventually a priest — in the U.S., she embraced him. "I have to [wait for] a long time to hear that," Tran recalled her saying.
A former lawyer, Tran grew up in a staunch Catholic family and attended mass every day. When he left his village to attend college — the first in his village to do so — his parents gave him a rosary as a send-off present. His childhood dream, one that he shared with many of his friends, was to join the priesthood.
In Communist Vietnam, where about 7 percent of the population is Catholic, the dozen or so seminaries cannot meet the high demand for vocations, said Bao Nguyen, a Jesuit priest at Loyola University Maryland. The government discourages and restricts attempts to open new seminaries, he continued.
Interest in the priesthood is high for several reasons. A history of persecution and martyrdom has left a "profound impact" on the Catholic faith in Vietnam and inspired young people to follow Jesus Christ, said Bao Nguyen. People are also looking for something "more authentic" and the "deeper meaning" of life in a Communist country, he said.
There's a practical reason, too: People who hold church offices don't have to worry about finding and keeping a job or other financial concerns. "Everything has been taken care of by the diocese or seminary," said the Jesuit priest.
In 2008, he established Formation Support for Vietnam, a nonprofit that provides education opportunities in the U.S. for Vietnamese religious sisters, seminarians and priests. Vermont's seminary candidates were able to come to the country through this organization.
The Catholic Church has never been homogenous, he pointed out: "So many groups of immigrants have enriched the Church in the U.S."
Giang Vu, 25, didn't take lightly the decision to move to a new country. The eldest of three children, the information-technology graduate knew he'd face many challenges, including having to learn a new language and culture. His mother, Vu said with a chuckle, was so worried about him leaving the country that she bought him enough clothes to last seven years.
Among the other items Vu packed in his two suitcases were miniature statues of Our Lady of La Vang, a vision of the Virgin Mary who reportedly appeared during the 18th-century persecution of Vietnamese Catholics. He saved one for himself and gifted the rest. "I pray with her," said Vu. "That's the one thing I keep for myself to remember Vietnam."
One such miniature sits on the office desk of Father Jon Schnobrich, director of vocations for the Diocese of Burlington. The Virgin Mary holds baby Jesus and wears a blue headdress and a blue and white ao dai, the Vietnamese national costume that consists of a long tunic over pants. It's a gift from the seminary candidates, Schnobrich said, and a tangible reminder of the long-standing cultural diversity of the Catholic Church.
The presence of a strong local Vietnamese Catholic population was an important consideration in the Diocese's decision to sponsor Vietnamese seminary candidates, the vocations director said. U.S. Sen. Patrick Leahy (D-Vt.), himself a Catholic, wrote a letter in support of the program, he said.
"I think it's important for them — leaving family and home and country — that there's a community of folks [who] understand where they come from, who they are, and ... can be a support for them and a family to them," Schnobrich continued.
The first Vietnamese families arrived in Vermont as refugees after Communist forces took over South Vietnam in 1975. More arrived in the '80s and '90s through humanitarian and family reunification programs.
Greater Burlington's Vietnamese Catholic community, whose number parishioner Loc Nguyen put at about 150, was delighted, proud and eager to help when told about the Diocese's decision to sponsor the trio, Loc Nguyen said.
"As Catholics, we are always happy to hear someone answering the calling of God and [joining the] priesthood," said Loc Nguyen, "and this case is particularly special because these men are our countrymen."
In the past year, parishioners have given various forms of support to the seminary candidates: monetary donations to supplement daily expenses, invitations to their homes and the Tet (Vietnamese New Year) celebration, and an English driver's manual translated into Vietnamese.
The relationship is a reciprocal one. The trio, Loc Nguyen noted, has brought "fresh air and new energy to our community."
Two weeks ago, Thang Nguyen and Vu, each dressed in a black cassock and a white surplice, were the altar servers for the 11 a.m. Sunday mass at the Cathedral of the Immaculate Conception in Burlington. Dominique Nguyen, a bespectacled Québécois priest with salt-and-pepper-hair and an easy smile, typically visits the Queen City once a month to hold mass in Vietnamese.
"It [would] be great if we have one of these guys become the priest and stay in Vermont, so our Vietnamese Catholic [community] can have weekly mass," said parishioner Minh Nguyen. "Also, for our Vietnamese elderly who can't speak English, it would be easier for them to participate in mass."
Hours earlier on the same day, across the Winooski River, parishioners at St. Francis Xavier Church met Tran. He had spent the weekend there learning about parish life: How does a priest live, pray, interact with his parishioners and practice self-care? This "apprenticeship" with current priests is mandatory for the trio. "That is my job, someday," said Tran.
The Vietnamese men spent their first year in the U.S. as English as a Second Language students at Boston University and lived at Saint John's Seminary in Boston. Now enrolled at Saint Michael's College, they continue to take ESL classes there.
"Now that they have familiarity with English," Schnobrich said, "I want to see them strengthen their relationship with the people of Vermont, with the parishes and the priests, [and] learn about life in Vermont while continuing to study and grow."
To help them adapt to the broader context of American life, the students now live with local host families. Each man said he and his host parents have dedicated "family time" to converse over meals — a practice that helps them cope with the occasional homesickness.
Jesuit priest Bao Nguyen said this arrangement is unique to Burlington. He praised the Diocese for taking additional steps to ensure that the seminary candidates have an immersive experience.
Ann and Bob Fiorenza of Burlington said hosting Vu has been an enriching experience for them, too. They learned a lot about his community when he shared a video of a Christmas celebration in his village. They've also spoken to his mother a couple of times.
Recently, the seminary candidates started seeing a speech-language pathologist at the University of Vermont to help with accent reduction. Once they feel confident in their English language competency, they'll enter seminaries in Indiana and Maryland, where they'll spend six years studying philosophy and theology.
To that end, the seminary candidates are relentless in their quest to master English and become Vermonters. Thang Nguyen enjoys class discussions and learning about the cultures of his ESL classmates, he said. He uses his cellphone to take pictures of church vocabulary and common English expressions, studies them and prepares to be quizzed. He appreciates Vermont's fresh air and beautiful landscape, too — though he finds local delicacies such as maple creemees and apple pie too sweet.
Despite the seminary candidates' busy schedules, they meet with Schnobrich at least once a month to do what Jesus did — eat, pray and have discussions. The vocations director said they've had very open conversations about the abuse allegations surrounding the Catholic Church. In Burlington, law enforcement officials earlier this month said they would create a task force to investigate claims of abuse at the long-shuttered St. Joseph's Catholic Orphanage.
To explain his position on the issue, Tran likened God to a mother and fellow believers to siblings. "Even when your brother and sister make a mistake, it doesn't affect your love for your mom," he said. "I put my faith in God."
"Their vocation is really a response to Jesus Christ and to what they believe He is asking of them," said Schnobrich.
Thang Nguyen's conviction, too, remains deep. He had planned to attend seminary in Vietnam but said that God helped him pass the multiple interviews he needed to come to the U.S.
"If God wants me to become a priest, I can become a priest [anywhere], because the Church is only one."
As for Tran, he described Vermont as his new home. "When you stay at home, you feel peaceful; you feel joy," he said. "That's my feeling now."