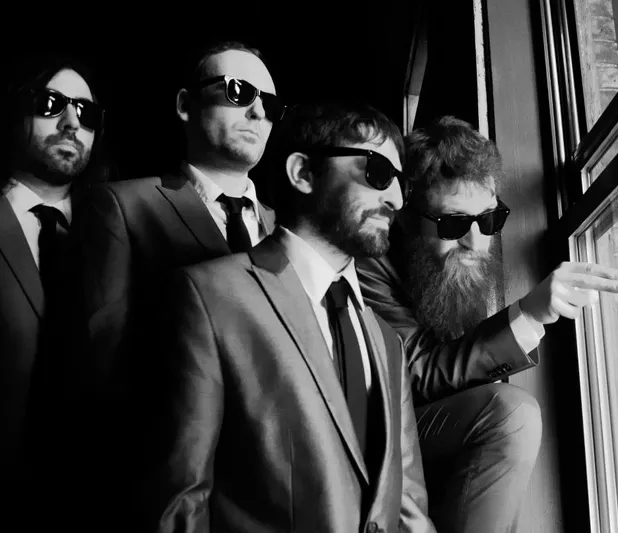 Just past the halfway point in Fire Walk With Me, David Lynch's 1992 full-length prologue/epilogue to "Twin Peaks," Laura Palmer, the sort-of-protagonist, makes out with a guy named Buck and then drags her friend Donna to a strobe-lit nightclub where a "hell-metal" band, as Lynch's script describes it, is playing "Blue Frank." The song is a dark, pulsing drone in the vein of surf music, but strung out. The characters in the scene speak muffled nonsense below lascivious reverb and woozy twang.
Guitarist Matt Hagen hopes to capture this particular mood with his new surf-rock venture, the High Breaks. The band plays a Surf Rock Sunset Cruise aboard the Lake Champlain Ferry this Saturday, August 17.
"Three things inspire me right now," Hagen said prior to a recent show at the Monkey House in Winooski. "Surf music for essence, spaghetti Westerns for vibe and David Lynch movies for aesthetics."
The High Breaks, which debuted at this year's Burlington Discover Jazz Festival and feature the members of local pop-rockers Lendway, are the latest in a surge of surf-rock bands in Vermont. While Burlington-based "surf noir" legends Barbacoa have been at it since the early 1990s, in recent years bands such as Burlington's Torpedo Rodeo and Montpelier's the Concrete Rivals have laced their otherwise punk- and metal-informed sets with the gnarly surf sound.
And there is more fresh blood in the water. In addition to the High Breaks, Vultures of Cult, a Burlington band known more for doomy desert metal, this week are poised to release SVRF, an EP of doomsday-inspired surf songs.
A bit of catching up: Surf music proliferated for a short period in the early 1960s around the beaches of Southern California. Dick Dale, the self-proclaimed — and generally agreed upon — "king of the surf guitar," would hold court with his Del-Tones at the Rendezvous Ballroom in Balboa, Calif., inciting scores of huarache-clad hodads to twang up and revel in the moody, Middle Eastern scales of "Misirlou," "Let's Go Trippin'" and other Dale classics. Bands including the Lively Ones, the Bel-Airs, the Challengers and Eddie & the Showmen soon emerged, matching the intensity of surfing by channeling its requisite balance and speed.
Surf's popularity waned when British Invasion bands took over and looser, bluesier guitar styles fell into favor. The genre lived on through film, notably in the James Bond theme song — plucked into posterity by Vic Flick — and in the Ennio Morricone scores for Sergio Leone Westerns. The Pulp Fiction soundtrack revived surf in the 1990s, capturing the essential mood for Quentin Tarantino's lurid opus.
Despite the genre's inherent playfulness, the High Breaks are quite serious about pinning down a precise mood and offering audiences something both aesthetic and pervasive. Between songs, Hagen, who matched his bandmates in a sleek gray suit, black shoes, a thin black tie and black Wayfarers, set up such narratives as the cosmic exchanges between grains of sand on a beach and two lovers strolling seaside by a dune.
After introducing themselves at the Monkey House ("Hi, we're the High Breaks, and we're from wherever it is you want us to be from"), Hagen and the band took time before launching into their first song, riffing around cautiously for a moment and then finally catching the right synchronicity and dropping in.
The sparse, enthusiastic audience included Barbacoa axeman Bill Mullins, Vermont's reigning king of the surf guitar, upon whose toes Hagen said he hopes to avoid stepping. Lately, Mullins, who also plays in local punk bands the Persian Claws and Blowtorch, has been spending his winters in Austin, Texas, and Hagen recognized a "surf void" that he was happy to fill. Mullins isn't worried about his toes.
"Plenty of room on the beach," he said. Barbacoa and the High Breaks will split a bill at Nectar's on Friday, August 24, with support from another new local band with occasional surfy tendencies, the Blim- Blams.
Barbacoa, whose current lineup includes Mullins and Lowell Thompson on guitar, Kirk Flanagan on bass and Jeremy Frederick on drums, sport a practiced complexity that the genre demands.
"Surf is hard to play," Mullins acknowledged. He explained that landing the right intensity while controlling a provocative melody is essential to a good, instrumental surf song.
Concrete Rivals guitarist Jay Ekis concurs. He's been interested in the genre and its complexities since he began playing, learning the surfy "(Ghost) Riders in the Sky" immediately upon acquiring a guitar.
"I was playing the guitar, so I figured, why not try to play the type of music that highlights the instrument the most?" Ekis said over beers at Three Penny Taproom in Montpelier.
The signature surf drumbeat is another technical requisite. Seated next to Ekis, Torpedo Rodeo drummer Jeremiah Johnson noted that while the typical "boom bat-bat boom bat" beat can feel restrictive, it keeps the occasional flashy drummer in line and complements the song rather than the individual musician's chops.
"It's a relief having that expectation in place," Johnson said.
VOC guitarist Justin Gonyea doesn't take the genre's technical challenges lightly, either. He said his band's surf project was inspired by his own "desire to be a better player." Gonyea added that surf music shares a territory with metal, his band's usual offering. Dick Dale was in some ways the "first metal guitarist," Gonyea said.
VOC's new EP presents a thick, heavy surf style with blistering guitar lines that pay homage to the genre's pioneers without copying them directly.
Ekis and Johnson are both excited about the proliferating surf bands in the Green Mountains. Ekis said he hopes the newer bands help solidify a "signature Vermont surf sound," while Johnson looks forward to more esoteric sounds filling in as the jam and funk din associated with Vermont continues to, as he put it, "relinquish its hold."
Regardless of the direction surf music might take in Vermont, watching landlocked bands develop the genre — with coastal referent completely excised — is wholesome, postmodern fun.
Surf Rock Sunset Cruise with the High Breaks and DJ Nickel B. King Street Ferry Dock, Burlington, Saturday, August 17, 6:30 p.m. $30/40. surfrocksunset.bpt.me
The original print version of this article was headlined "Breaking Rad."